Rallies for Vintage & Classic Cars…
Rally the Globe had a busy 2022, with over 10,000km of rallying spread over 38 days and 4 events, but just the one continent.  But in 2023 we trumped that in just about every way with 17,000km of adventure over 48 days including a first trip across the Atlantic to North America.
We started with our second Generations Rally, which was once again oversubscribed due to its popularity. This time Northumberland, Cumbria and County Durham were on the cards, with crews made up of two different generations bringing a younger audience to historic motorsport over this long weekend event.
Next up was a new addition to our event programme, partnering with Irish Racing Green to deliver the fourth Vintage Shamrock event in May. Based predominantly in Counties Wexford and Waterford, with excursions into County Cork, this exclusive event for pre-war specification cars explored the renowned Irish scenery, hospitality and charm, with some unforgettable twists along the way.
In June, our 'Carrera' series continued, this time taking us to France for the Carrera Riviera. 42 cars competed along the 11-day route from Deauville on the Normandy Coast to the Mediterranean and glorious Cannes, put together by legendary French co-driver, Denis Giraudet.
Our Alaska to Mexico Marathon was our endurance event for 2023, with an epic 12,000km adventure for the 50 cars who signed up to take part. Starting in Anchorage, and finishing 30 days later in Cabo San Lucas, crews traversed 38 lines of latitude and a whole array of incredible and varied scenery, for one unforgettable experience.
You can access details of all our upcoming rallies below.
Keep up to date with all the latest news here and on our social media pages.
What our Rally Crews Say About Us…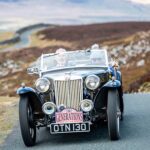 I loved the event, especially as I could do it with my daughter. The balance of the whole event was first class – the right length, the right route, the right level of complexity.
A wonderful event that Irene and I enjoyed a lot, even though I have to order new tires for our Ford Mustang again!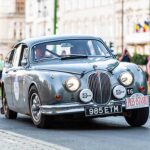 We think that the route, hotels, number and complexity of tests and regularities per day, and overall organisation made this event just about perfect.