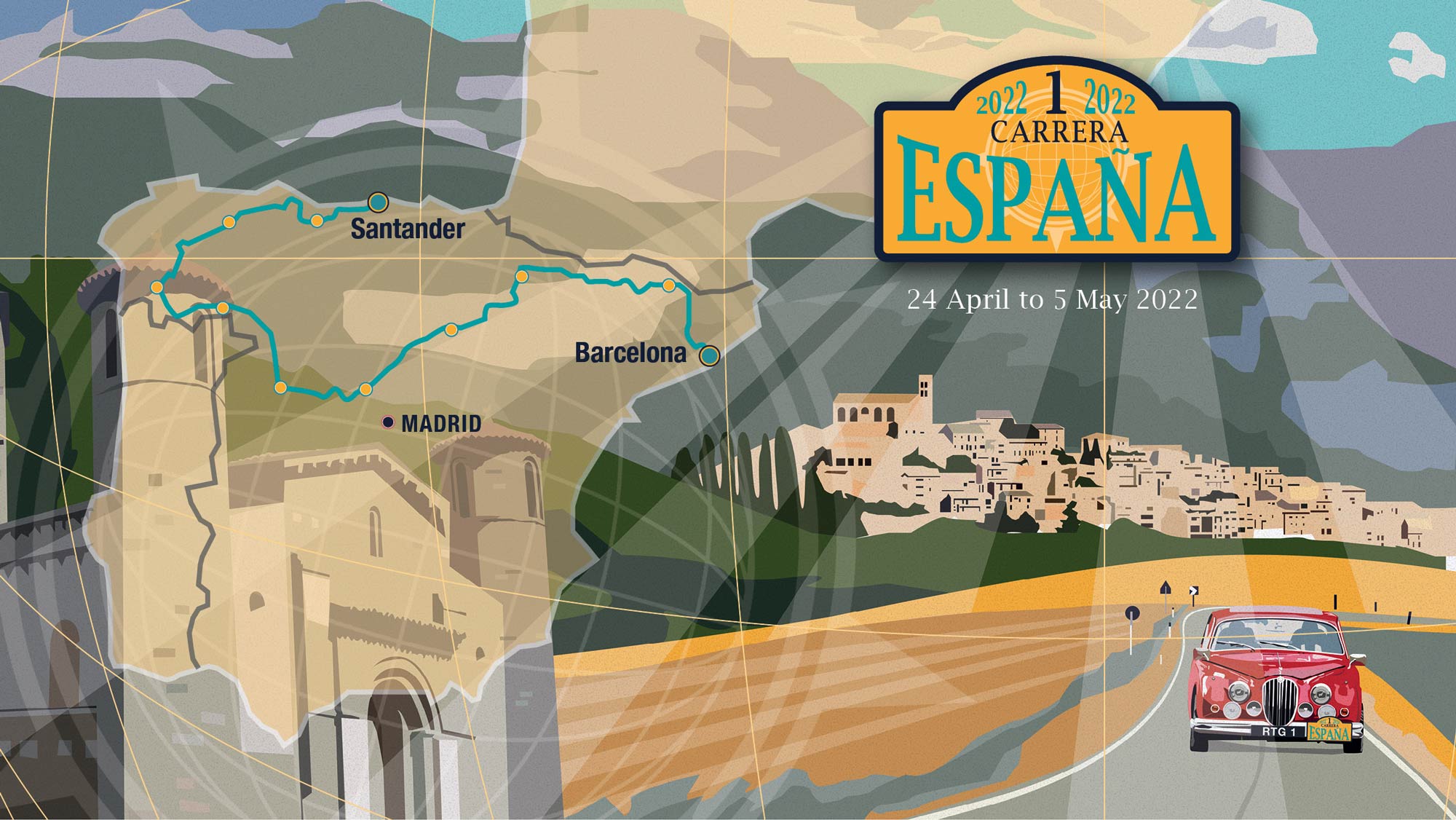 Highlights from the Carrera España
For more photos, highlights and high resolution imagery please click on the link below to view Gerard Brown's website

Carrera España Daily Dispatch
Day 11. Oviedo - Santander. 315km
No.
Participants Name
Vehicle
CC
Year
Day Total
Overall Total
Overall Pos.
Class Pos.
9
Martin & Olivia Hunt
Frazer Nash-BMW 328
1971
1937
0:00:02
0:00:42
1
1
25
Alan & Tina Beardshaw
Aston Martin DB5
3996
1965
0:00:03
0:00:49
2
1
2
Graham & Marina Goodwin
Bentley Supersports
5300
1925
0:00:04
0:01:01
3
1
17
Adrian Hodgson & Mark Bramall
Austin A90 Westminster
2912
1955
0:00:07
0:01:05
4
1
34
Ean & Alison Lewin
Ford Escort Mexico
1601
1973
0:00:09
0:01:08
5
1
12
Keith & Norah Ashworth
Frazer Nash-BMW 328
1971
1938
0:00:16
0:01:20
6
2
26
Manuel & Irene Dubs
Ford Mustang V8 Convertible
4728
1965
0:00:10
0:01:33
7
2
35
Andrew Laing & Ian Milne
Datsun 240Z
2400
1973
0:00:06
0:01:33
8
2
33
Peter & Louise Morton
Rover P6
4599
1972
0:00:04
0:01:35
9
3
4
Chris & Rita Dillier
Ford Model A
3236
1930
0:00:17
0:01:43
10
2
18
Pierre Gerber & Alice Leuenberger
Mercedes-Benz 190 SL
1896
1956
0:00:07
0:01:48
11
2
20
Dieter & Hilla Baumhaeckel
Volvo PV544
2300
1961
0:00:13
0:01:52
12
3
30
Keith Graham & Sue Hoffmann
Mercedes-Benz 280 SL
2778
1969
0:00:12
0:01:55
13
3
27
Rob Collinge & Tony Brooks
Ford Mustang
4948
1966
0:00:02
0:01:57
14
4
6
Nick & Serita Sleep
Bentley Supersports
5300
1925
0:00:06
0:02:02
15
3
8
Brian & Catherine Scowcroft
Lancia Aurelia GT
2541
1954
0:00:37
0:02:15
16
4
36
Anthony & Sonja Verloop
MGB GT V8
3500
1973
0:00:18
0:02:31
17
4
37
Enrico Paggi & Federica Mascetti
Lamborghini Urraco P250 S
2463
1976
0:00:14
0:02:34
18
5
28
Neil & Peta Oatley
Lancia Fulvia
1300
1967
0:00:22
0:02:44
19
5
7
Geoff & Penny Rawlings
Talbot 95/105 Alpine
2996
1934
0:00:32
0:03:16
20
3
5
Joe & Heidi Dillier
Chrysler Roadster 70
3580
1930
0:00:14
0:03:18
21
4
16
Dirk Van Lerberghe & Hilde Vanhove
Bentley Speed 8
5600
1947
0:00:23
0:03:25
22
5
3
Bill & Julie Holroyd
Bentley 4½
4398
1927
0:00:23
0:03:28
23
5
32
Otakar Chladek & Jindriska Zemlickova
Mercedes-Benz 350 SL
3500
1971
0:00:35
0:04:38
24
6
24
Stanley Gold & Brant Parsons
Porsche 911
2000
1965
0:00:14
0:06:14
25
6
22
Beat Erni & Barbara Mahrenholz
Sunbeam Alpine
1600
1963
0:00:25
0:06:55
26
6
10
Brian & John Caudwell
Jaguar SS 100
2500
1937
0:00:09
0:08:11
27
4
31
Mike & Jonathan McKenna
Aston Martin DB7
3200
1997
0:00:04
0:31:04
28
1
1
Gavin & Diana Henderson
Bentley 3/4½
4500
1922
0:00:18
1:08:54
29
6
11
Bertie & Charlotte van Houtte
Bentley 3/4½
4500
1925
1:56:00
4:11:07
30
7
| | | | | | |
| --- | --- | --- | --- | --- | --- |
| No. | Crew | Vehicle | CC | Year | Class |
| 1 | Gavin Henderson (GB) / Diana Henderson (GB) | Bentley 3/4½ | 4500 | 1922 | 1 |
| 2 | Graham Goodwin (GB) / Marina Goodwin (GB) | Bentley Supersports | 5300 | 1925 | 1 |
| 3 | Bill Holroyd (GB) / Julie Holroyd (GB) | Bentley 4½ | 4398 | 1927 | 1 |
| 4 | Chris Dillier (CH) / Rita Dillier (CH) | Ford Model A | 3236 | 1930 | 1 |
| 5 | Joe Dillier (CH) / Heidi Dillier (CH) | Chrysler Roadster 70 | 3580 | 1930 | 1 |
| 6 | Nick Sleep (GB) / Serita Sleep (GB) | Bentley Supersports | 5300 | 1926 | 1 |
| 7 | Geoff Rawlings (GB) / Penny Rawlings (GB) | Talbot 95/105 Alpine | 2996 | 1934 | 2 |
| 8 | Brian Scowcroft (GB) / Catherine Scowcroft (GB) | Lancia Aurelia GT | 2541 | 1954 | 3 |
| 9 | Martin Hunt (GB) / Olivia Hunt (GB) | Frazer Nash-BMW 328 | 1971 | 1937 | 2 |
| 10 | Brian Caudwell (GB) / John Caudwell (GB) | Jaguar SS 100 | 2500 | 1937 | 2 |
| 11 | Bertie van Houtte (F) / Charlotte van Houtte (GB) | Bentley 3/4½ | 4500 | 1925 | 1 |
| 12 | Keith Ashworth (GB) / Norah Ashworth (GB) | Frazer Nash-BMW 328 | 1971 | 1938 | 2 |
| 16 | Dirk Van Lerberghe (B) / Hilde Vanhove (B) | Bentley Speed 8 | 5600 | 1947 | 3 |
| 17 | Adrian Hodgson (GB) / Mark Bramall (GB) | Austin A90 Westminster | 2912 | 1955 | 3 |
| 18 | Pierre Gerber (CH) / Alice Leuenberger (CH) | Mercedes-Benz 190SL Roadster | 1896 | 1956 | 3 |
| 20 | Dieter Baumhaeckel (D) / Hilla Baumhaeckel (D) | Volvo PV544 | 2300 | 1961 | 3 |
| 22 | Beat Erni (CH) / Barbara Mahrenholz (CH) | Sunbeam Alpine | 1600 | 1963 | 3 |
| 24 | Stanley Gold (USA) / Brant Parsons (USA) | Porsche 911 | 2000 | 1965 | 4 |
| 25 | Alan Beardshaw (GB) / Tina Beardshaw (GB) | Aston Martin DB5 | 3996 | 1965 | 4 |
| 26 | Manuel Dubs (CH) / Irene Dubs (CH) | Ford Mustang V8 Convertible | 4728 | 1965 | 4 |
| 27 | Rob Collinge (GB) / Tony Brooks (GB) | Ford Mustang | 4948 | 1966 | 4 |
| 28 | Neil Oatley (GB) / Peta Oatley (GB) | Lancia Fulvia | 1300 | 1967 | 4 |
| 30 | Keith Graham (GB) / Susan Hoffmann (GB) | Mercedes-Benz 280 SL | 2778 | 1969 | 4 |
| 31 | Mike McKenna (GB) / Jonathan McKenna (GB) | Triumph TR6 | 2500 | 1970 | 5 |
| 32 | Otakar Chládek (CZ) / Jindřiška Žemličková (CZ) | Mercedes-Benz 350 SL | 3500 | 1971 | 5 |
| 33 | Peter Morton (GB) / Louise Morton (GB) | Rover P6 | 4599 | 1972 | 5 |
| 34 | Ean Lewin (GB) / Alison Lewin (GB) | Ford Escort Mexico | 1601 | 1973 | 5 |
| 35 | Andrew Laing (GB) / Ian Milne (GB) | Datsun 240Z | 2400 | 1973 | 5 |
| 36 | Anthony Verloop (NL) / Sonja Verloop (NL) | MGB GT V8 | 3500 | 1973 | 5 |
| 37 | Enrico Paggi (IT) / Federica Mascetti (IT) | Lamborghini Urraco P250 S | 2463 | 1976 | 5 |
Our third event in the Carrera series sees us returning to explore a new area of Spain, starting from the architectural gem of Barcelona and finishing on the Cantabrian coast in Santander.
24 April to 5 May 2022
Mountains and coast of Northern Spain.
Event Highlights
Starting from our luxury five-star hotel perched above Barcelona, we venture north-east of the city and take on our first test and regularity before climbing into the Pyrenees. We continue along empty and twisty roads, with views of mountains to the right and the vast Spanish Plain to the left.  We journey through the Rioja region, where we take full advantage of a lunch halt in a stunning vineyard.
A return to mountain roads takes crews into the Sierra de la Demanda and the Sierra de Guadarrama, before heading to Salamanca for a well-earned rest day in our hotel overlooking the city. Fully refreshed, we will be back on the road heading west towards the River Douro and lunch in the border region with Portugal, before continuing to our overnight halt in a Parador set in beautiful countryside.
Crews then continue into Galicia, where the roads get twistier and the scenery more extreme, and where the nights are spent in a pair of former Benedictine monasteries. Our final couple of days see us exploring the stunning driving roads of the Picos de Europa, the shores of the Bay of Biscay and the Cordillera Cantabrica, arriving at the finish line in Santander for the winners to be announced at our Gala Dinner overlooking the ocean.
To see more of the Carrera España highlights, take a look at the brochure at the bottom of the page.
Sunday 24 April 2022
Scrutineering, Signing-On & Welcome Dinner, Barcelona
Monday 25 April 2022
Rally Start from Barcelona
Thursday 5 May 2022
Rally Finish, Prize-giving and Gala Dinner, Santander

Eligible Cars:
Cars of a specification produced before 31 December 1976.
Separate classification for cars of a specification produced before 31 December 1945.
Please check with us if you are not sure if your car is eligible.
Competition:
There will be 2 or 3 Regularity Sections per day, on twisty but quiet minor roads. There will also be a Test most days, using race tracks, kart circuits and other private land.
Roads used:
The roads will be all asphalt, and we will avoid rough, potholed and unsurfaced roads as much as possible.
Hospitality:
We will use top quality hotels and provide a group dinner most evenings, other than on non-driving days. Most lunches will also be provided in a variety of venues. We will provide a van to transport your luggage between hotels (sensible weight restrictions will apply).
Navigation:
All of the route, including the Regularity Sections, will be defined in a detailed tulip Road Book and maps of the route will be provided.
Event Category:

Rally the Globe is a not-for-profit club that exists to support a broad family of motorsport enthusiasts who want to explore the world in historic and classic vehicles. All our club's rallies come with highly experienced support crew and safety cover including:
Expert teams of sweep mechanics
On-call doctor or paramedic
Recommendations of experts in crew training and car preparation, shipping and insurance
Advice, encouragement and assistance from our friendly and knowledgeable team