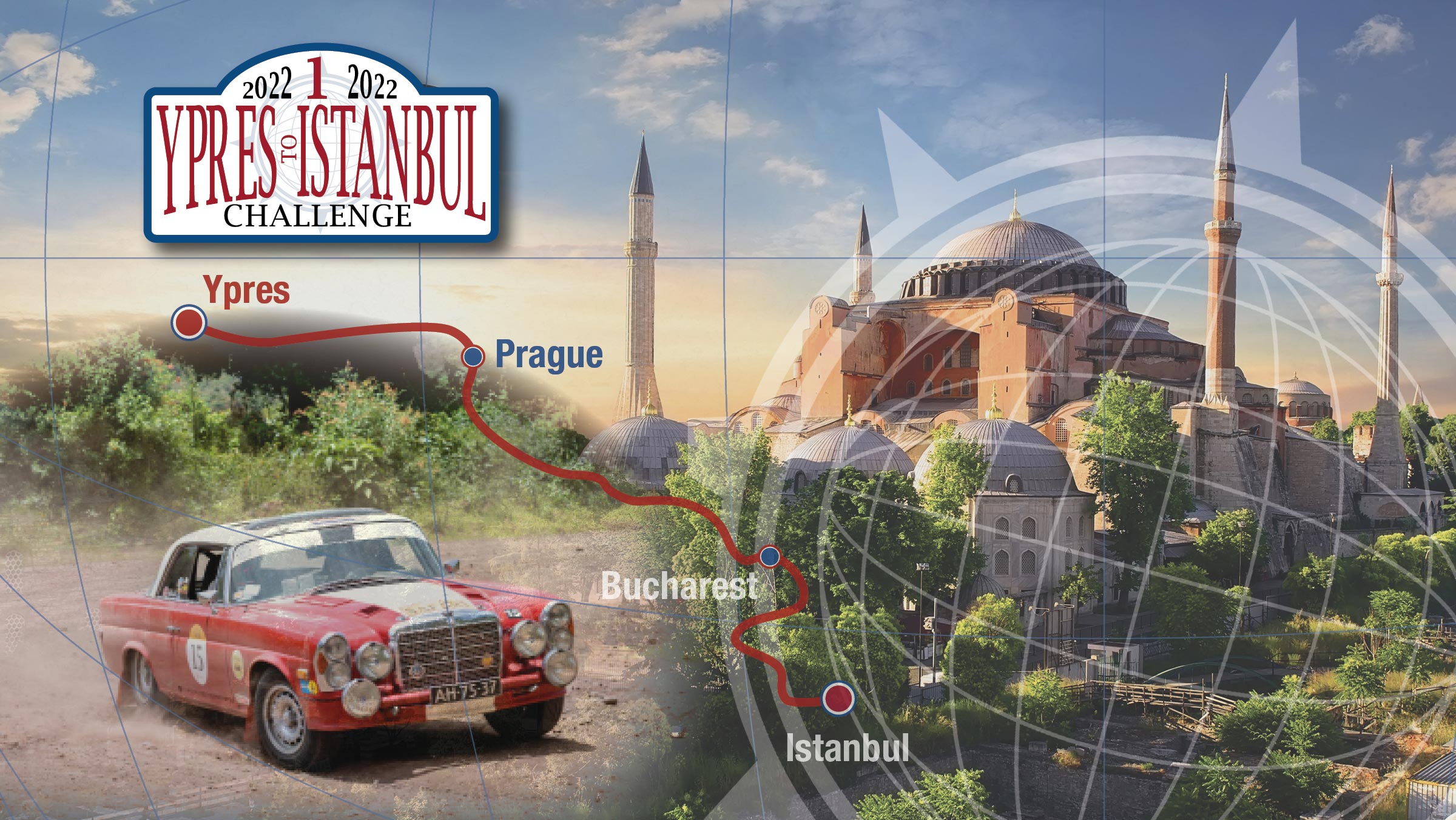 Video highlights from the Ypres to Istanbul Challenge
Highlights from the Ypres to Istanbul Challenge
For more photos, highlights and high resolution imagery please click on the link below to view Gerard Brown's website

Ypres to Istanbul Challenge Daily Dispatch
Day 20: Tekirdag to Istanbul (TR), 208.5km
No.
Participants Name
Vehicle
CC
Year
Day Total
Overall Total
Overall Pos.
Class Pos.
19
Steve & Jenny Verrall
Porsche 911
1991
1965
0:00:03
0:02:14
1
1
2
Graham & Marina Goodwin
Bentley 4½
5300
1929
0:00:16
0:05:58
2
1
5
Andrew & Ann Boland
Ford V8 Convertible
3600
1936
0:00:32
0:07:13
3
2
15
Mike & Lorna Harrison
Volvo PV544
1800
1959
0:00:03
0:07:18
4
2
29
Ean & Alison Lewin
Ford Escort Mexico
1601
1973
0:00:04
0:07:18
5
1
3
Keith & Norah Ashworth
Bentley 4½ Le Mans
4500
1927
0:00:13
0:07:48
6
3
30
Joe & Kate Hayes
Porsche 911
3000
1973
0:00:30
0:10:45
7
2
26
Enrico Paggi & Federica Mascetti
Fiat 124 Spider BS1
1608
1971
0:00:04
0:11:00
8
3
16
Phillip & Trish Monks
Jaguar Mk 2
3442
1961
0:00:06
0:11:33
9
1
1
Clint & Dawn Smith
Bentley 3/4½
4500
1925
0:00:10
0:12:06
10
4
18
Bertie & Charlotte van Houtte
Porsche 911
1991
1965
0:00:01
0:12:55
11
3
25
Daniel & Barbara Wiedemann
Mercedes-Benz 280 SL
2778
1970
0:00:02
0:17:53
12
2
32
Phillip & Lynda Blunden
MGB GT
1800
1974
0:00:03
0:17:57
13
4
31
Otakar Chládek & Jindriska Zemlickova
Mercedes-Benz 350 SL
3500
1973
0:00:04
0:18:42
14
4
34
Michael Kershaw & Elizabeth Comstock-Smith
Range Rover
4500
1981
0:00:16
0:19:09
15
5
9
Tony Rowe & Mark Delling
Ford DeLuxe V8 91A Coupe
3600
1939
0:00:13
0:23:54
16
5
20
Michael & Marcus Eatough
Mercedes-Benz 230 S
2778
1965
0:00:17
0:24:16
17
3
21
Roy Stephenson & Mark Bramall
Ford Mustang
4700
1965
0:00:01
0:48:35
18
4
8
Renate Hanselmann & Lukas Ospelt
Ford Model 91A
3600
1939
0:00:15
1:17:14
19
6
4
Jean Vincent & Marcel Peumans
Bentley Speed Six
4500
1934
0:00:21
1:52:40
20
7
23
John & Nicole Whitelock
Mercedes-Benz 280 SL
2778
1968
0:00:08
2:31:45
21
5
24
Barry Nash & Malcolm Lister
Rover P5B
3531
1969
0:00:08
2:33:50
22
6
7
Phil & Laurette Macwhirter
Citroën 2CV
602
1982
0:54:00
4:19:18
23
5
6
Richard & Catherine Phillipson
Alvis Firefly Special
3500
1933
0:00:17
6:31:01
24
8
17
David & Jo Roberts
Triumph TR4
2138
1963
0:54:00
18:03:00
25
6
22
Anthony & Sonja Verloop
Mercedes-Benz 280 SL
2778
1997
1:24:00
1:38:17
26
1
| | | | | | |
| --- | --- | --- | --- | --- | --- |
| No. | Crew | Vehicle | CC | Year | Class |
| 1 | Clint Smith (GB) / Dawn Smith (GB) | Bentley 3/4½ | 4500 | 1925 | 1 |
| 2 | Graham Goodwin (GB) / Marina Goodwin (GB) | Bentley 4½ | 5300 | 1929 | 1 |
| 3 | Keith Ashworth (GB) / Norah Ashworth (GB) | Bentley 4½ Le Mans | 4500 | 1927 | 1 |
| 4 | Jean Vincent (BE) & Marcel Peumans (BE) | Bentley Speed Six | 4500 | 1934 | 1 |
| 5 | Andrew Boland (IRL) / Ann Boland (IRL) | Ford V8 Convertible | 3600 | 1936 | 1 |
| 6 | Richard Phillipson (GB) / Catherine Phillipson (GB) | Alvis Firefly Special | 3500 | 1933 | 1 |
| 7 | Phil Macwhirter (AUS) / Laurette Macwhirter (AUS) | Citroën 2CV | 602 | 1982 | 2 |
| 8 | Renate Hanselmann (FL) / Lukas Ospelt (FL) | Ford Model 91A | 3600 | 1939 | 1 |
| 9 | Tony Rowe (GB) / Mark Delling (GB) | Ford DeLuxe V8 91A Coupe | 3600 | 1939 | 1 |
| 15 | Mike Harrison (GB) / Lorna Harrison (GB) | Volvo PV544 | 1800 | 1959 | 2 |
| 16 | Phillip Monks (GB) / Trish Monks (GB) | Jaguar Mk 2 | 3442 | 1961 | 3 |
| 17 | David Roberts (GB) / Jo Robert (GB) | Triumph TR250 | 2498 | 1968 | 2 |
| 18 | Bertie van Houtte (F) / Charlotte van Houtte (GB) | Porsche 911 | 2000 | 1965 | 2 |
| 19 | Steve Verrall (GB) / Jenny Verrall (GB) | Porsche 911 | 1991 | 1965 | 2 |
| 20 | Michael Eatough (GB) / Marcus Eatough (GB) | Mercedes-Benz 230 S Fintail | 2778 | 1965 | 3 |
| 21 | Roy Stephenson (GB) / Mark Bramall (GB) | Ford Mustang | 4700 | 1965 | 3 |
| 22 | Anthony Verloop (NL) / Sonja Verloop (NL) | Mercedes-Benz 280 SE | 2748 | 1968 | 3 |
| 23 | John Whitelock (GB) / Nicole Whitelock (GB) | Mercedes-Benz 280 SL | 2800 | 1968 | 3 |
| 24 | Barry Nash (GB) / Malcolm Lister (GB) | Rover P5B | 3531 | 1969 | 3 |
| 25 | Daniel Wiedemann (F) / Barbara Wiedemann (F) | Mercedes-Benz 280 SL | 2778 | 1970 | 3 |
| 26 | Enrico Paggi (IT) / Federica Mascetti (IT) | Fiat 124 Spider BS1 | 1608 | 1971 | 4 |
| 29 | Ean Lewin (GB) / Alison Lewin (GB) | Ford Escort Mexico | 1601 | 1973 | 4 |
| 30 | Joe Hayes (USA) / Kate Hayes (USA) | Porsche 911 | 3000 | 1973 | 4 |
| 31 | Otakar Chládek (CZ) / Jindřiška Žemličková (CZ) | Mercedes-Benz 350 SL | 3500 | 1973 | 4 |
| 32 | Phillip Blunden (AUS) / Lynda Blunden (AUS) | MGB GT | 1800 | 1974 | 2 |
| 34 | Michael Kershaw (GB) / Elizabeth Comstock-Smith (GB) | Land Rover Range Rover Classic | 4500 | 1981 | 4 |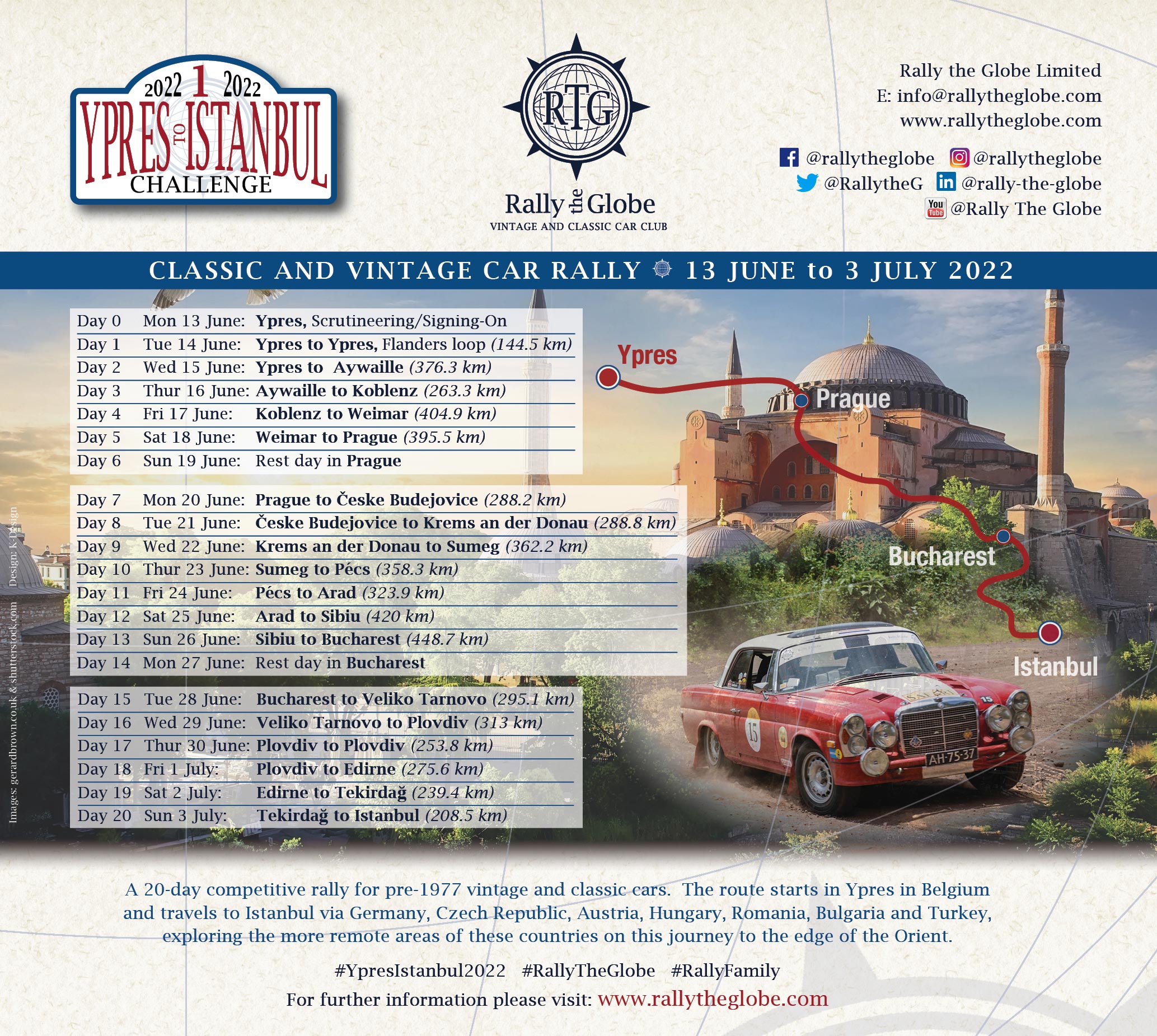 A brand-new event on the Rally the Globe calendar will take us from
Belgium's rally capital of Ypres to Istanbul. 
"To the edges of the Orient"
13 June to 3 July 2022
Belgium, Germany, Czech Republic, Austria, Hungary, Romania, Bulgaria and Turkey
Event Highlights
The rally starts with an interesting day of Regularities and Tests in Flanders over some well-rallied roads. Along the way there will be many poignant reminders of the battles fought between 1914 and 1918. From there it's on to Spa, another famous rally – and race – town for yet more competitive sections.
The next few days see us enter Germany and drive through the Eifel with its wonderful winding roads and lush vegetation. Then, onwards through the former East Germany, where away from the main cities, one could often imagine being in the 1960s, before arriving in the Czech capital Prague for our first rest day.
Fully refreshed, we head southeast through the Czech Republic, Austria, Hungary and Romania – four countries in five days. Rallying is a popular sport in these parts and we are relying on local enthusiasts for some excellent and varied Tests and Regularities. Our final rest day is in the Romanian capital Bucharest where the world's largest parliamentary building, constructed in the 1980s by former dictator Nicolae Ceausescu, will be hard to miss.
From Bucharest we head east and spend a night on the shores of the Black Sea, before heading back into the mountains around one of Bulgaria's major wine centres, Plovdiv.
The final frontier on the event takes us into Turkey, where we will stay near the narrow straits of the Dardanelles. Finally, we skirt the coast of the sea of Marmara before arriving in Istanbul and our luxury hotel overlooking the Bosphorus, the gateway to Asia.
We hope you can join us!
Monday 13 June 2022
Scrutineering, Signing-On & Welcome Dinner, Ypres
Tuesday 14 June 2022
Rally Start from Ypres
Sunday 3 July 2022
Rally Finish, Prize-giving and Gala Dinner, Istanbul
Eligible Cars:
Cars of a specification produced before 31 December 1976
Separate classification for cars of a specification produced before 31 December 1945
Please check with us if you are not sure your car is eligible.
Competition:
There will be three or four Regularity sections each day on twisty but quiet minor roads, some of which will be gravel. There will be a number of Tests on racing and kart circuits, airfields farm tracks etc. Time Control Sections will be included on remote roads.
Roads used:
Both asphalt and gravel roads will be used competitively. Car damaging roads will be avoided, but you and your car should be prepared for some bumpy and stony sections in the remoter reaches of the route.
Hospitality:
We strive to provide the best quality accommodation available. In some of the remoter parts of the route our options are limited, but when we are in more mainstream locations the hotels will be top quality. Dinner, a light lunch and coffee will be provided on most competition days.
Navigation:
Non-competitive sections will be defined by a detailed tulip Road Book. Regularity and Time Control Sections may involve Road Book, map or other methods of defining the route. However there will be no "tricks".
Event Category:

Rally the Globe is a not-for-profit club that exists to support a broad family of motorsport enthusiasts who want to explore the world in historic and classic vehicles. All our club's rallies come with highly experienced support crew and safety cover including:
Expert teams of sweep mechanics
On-call doctor or paramedic
Recommendations of experts in crew training and car preparation, shipping and insurance
Advice, encouragement and assistance from our friendly and knowledgeable team