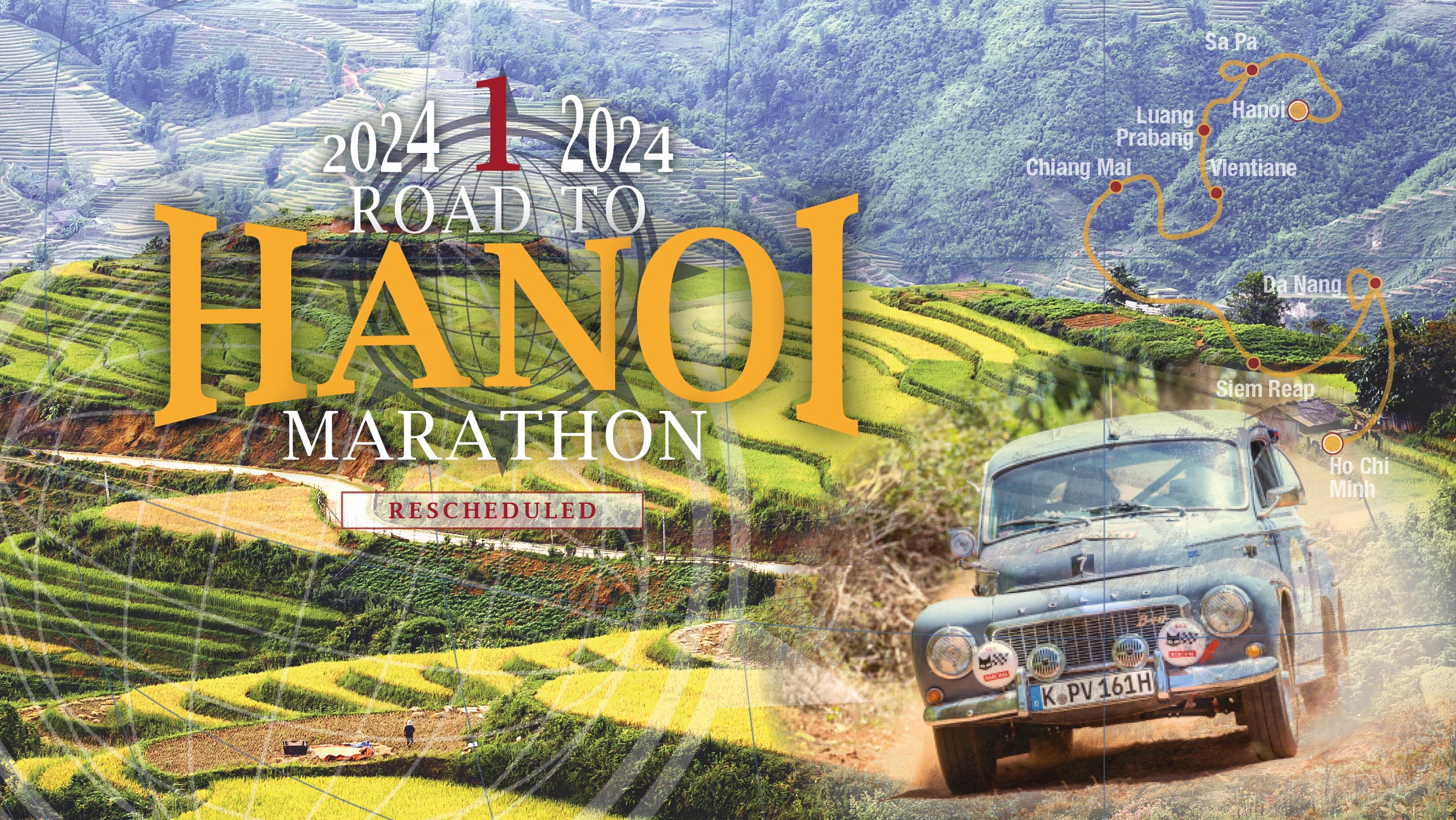 Discovering the trails of South East Asia…
27 January to 23 February 2024
Vietnam, Cambodia, Thailand, Laos
Event Highlights
Starting from Ho Chi Minh City, formerly known as Saigon, we spend our first four days exploring the mountains and coastline of this beautiful country, including a spectacular loop around the city of Da Nang. 
Heading into neighbouring Cambodia, we cross the mighty Mekong River, before arriving in Siem Reap where we will have a free day to explore this vibrant city and the awe-inspiring Angkor Wat temple complex, a UNESCO World Heritage Site. 
From there, we press on northwards into Thailand to Nakon Ratchasima before heading to Mae Sot, close to the border with Myanmar. No visit to Northern Thailand would be complete without a stop in Chiang Mai where we spend the event's second leisure day in a very comfortable hotel on the outskirts of the bustling city.
We cross into Laos and return to the Mekong River as we pause in the nation's capital Vientiane, before moving on to Luang Prabang and then continuing along minor roads to the very north of the country where we pass back into Vietnam. The terrain will look very different from that which we experienced at the start as we head ever more north following part of the Ho Chi Minh Trail.
We tackle a spectacular 200-kilometre mountain loop that includes Vietnam's highest road, the Tram Ton Pass, from our base in the market town of Sa Pa with its iconic rice paddies. Then for the next few days we blaze a trail through spectacular and remote scenery before winding our way down to Halong Bay, another World Heritage Site. We plan to take in a day-long cruise through the famous limestone isles on a luxury boat on the penultimate day of our journey. From there it only remains to take the highway that leads us to Hanoi, where our grand colonial-era hotel will be a real treat after four wonderful weeks on the road.
Saturday 27 January 2024
Scrutineering, Signing-On and Welcome Dinner, Ho Chi Minh City
Sunday 28 January 2024
Rally Start, Ho Chi Minh City
Friday 23 February 2024
Rally Finish and Prize-giving Dinner, Hanoi
Eligible Cars:
Cars of a specification produced before 31 December 1976. Separate classification for cars of a specification produced before 31 December 1945. Please check with us if you are not sure your car is eligible. 
Competition:
There will be two or three Regularity sections each day on twisty but quiet minor roads, some of which will be gravel. There will be a number of Tests on private land ranging from permanent race circuits to dirt tracks through plantations. Time Control Sections may be included on remote roads.
Roads used:
Both asphalt and gravel roads will be used. Rough roads will be avoided wherever possible. 
Hospitality:
We strive to provide the best quality accommodation available. In some of the remoter parts of the route our options are limited, but when we are in more mainstream locations the hotels will be top quality. Dinner, a light lunch and coffee will be provided on most competition days. 
Navigation:
The entire route will be defined by a detailed tulip Road Book and overview route maps will be provided.
Event Category:

To request more information and an entry form for the Road to Hanoi Marathon, please click on the button below and fill in the required details.
You can also contact the Rally the Globe office on +44 (0) 113 360 8961, or email directly via info@rallytheglobe.com
View the published entry list by clicking the link below!
| | | | | | |
| --- | --- | --- | --- | --- | --- |
| No. | Crew | Vehicle | CC | Year | Class |
| - | Keith Ashworth (GB) / Norah Ashworth (GB) | Bentley 4½ Le Mans | 4500 | 1927 | - |
| - | Michael Birch (GB) / Wendy Birch (GB) | Bentley 4½ | 4500 | 1928 | - |
| - | Graham Goodwin (GB) / Marina Goodwin (GB) | Bentley 4½ | 5300 | 1929 | |
| - | Nigel Dowding (GB) / Mary Antcliff (GB) | Aston Martin Mark II | 1495 | 1934 | |
| - | Dieter Baumhaeckel (DE) / Hildegard Baumhaeckel (DE) | Volvo PV544 | 2300 | 1961 | - |
| - | Otakar Chládek (CZ) / Otakar Chládek Jr (CZ) | Mercedes-Benz 350 SL | 3499 | 1971 | - |
| - | Michael Merkle (CH) / Firdous Naqví (CH) | Mercedes-Benz 350 SL | 3499 | 1971 | - |
| - | Tim Eades (USA) / Jim McLaren (USA) | Ford Escort | 2000 | 1971 | - |
| - | Stephen Lambert (AUS) / Ruth Lambert (AUS) | BMW 2002 Touring | 1992 | 1972 | - |
| - | Martin Brauns (USA) / TBA () | Mercedes-Benz 450 SLC | 4570 | 1972 | - |
| - | Jeff Urbina (USA) / Chris Pike (NZ) | Ford Escort | 2000 | 1972 | - |
| - | Peter Morton (GB) / Louise Morton (GB) | BMW 2002 | 1990 | 1973 | - |
| - | Hans-Martin Schneeberger (CH) / Mahnaz Schneeberger (CH) | Mercedes-Benz 350 SL | 3499 | 1974 | - |
| - | Jean-Philippe Tripet (CH) / Iris Tripet (CH) | Lancia Fulvia Monte Carlo | 1300 | 1974 | - |
| - | Manuel Dubs (CH) / Irene Dubs (CH) | Toyota Land Cruiser FJ40 | 4227 | 1975 | - |
| - | Bertie van Houtte (FR) / Charlotte van Houtte (GB) | TBA | TBA | TBA | - |
| - | Mick de Haas (NL) / Grace de Haas (NL) | TBA | TBA | TBA | - |
| - | Hans Ulrich Wartenweiler (CH) / TBA () | TBA | TBA | TBA | - |
| - | David Roberts (GB) / Jo Roberts (GB) | TBA | TBA | TBA | - |
| - | Ean Lewin (GB) / Alison Lewin (GB) | TBA | TBA | TBA | - |
| - | Charles Gooch (GB) / Clive Hopkins (GB) | TBA | TBA | TBA | - |
Rally the Globe is a not-for-profit club that exists to support a broad family of motorsport enthusiasts who want to explore the world in historic and classic vehicles. All our club's rallies come with highly experienced support crew and safety cover including:
Expert teams of sweep mechanics
On-call doctor or paramedic
Recommendations of experts in crew training and car preparation, shipping and insurance
Advice, encouragement and assistance from our friendly and knowledgeable team