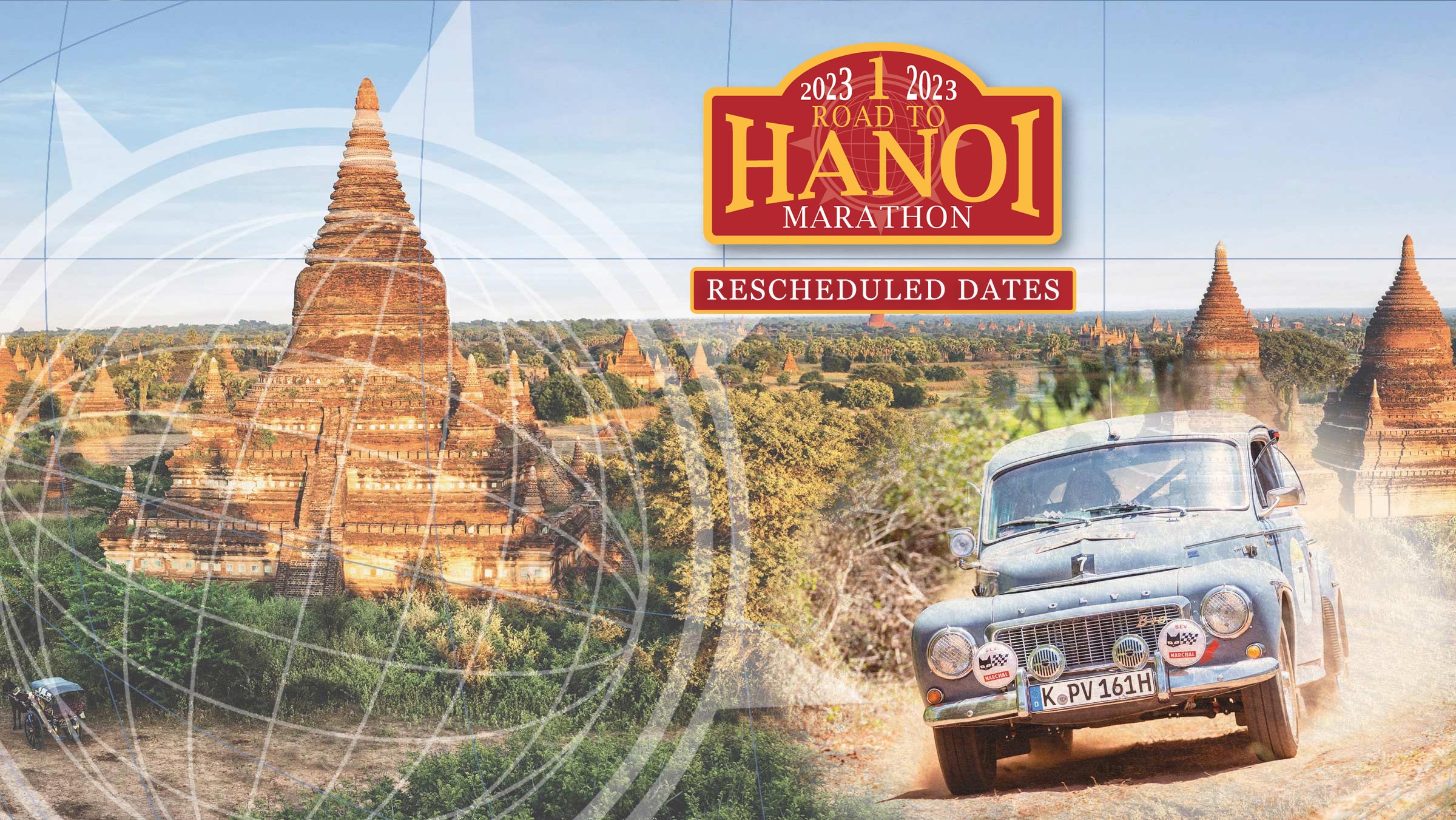 Discovering the trails of South East Asia…
28 January to 24 February 2023
Myanmar, Thailand, Laos, Vietnam
Event Highlights
This Marathon rally will start from Yangon, the largest city in Myanmar, formerly known as Burma. 
The first week is spent in this little-known country, with a stop in UNESCO World Heritage Site Old Bagan on the banks of the Irrawaddy River early on the list. Overnight halts in Mandalay and the modern capital Nay Pyi Taw are also scheduled.
We cross the Thai-Myanmar friendship bridge at Mae Sot for a short three night journey through Thailand, including a stop in the ancient capital Sukothai.
Towards the end of our second week we cross into Laos, and pause in its capital Vientiane sited on the Mekong River. We then head north to Luang Prabang, another World Heritage Site. From there, we head deep into the hills of central Laos on our way to the remote village of Pakbeng, before a return to Vientiane and the longest day of the rally. A well deserved rest day is on the menu, before we follow the Thai border to the old French colonial town of Savannakhet.
With ten days still to go we cross into Vietnam and head to the town of Hue, where our hotel on the Perfume River is within easy walking distance of the impressive 19th-century citadel (UNESCO listed of course!). Using Hue as our base we spend a day exploring central Vietnam's "Golden Loop" mountain roads, including the world-famous Hai Van Pass.
Now we head north following part of the Ho Chi Minh Trail, the wartime North-South supply trail, before heading into the hills again on the way to Sa Pa. Here we relax for a day before driving the Sin Ho Loop, which includes Vietnam's highest road, the Tram Ton Pass.
From Sa Pa it only remains to wind our way down from the mountains, before joining the highway that leads us to Hanoi. Our grand colonial-era hotel will be a real treat after four wonderful weeks on the road. 
40+
Regularity & TC Sections
Saturday 28 January 2023
Scrutineering, Signing-On & Welcome Dinner, Yangon
Sunday 29 January 2023
Rally Start from Yangon
Friday 24 February 2023
Rally Finish, Prize-giving and Gala Dinner, Hanoi
Eligible Cars:
Cars of a specification produced before 31 December 1976. Separate classification for cars of a specification produced before 31 December 1945. Please check with us if you are not sure your car is eligible.
Competition:
There will be two or three Regularity sections each day on twisty but quiet minor roads, some of which will be gravel. There will be a number of Tests on private land ranging from permanent race circuits to dirt tracks through plantations. Time Control Sections may be included on remote roads.
Roads used:
Both asphalt and gravel roads will be used. Rough roads will be avoided wherever possible.
Hospitality:
We strive to provide the best quality accommodation available. In some of the remoter parts of the route our options are limited, but when we are in more mainstream locations the hotels will be top quality. Dinner, a light lunch and coffee will be provided on most competition days.
Navigation:
The entire route will be defined by a detailed tulip Road Book.
Event Category:

To request more information and an entry form for the Road to Hanoi Marathon, please click on the button below and fill in the required details.
You can also contact the Rally the Globe office on +44 (0) 113 360 8961, or email directly via info@rallytheglobe.com
Rally the Globe is a not-for-profit club that exists to support a broad family of motorsport enthusiasts who want to explore the world in historic and classic vehicles. All our club's rallies come with highly experienced support crew and safety cover including:
Expert teams of sweep mechanics
On-call doctor or paramedic
Recommendations of experts in crew training and car preparation, shipping and insurance
Advice, encouragement and assistance from our friendly and knowledgeable team