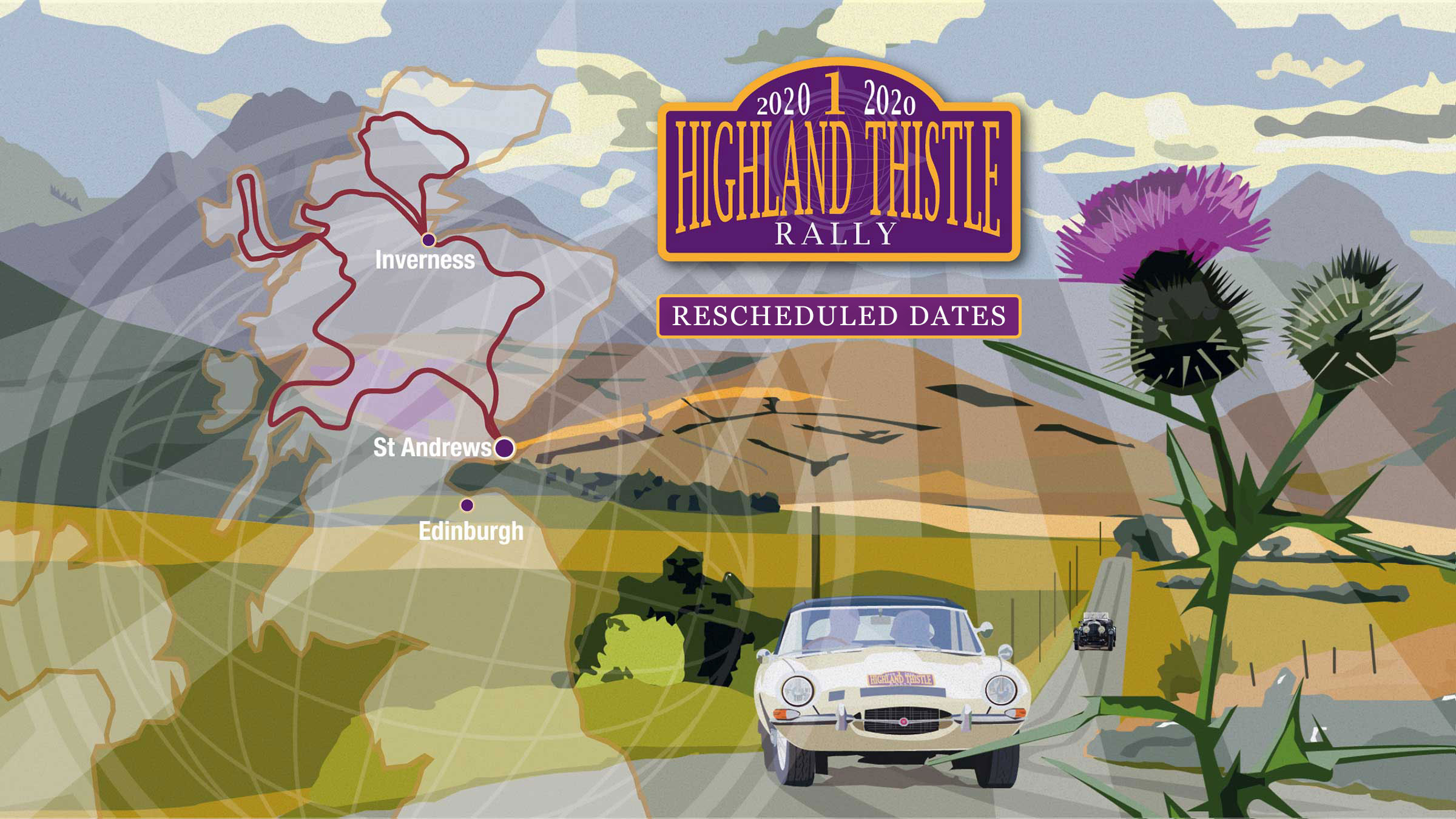 Video highlights from the Highland Thistle
Highlights from the Highland Thistle
For more photos, highlights and high resolution imagery please click on the link below to view Gerard Brown's website

Highland Thistle – Daily Dispatch – All the action

 
The Highland Thistle Results
| | | | | | | | | | | | | | |
| --- | --- | --- | --- | --- | --- | --- | --- | --- | --- | --- | --- | --- | --- |
| No | Crew | Car | Year | cc | Cls | Total | O'all Pos'n | Class Pos'n | Day 1 | Day 2 | Day 3 | Day 4 | Day 5 |
| 18 | Mike & Lorna Harrison | Triumph TR3A | 1959 | 2188 | B1 | 0:00:55 | 1 | 1 | 0:00:19 | 0:00:09 | 0:00:05 | 0:00:07 | 0:00:15 |
| 23 | David & Jo Roberts | Triumph TR4 | 1963 | 2138 | B2 | 0:02:13 | 2 | 1 | 0:00:25 | 0:00:12 | 0:00:30 | 0:00:42 | 0:00:24 |
| 15 | Tony Brooks & Andy Lane | Alpine Renault A310 | 1976 | 1647 | B3 | 0:02:16 | 3 | 1 | 0:00:16 | 0:00:36 | 0:00:28 | 0:00:23 | 0:00:33 |
| 1 | Graham & Marina Goodwin | Bentley 4½ Le Mans | 1929 | 4500 | A2 | 0:02:33 | 4 | 1 | 0:00:09 | 0:00:11 | 0:00:25 | 0:01:00 | 0:00:48 |
| 22 | Nigel & Sally Woof | Alfa Romeo Giulia Sprint | 1963 | 1570 | B2 | 0:02:34 | 5 | 2 | 0:00:25 | 0:00:09 | 0:00:36 | 0:00:10 | 0:01:14 |
| 12 | Manuel Dubs & Giancarlo Tottoli | Ford Coupe | 1940 | 3619 | A3 | 0:02:54 | 6 | 1 | 0:00:47 | 0:00:12 | 0:00:18 | 0:00:56 | 0:00:41 |
| 28 | Stephen & Samantha Hardwick | Alfa Romeo Giulia GT | 1971 | 1962 | B3 | 0:03:05 | 7 | 2 | 0:00:18 | 0:00:19 | 0:00:08 | 0:00:42 | 0:01:38 |
| 36 | Ean & Alison Lewin | Ford Escort Mexico | 1973 | 1601 | B3 | 0:04:14 | 8 | 3 | 0:01:22 | 0:00:53 | 0:00:36 | 0:00:46 | 0:00:37 |
| 9 | Christian & Matthew Brash | Aston Martin Le Mans | 1933 | 1493 | A3 | 0:04:54 | 9 | 2 | 0:01:03 | 0:00:17 | 0:01:02 | 0:01:18 | 0:01:14 |
| 35 | Andrew Laing & Ian Milne | Datsun 240Z | 1973 | 2400 | B3 | 0:04:59 | 10 | 4 | 0:00:29 | 0:00:13 | 0:00:17 | 0:01:28 | 0:02:32 |
| 11 | Gavin & Diana Henderson | Frazer Nash-BMW 328 | 1939 | 1990 | A3 | 0:05:40 | 11 | 3 | 0:00:08 | 0:00:21 | 0:00:11 | 0:02:06 | 0:02:54 |
| 8 | Robert Cook & Geoffrey Morson | Chevrolet Coupe | 1937 | 3300 | A3 | 0:05:44 | 12 | 4 | 0:00:31 | 0:00:48 | 0:01:08 | 0:01:50 | 0:01:27 |
| 30 | Steve Young & Deborah Woollard | Datsun 240Z | 1972 | 2753 | B3 | 0:06:21 | 13 | 5 | 0:00:36 | 0:00:32 | 0:01:59 | 0:01:45 | 0:01:29 |
| 6 | Geoffrey & Penelope Rawlings | Talbot 95/105 Alpine | 1934 | 2996 | A3 | 0:06:55 | 14 | 5 | 0:00:48 | 0:00:25 | 0:00:42 | 0:03:33 | 0:01:27 |
| 19 | Colin & Veronica Weekley | Austin-Healey 3000 | 1960 | 2912 | B1 | 0:07:06 | 15 | 2 | 0:00:11 | 0:00:56 | 0:00:44 | 0:03:29 | 0:01:46 |
| 4 | Reto Mebes & Hans-Jürgen Benze | Bentley 3/4½ | 1930 | 4500 | A2 | 0:07:09 | 16 | 2 | 0:00:24 | 0:00:22 | 0:03:15 | 0:02:19 | 0:00:49 |
| 38 | Paul Taylor & Paul Haslam | Ford Escort RS2000 | 1974 | 1993 | B3 | 0:07:09 | 16 | 6 | 0:02:29 | 0:00:14 | 0:01:36 | 0:02:20 | 0:00:30 |
| 7 | Peter & Griz Gordon | Talbot 90 | 1935 | 2300 | A2 | 0:07:22 | 18 | 3 | 0:01:15 | 0:00:27 | 0:00:55 | 0:02:08 | 0:02:37 |
| 31 | Jeff Urbina & Chris Pike | Porsche 911 | 1972 | 3000 | B3 | 0:07:55 | 19 | 6 | 0:00:56 | 0:00:36 | 0:01:30 | 0:02:30 | 0:02:23 |
| 26 | Barry Nash & Malcolm Lister | Rover P5B | 1969 | 3531 | B2 | 0:07:57 | 20 | 3 | 0:01:33 | 0:01:00 | 0:01:31 | 0:00:58 | 0:02:55 |
| 24 | Alan & Tina Beardshaw | Sunbeam Tiger | 1965 | 4261 | B2 | 0:08:23 | 21 | 4 | 0:00:24 | 0:02:06 | 0:00:49 | 0:01:40 | 0:03:24 |
| 33 | Peter & Louise Morton | Rover P6 | 1972 | 4599 | B3 | 0:09:53 | 22 | 7 | 0:07:13 | 0:00:12 | 0:00:26 | 0:00:22 | 0:01:40 |
| 20 | Phillip & Patricia Monks | Jaguar Mk 2 | 1961 | 3442 | B1 | 0:10:27 | 23 | 3 | 0:00:53 | 0:00:20 | 0:03:11 | 0:03:53 | 0:02:10 |
| 2 | Carl-Peter & Carl-Ferdinand Forster | Bentley 3/4½ | 1926 | 4500 | A2 | 0:10:49 | 24 | 4 | 0:01:01 | 0:00:27 | 0:01:53 | 0:02:26 | 0:05:02 |
| 32 | Andrew & Gina Long | Datsun 240Z | 1972 | 2400 | B3 | 0:13:50 | 25 | 8 | 0:02:12 | 0:00:28 | 0:01:27 | 0:04:17 | 0:05:26 |
| 10 | John & Nicole Whitelock | Ford Coupe | 1938 | 3600 | A3 | 0:15:10 | 26 | 6 | 0:01:13 | 0:01:20 | 0:02:47 | 0:05:28 | 0:04:22 |
| 17 | Christof Ley & Alfred Reichhart | Mercedes-Benz 220 S | 1958 | 2195 | B1 | 0:15:30 | 27 | 4 | 0:02:02 | 0:00:35 | 0:02:37 | 0:07:42 | 0:02:34 |
| 3 | John & Daisy Pyle | Bentley 4½ | 1928 | 4500 | A2 | 0:20:57 | 28 | 5 | 0:02:18 | 0:03:21 | 0:05:42 | 0:04:19 | 0:05:17 |
| 5 | Peter Zernial & Udo Fink | Chevrolet Roadster | 1934 | 4100 | A3 | 0:25:25 | 29 | 7 | 0:01:05 | 0:03:10 | 0:05:34 | 0:09:08 | 0:06:28 |
| 16 | Kurt & Diethild Bock | Aston Martin DB2/4 Mk II | 1955 | 3000 | B1 | 0:30:13 | 30 | 5 | 0:03:29 | 0:08:10 | 0:03:28 | 0:08:09 | 0:06:57 |
| 21 | Rob Collinge & Jan Thoenes | Jaguar E-type | 1967 | 4200 | B2 | 0:34:49 | 31 | 5 | 0:01:45 | 0:00:54 | 0:03:38 | 0:23:47 | 0:04:45 |
| 27 | Anders & Lisa Hendriksen | Jaguar E-type | 1967 | 4200 | B2 | 0:48:58 | 32 | 6 | 0:17:41 | 0:02:47 | 0:03:54 | 0:19:01 | 0:05:35 |
| 29 | Tim Eades & Jim McLaren | Ford Escort | 1971 | 2000 | B3 | 1:22:39 | 33 | 9 | 1:14:32 | 0:00:55 | 0:01:13 | 0:04:04 | 0:01:55 |
| 37 | Otakar Chládek & Zdenka Holečková | Mercedes-Benz 350 SL | 1973 | 3500 | B3 | 2:35:52 | 34 | 10 | 0:18:12 | 0:07:44 | 0:09:19 | 1:53:44 | 0:06:53 |
| 25 | Clint & Dawn Smith | Porsche 911 | 1965 | 2000 | B2 | 4:58:10 | 35 | 7 | 0:00:35 | 0:00:15 | 0:00:20 | 2:26:00 | 2:31:00 |
| | | | | | |
| --- | --- | --- | --- | --- | --- |
| No. | Crew | Vehicle | CC | Year | Class |
| 1 | Graham Goodwin (GB) / Marina Goodwin (GB) | Bentley 4½ Le Mans | 4500 | 1929 | A2 |
| 2 | Carl-Peter Forster (D) / Carl-Ferdinand Forster (D) | Bentley 3 / 4 ½ | 4500 | 1926 | A2 |
| 3 | John Pyle (GB) / Daisy Pyle (GB) | Bentley 4½ | 4500 | 1928 | A2 |
| 4 | Reto Mebes (CH) / Hans-Jürgen Benze (D) | Bentley 3 / 4 ½ | 4500 | 1930 | A2 |
| 5 | Peter Zernial (D) / Udo Fink (D) | Chevrolet Roadster | 4100 | 1934 | A3 |
| 6 | Geoffrey Rawlings (GB) / Penelope Rawlings (GB) | Talbot 95/105 Alpine | 2996 | 1934 | A3 |
| 7 | Peter Gordon (GB) / Griz Gordon (GB) | Talbot 90 | 2300 | 1935 | A2 |
| 8 | Bob Cook (GB) / Geoff Morson (GB) | Chevrolet Coupe | 3300 | 1937 | A3 |
| 9 | Christian Brash (GB) / Matthew Brash (GB) | Aston Martin Le Mans | 1493 | 1933 | A3 |
| 10 | John Whitelock (GB) / Nicole Whitelock (GB) | Ford Coupe | 3600 | 1938 | A3 |
| 11 | Gavin Henderson (GB) / Diana Henderson (GB) | Frazer Nash BMW 328 | 1990 | 1939 | A3 |
| 12 | Manuel Dubs (CH) / Giancarlo Tottoli (CH) | Ford Coupe | 3619 | 1940 | A3 |
| 15 | Tony Brooks (GB) / Andy Lane (GB) | Alpine Renault A310 | 1647 | 1976 | B3 |
| 16 | Kurt Bock (D) / Diethild Bock (D) | Aston Martin DB2/4 MkII | 3000 | 1955 | B1 |
| 17 | Christof Ley (D) / Alfred Reichhart (A) | Mercedes-Benz 220 S | 2195 | 1958 | B1 |
| 18 | Mike Harrison (GB) / Lorna Harrison (GB) | Triumph TR3A | 2188 | 1959 | B1 |
| 19 | Colin Weekley (GB) / Veronica Weekley (GB) | Austin-Healey 3000 | 2912 | 1960 | B1 |
| 20 | Phillip Monks (GB) / Patricia Monks (GB) | Jaguar Mk 2 | 3442 | 1961 | B1 |
| 21 | Rob Collinge (GB) / Jan Thoenes (GB) | Jaguar E-type | 4200 | 1967 | B2 |
| 22 | Nigel Woof (GB) / Sally Woof (GB) | Alfa Romeo Giulia Sprint | 1600 | 1963 | B2 |
| 23 | David Roberts (GB) / Jo Roberts (GB) | Triumph TR4 | 2138 | 1963 | B2 |
| 24 | Alan Beardshaw (GB) / Tina Beardshaw (GB) | Sunbeam Tiger | 4261 | 1965 | B2 |
| 25 | Clinton Smith (GB) / Dawn Smith (GB) | Porsche 911 | 2000 | 1965 | B2 |
| 26 | Barry Nash (GB)/ Malcolm Lister (GB) | Rover P5B | 3531 | 1969 | B2 |
| 27 | Anders Hendriksen (DK) / Lisa Hendriksen (DK) | Jaguar E-type | 4200 | 1967 | B2 |
| 28 | Stephen Hardwick (GB) / Samantha Hardwick (GB) | Alfa Romeo Giulia GT | 1962 | 1971 | B3 |
| 29 | Tim Eades (USA) / Jim McLaren (USA) | Ford Escort | 2000 | 1971 | B3 |
| 30 | Steve Young (GB) / Deborah Woollard (GB) | Datsun 240Z | 2753 | 1972 | B3 |
| 31 | Jeff Urbina (USA) / Chris Pike (NZ) | Porsche 911 | 3000 | 1972 | B3 |
| 32 | Andrew Long (GB)/ Gina Long (GB) | Datsun 240Z | 2400 | 1972 | B3 |
| 33 | Peter Morton (GB) / Louise Morton (GB) | Rover P6 | 4599 | 1972 | B3 |
| 35 | Andrew Laing (GB) / Ian Milne (GB) | Datsun 240Z | 2400 | 1973 | B3 |
| 36 | Ean D Lewin (GB) / Alison Lewin (GB) | Ford Escort Mexico | 1601 | 1973 | B3 |
| 37 | Otakar Chládek (CZ) / Zdenka Holečková (CZ) | Mercedes-Benz 350 SL | 3500 | 1973 | B3 |
| 38 | Paul Taylor (GB) / Paul Haslam (GB) | Ford Escort MkI RS2000 | 1993 | 1974 | B3 |
There are few experiences in Europe that can compare to a late-summer drive through the enchanting Glens,  across the vast moors and alongside the beautiful Lochs of the Scottish Highlands.
2 to 7 September 2021
Open to all cars of a type built before 31 December 1976.
Event Highlights
Starting from historic St Andrews we meander westwards to stay on the coast in a scenic loch-side hotel. The next day we pass awe-inspiring Glens and mountains before crossing over the sea to sleep on the Isle of Skye, the largest of the Inner Hebrides and home to some of Scotland's most iconic landscapes.
Returning to the mainland the next day, we cross the country to spend the next two nights close to the cathedral city of Inverness, where we may be lucky enough to catch sight of the Northern Lights (or the Mirrie Dancers as they're known locally) in a clear night sky. This brace of nights in the same bed will be separated by a foray into the far North and some of the remotest regions of the British Isles.
On the final day the route crosses the Cairngorms, the UK's largest National Park, and the Tay Bridge before returning to where we started in St Andrews, the home of golf. We will celebrate our achievements that evening with a Gala Dinner and prize-giving back at our luxury hotel, where a few drams may also be on the menu.
Thursday 2 September 2021
Scrutineering, Signing-On & Welcome Dinner, St Andrews
Friday 3 September 2021
Rally Start from St Andrews
Tuesday 7 September 2021
Rally Finish, Prize-giving & Gala Dinner, St Andrews
Eligible Cars:
Cars of a specification produced before 31 December 1976
Separate classification for cars of a specification produced before 31 December 1945
Please check with us if you are not sure your car is eligible.
Competition:
There will be 3 or 4 Regularity Sections per day on twisty but quiet minor roads, and around 10 Special Tests throughout the event on private land including large car parks, farm tracks, airfields, etc.
Roads used:
Some of the most scenic Scottish minor roads are bumpy so low-slung cars may need to be driven with care, but we will avoid rough, potholed and unsurfaced roads as much as possible.
Hospitality:
We will use top quality hotels wherever these are available and provide a tasty lunch and group dinner every day. We will provide a van to transport your luggage between hotels (weight restrictions will apply).
Navigation:
All non-competitive sections and around half of the Regularity Sections will be defined by a detailed tulip Road Book. The remaining Regularity Sections will involve simple map reading using map extracts that will be provided in the Road Book.
To request an entry form for Highland Thistle Rally, please contact the Rally the Globe office on +44 (0) 113 360 8961, or email directly via info@rallytheglobe.com
Rally the Globe is a not-for-profit club that exists to support a broad family of motorsport enthusiasts who want to explore the world in historic and classic vehicles. All our club's rallies come with highly experienced support crew and safety cover including:
Expert teams of sweep mechanics
On-call doctor or paramedic
Recommendations of experts in crew training and car preparation, shipping and insurance
Advice, encouragement and assistance from our friendly and knowledgeable team