Video highlights from Days 9 & 10
Video highlights from Days 6 & 8
Video highlights from Days 4 & 5
Video highlights from Days 2 & 3
Video highlights from Day 1
Highlights from the Carrera Iberia 2019
For more photos, highlights and high resolution imagery please click on the link below to view Gerard Brown's website

Carrera Iberia 2019 – Daily Dispatch – All the action
Day 1: Santander to Rioja – 310km
No.
Participants Name
Vehicle
CC
Year
Day Total
Overall Total
Overall Pos.
Class Pos.
4
Graham Goodwin / Marina Goodwin
Bentley 4 1⁄2 Le Mans
4500
1929
0:00:03
0:00:03
1
1
9
Jim Gately / Tony Brooks
Kurtis Comet
3916
1947
0:00:03
0:00:03
2
1
12
Mike & Lorna Harrison
Triumph TR3A
2188
1959
0:00:03
0:00:03
3
1
15
David & Jo Roberts
Triumph TR4
2138
1963
0:00:06
0:00:06
4
2
10
Anton Gonnissen / Inge Willemen
Bentley Speed 8
5760
1948
0:00:11
0:00:11
5
2
18
Manuel & Irene Dubs
Ford Mustang V8 Convertible
4728
1965
0:00:18
0:00:18
6
1
31
David & Susan Danglard
Porsche 911
2400
1973
0:00:20
0:00:20
7
1
16
Sholto Gilbertson / Caspar Killick
Jaguar E-Type
3800
1964
0:00:33
0:00:33
8
2
19
Stephen & Samantha Hardwick
Ford Falcon
5000
1965
0:00:34
0:00:34
9
3
2
Bertie Van Houtte / Charlotte Van Houtte
Bentley 3-4 1⁄2
4500
1925
0:00:35
0:00:35
10
2
24
Neil & Peta Oatley
Lancia Fulvia 1.3S Rallye
1300
1967
0:00:50
0:00:50
11
3
32
Andrew Laing / Ian Milne
Datsun 240Z
2400
1974
0:00:55
0:00:55
12
2
21
Jeremy & Jenny Clayton
Ford Mustang
4700
1966
0:00:58
0:00:58
13
4
3
Keith Ashworth / Norah Ashworth
Bentley 4 1⁄2 Le Mans
4500
1927
0:00:59
0:00:59
14
3
6
Anthony Strelzow / Lee-Ann Strelzow
Bentley Derby Drophead Coupe
4250
1936
0:01:01
0:01:01
15
3
27
Clemens & Emilia Lansing
Porsche 911 Targa
2340
1971
0:01:06
0:01:06
16
3
29
Anthony & Sonja Verloop
MGB GT V8
3528
1973
0:01:11
0:01:11
17
3
23
Roland Singer / Bernhard Ziegler
Saab 96 V4
1500
1966
0:01:14
0:01:14
18
4
1
Gavin Henderson / Diana Henderson
Bentley 3-4 1⁄2
4398
1922
0:01:23
0:01:23
19
4
26
Rogier Quekel / Marjan te Velde
Mercedes-Benz 280SE
3499
1970
0:01:26
0:01:26
20
4
17
Alan & Tina Beardshaw
Aston Martin DB5
3966
1965
0:01:42
0:01:42
21
6
11
Christof Ley / Len Treeter
Mercedes-Benz Ponton 220S
2195
1958
0:01:44
0:01:44
22
5
14
Charles & Nicola Stuart-Menteth
MGA MK2
1800
1962
0:01:44
0:01:44
23
5
20
Roy & Rachel Stephenson
Ford Mustang
4700
1965
0:01:49
0:01:49
24
7
7
Paul & Matthew Hartfield
Packard Super 8 Sedan
5240
1936
0:01:57
0:01:57
25
4
8
Andrew & Gina Long
Bentley Derby VDP
4250
1937
0:02:15
0:02:15
26
5
22
Mick & Grace de Haas
Mercedes-Benz 230SL
2300
1966
0:02:28
0:02:28
27
7
30
Wilfried & Sandra Schaefer
Porsche 911S
2311
1973
0:03:00
0:03:00
28
5
28
Otakar Chládek / Jindřiška Žemličková
Mercedes-Benz 350SL Cabrio
3500
1971
0:03:17
0:03:17
29
6
5
Clint Smith / Dawn Smith
Bentley Speed Six
6500
1929
0:17:26
0:17:26
30
5
Car 20 not eligible for overall awards
Classes
1 – Vintage
2 – Vintageant
3 – Classics up to 3501cc – up to 1969
4 – Classics up to 3501cc – 1970–1976
5 – Classics 3501cc and over
| | | | | | |
| --- | --- | --- | --- | --- | --- |
| No. | Crew | Vehicle | CC | Year | Class |
| 1 | Gavin Henderson (GB) / Diana Henderson (GB) | Bentley 3-4 1⁄2 | 4398 | 1922 | 1 |
| 2 | Bertie Van Houtte (F) / Charlotte Van Houtte (GB) | Bentley 3-4 1⁄2 | 4500 | 1925 | 1 |
| 3 | Keith Ashworth (GB) / Norah Ashworth (GB) | Bentley 4 1⁄2 Le Mans | 4500 | 1927 | 1 |
| 4 | Graham Goodwin (GB) / Marina Goodwin (GB) | Bentley Speed 3-41⁄2 | 4500 | 1927 | 1 |
| 5 | Clint Smith (GB) / Dawn Smith (GB) | Bentley Speed Six | 6500 | 1929 | 1 |
| 6 | Anthony Strelzow (CDN) / Lee-Ann Strelzow (CDN) | Bentley Derby Drophead Coupe | 4250 | 1936 | 2 |
| 7 | Paul Hartfield (GB) / Matthew Hartfield (GB) | Packard Super 8 Sedan | 5240 | 1936 | 2 |
| 8 | Andrew Long (GB) / Gina Long (GB) | Bentley Derby VDP | 4250 | 1937 | 2 |
| 9 | Jim Gately (USA) / Tony Brooks (GB) | Kurtis Comet | 3916 | 1947 | 2 |
| 10 | Anton Gonnissen (B) / Inge Willemen (B) | Bentley Speed 8 | 5760 | 1948 | 2 |
| 11 | Christof Ley (D) / Len Treeter (CDN) | Mercedes-Benz Ponton 220S | 2195 | 1958 | 3 |
| 12 | Mike Harrison (GB) / Lorna Harrison (GB) | Triumph TR3A | 2188 | 1959 | 3 |
| 14 | Charles Stuart-Menteth (GB) / Nicola Stuart-Menteth (GB) | MGA MK2 | 1800 | 1962 | 3 |
| 15 | David Roberts (GB) / Jo Roberts (GB) | Triumph TR4 | 2138 | 1963 | 3 |
| 16 | Sholto Gilbertson (GB) / Caspar Killick (GB) | Jaguar E-Type | 3800 | 1964 | 5 |
| 17 | Alan Beardshaw (GB) / Tina Beardshaw (GB) | Aston Martin DB5 | 3996 | 1965 | 5 |
| 18 | Manuel Dubs (CH) / Irene Dubs (CH) | Ford Mustang V8 Convertible | 4728 | 1965 | 5 |
| 19 | Stephen Hardwick (GB) / Samantha Hardwick (GB) | Ford Falcon | 5000 | 1965 | 5 |
| 20 | Roy Stephenson (GB) / Rachel Stephenson (GB) | Ford Mustang | 4700 | 1965 | 5 |
| 21 | Jeremy Clayton (GB) / Jenny Clayton (GB) | Ford Mustang | 4700 | 1966 | 5 |
| 22 | Mick de Haas (NL) / Grace de Haas (NL) | Mercedes-Benz 230SL | 2300 | 1966 | 4 |
| 23 | Roland Singer (A) / Bernhard Ziegler (A) | Saab 96 V4 | 1500 | 1966 | 4 |
| 24 | Neil Oatley (GB) / Peta Oatley (GB) | Lancia Fulvia 1.3S Rallye | 1300 | 1967 | 4 |
| 25 | Isabelle Mathew (GB) / Denise Seely (GB) | Mercedes-Benz 230SL | 2300 | 1967 | 4 |
| 26 | Rogier Quekel (NL) / Marjan te Velde (NL) | Mercedes-Benz 280SE | 3499 | 1970 | 4 |
| 27 | Clemens Lansing (D) / Emilia Lansing (D) | Porsche 911 Targa | 2340 | 1971 | 4 |
| 28 | Otakar Chládek (CZ) / Jindřiška Žemličková (CZ) | Mercedes-Benz 350SL Cabrio | 3500 | 1971 | 4 |
| 29 | Anthony Verloop (NL) / Sonja Verloop (NL) | MGB GT V8 | 3528 | 1973 | 5 |
| 30 | Wilfried Schaefer (D) / Sandra Schaefer (D) | Porsche 911S | 2311 | 1973 | 4 |
| 31 | David Danglard (USA) / Susan Danglard (USA) | Porsche 911 | 2400 | 1973 | 4 |
| 32 | Andrew Laing (GB) / Ian Milne (GB) | Datsun 240Z | 2400 | 1974 | 4 |
Throughout stunning Spain & Portugal
Our rally is now completed!

This action-packed adventure, following an enticing route of undiscovered roads,
celebrates the very best of Spain and Portugal
From the picturesque Bay of Biscay, we embark on a rally adventure that combines historic hotels in stunning locations alongside twisting mountain roads and race tracks that will certainly test your skills. However, don't worry as this event is aimed at both the amateur and more experienced crews alike.
Rally Director, Fred Gallagher, has planned a route off the beaten track, on roads difficult to discover without local knowledge, through vineyards, quaint towns, rolling green hills and atmospheric medieval citadels. We travel on traffic-free scenic roads, perfect for historic cars, with memorable steep hill climbs and downhill sections that promise amazing views. Although this is a competitive event with plenty of opportunities to test a team's skills, there will also be ample time to enjoy the tapas, try the excellent wine and the best port of the many vineyards, and enjoy spectacular and varied scenery.
Salud and Saúde!
What our Rally Crews Say About Us…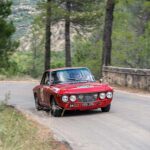 On-event support was superb. The mechanical support was wonderful when we needed it. All the marshals were excellent, helpful and very good-natured.
Sorry, no posts matched your criteria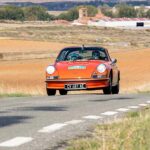 This was a superb rally, extremely well organised, attention to detail, good atmosphere with great people and support team, truly rally family.
We organise endurance category rallies which are competitive, with significant off-road sections and will challenge us through all the continents of the world. We also organise adventure category rallies which will explore the globe in a lighter competition environment, with minimal off-road sections and at a more civilised pace.
All our club's rallies will come with the highly experienced support crew and safety cover. We will always find (and we mean it) the best accommodation available and, because we are a not for profit company, we will charge no more than the rallies cost to organise.