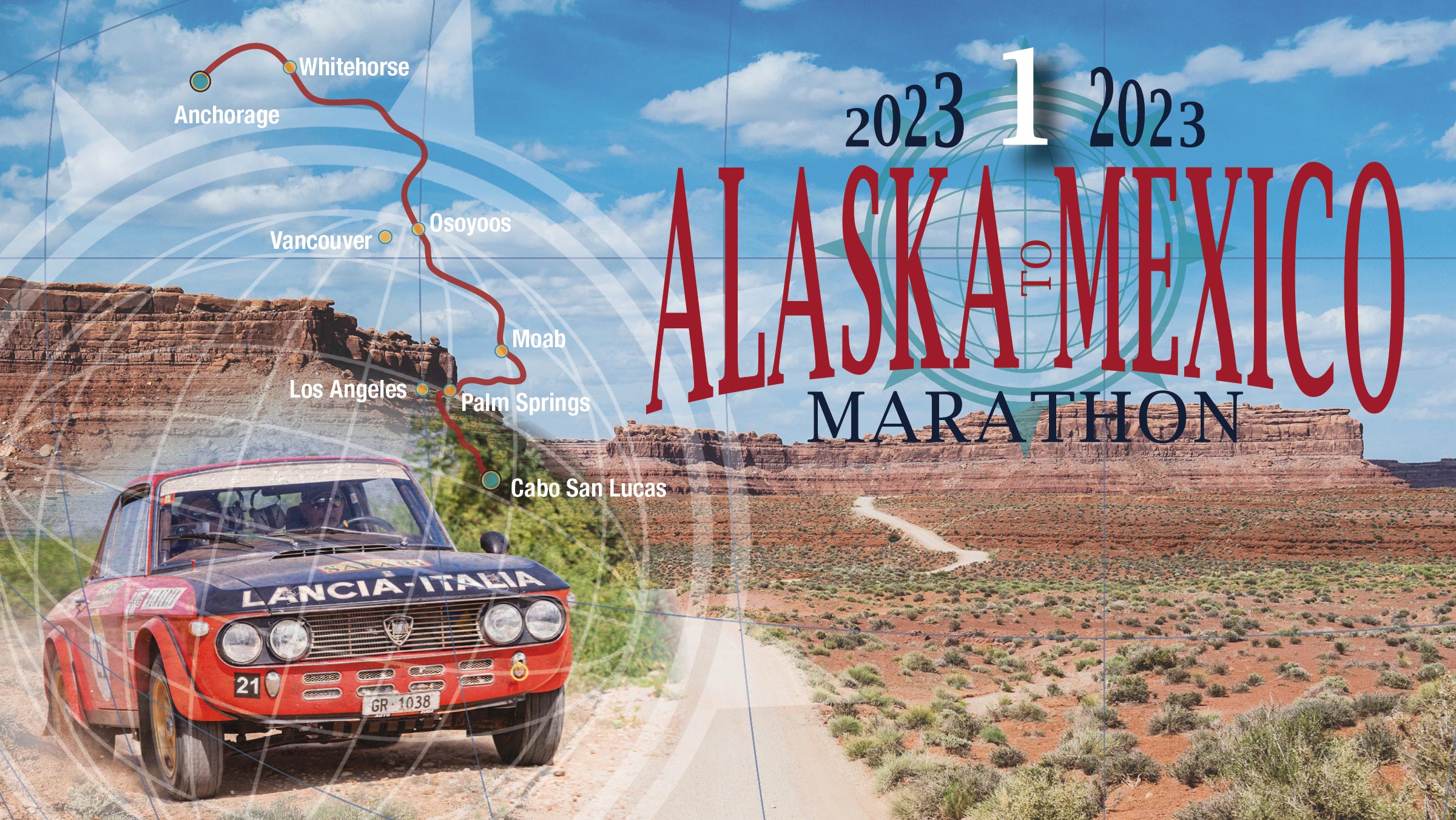 27 August to 26 September 2023
Three countries, crossing 38 lines of latitude in 30 days and one unforgettable journey. Pack your determination, competitive spirit, and sense of true adventure.
Alaska & USA, Canada and Mexico
Event Highlights
This incredible Marathon event will see crews journeying 12,000km south from the vast wilderness of unique wildlife and striking landscapes of Alaska to the tropical beaches of the Baja Peninsula in Mexico. 
The extraordinarily diverse route will traverse asphalt and gravel roads lined with snow-capped mountains, wide open landscapes, alpine scenery, rugged deserts, ancient canyons, towering rock formations, beautiful beaches, giant sand dunes and tranquil fishing villages. 
We begin in Gold Rush country surrounded by snowy peaks with old mining outposts dotting the unspoilt expanse of Alaska and the Yukon, where distances are great, and civilisation is minimal.  Snaking south through Canada, the high mountain views give way to lush pastures as we find ourselves enjoying British Columbia's wine country during a rest day in Osoyoos.
Washington State has Pacific rainforests, alpine scenery, and wineries. Oregon and Idaho have more of the same, but the climate gradually gets more arid, and race and speedways become more frequent alongside the abundance of gravel roads to keep us occupied. In Nevada and Utah the sky gets bigger, sandy and rugged vistas dominate, and a rest day in Moab will allow crews to explore and appreciate these all the more.
Colorado, New Mexico, Arizona and California arrive in quick succession and the incredible sand and gravel tracks promise intense competition in the most unreal and picturesque of surroundings and quirky, friendly desert towns will welcome us for refreshments and exploration, with another day off in the fashionable resort city of Palm Springs.
Everything changes as we cross into Mexico and escape from touristy Tijuana. From here the scenery becomes turquoise ocean bays, white sand beaches, quiet fishing villages, and colonial architecture. The next five days see lots of dusty tracks, challenging regularities, cactuses, big hats, tequila and great driving.
Finally, after a month of intense driving, competition, adventure and camaraderie we arrive at the southernmost tip of the Baja Peninsula. The resort town of Cabo San Lucas will welcome the rally with open arms, and this is where the real party begins!
To see more of the Alaska to Mexico Marathon highlights, take a look at the full brochure available at the bottom of the page.
Sunday 27 August 2023
Scrutineering, Signing-On and Welcome Dinner, Anchorage, Alaska
Monday 28 August 2023
Rally Start, Anchorage, Alaska

Tuesday 26 September 2023
Rally Finish and Prize-giving Dinner, Cabo San Lucas, Mexico
Eligible Cars:
Cars of a specification produced before 31 December 1976. Separate classification for cars of a specification produced before the end 31 December 1945. Please check with us if you are not sure your car is eligible.
Competition:
You will encounter some Regularity sections, where you will try to arrive at secret checks at a precise time. The technique is easily learnt; mastering them may take a few days. We have also planned tests on private land, tracks and circuits.  Time Control Sections may be included on remote roads. Underlying the competitive elements will be the basic challenge of driving across a continent in a fifty-year-old car. Your preparation, ingenuity and resilience will all be tested.
Roads used:
A variety of terrain, including regular gravel and sandy sections. We use minor roads to explore areas that few tourists will ever see, some of which will present driving challenges. We go out of our way to avoid really rough roads where possible.
Hospitality:
Accommodation is included in a shared room (double or twin). Single rooms are available for a supplementary fee but may be limited at some hotels. We strive to provide good quality accommodation wherever it is available. In some of the remoter parts of the route our options are severely limited, but when we are in more mainstream locations, and particularly during rest days, the hotels will be top quality. Dinner and other refreshments will be provided on most competition days. A light lunch will be included where this is possible.
Navigation:
The entire route will be defined by a detailed tulip Road Book and overview route maps will be provided.
Event Category:

To request more information and an entry form for the Alaska to Mexico Marathon, please click on the button below and fill in the required details.
You can also contact the Rally the Globe office on +44 (0) 113 360 8961, or email directly via info@rallytheglobe.com
Rally the Globe is a not-for-profit club that exists to support a broad family of motorsport enthusiasts who want to explore the world in historic and classic vehicles. All our club's rallies come with highly experienced support crew and safety cover including:
Expert teams of sweep mechanics
On-call doctor or paramedic
Recommendations of experts in crew training and car preparation, shipping and insurance
Advice, encouragement and assistance from our friendly and knowledgeable team