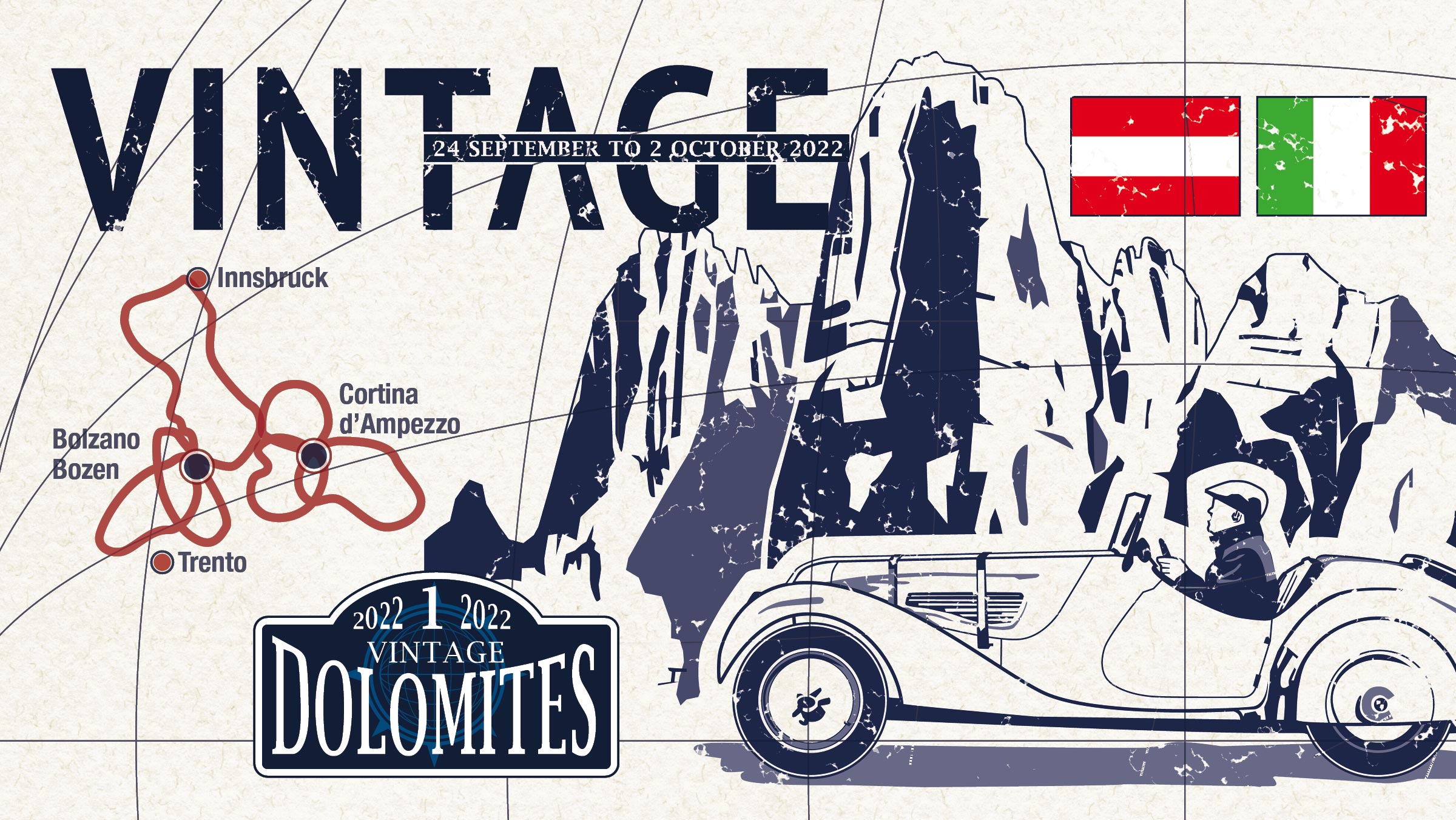 The first Rally the Globe event exclusively for cars in the Pre-war Category,  exploring the remarkable scenery and incredible roads of the Italian Dolomites and Austrian Alps.
24 September to 2 October 2022
Event Highlights
Starting and finishing in the same hotel close to the Austrian city of Innsbruck, there will be an afternoon of checking cars and paperwork before a drinks reception and welcome dinner, where crews can start to get to know each other. The next morning, we head south across the stunning Austrian Tyrol and over the imposing Alpine ridge into Italy.
We enter the Dolomites "proper" as we approach our hotel for the next three nights in Bolzano. Days 2 and 3 will be loops out from here, exploring the Brenta Dolomites and the intricate network of roads around this apple-growing region without the need to pack your bags. Pretty mountain villages, remote passes and apple strudel will all be on the menu. Then on Day 4 we bid farewell to Bolzano as we set a course to Cortina d'Ampezzo, which will serve as our base for no fewer than four nights. Day 5 will be a well-deserved rest day and a chance to take advantage of the spa at our luxurious hotel with its breath-taking views of the high peaks, or to explore the multitude of shopping and dining opportunities in this chic resort town. 
Days 6 and 7 will take crews on loops out of Cortina to take full advantage of the majestic mountains and memorable driving roads in the heart of the Dolomites, before our final day takes us back over the main Alpine ridge into Austria to finish back where we started close to Innsbruck for the traditional prize-giving party.
The route will be designed with pre-war cars in mind, with comfortable average speeds on the regularities (especially downhill!), no impossibly tight chicanes or reversing on the tests, and ample time for fettling of cars and crews both during and at the end of each day.
Saturday 24 September 2022
Scrutineering, Signing-On and Welcome Dinner, near to Innsbruck, Austria

Sunday 25 September 2022
Rally Start, near to Innsbruck, Austria

Sunday 2 October 2022
Rally Finish and Prize-giving Dinner, near to Innsbruck, Austria
Eligible Cars:
Cars of a specification produced before 31st December 1945. Please check with us if you are not sure if your car is eligible.
Competition:
There will be 3 or 4 Regularity Sections per day on twisty but quiet minor roads. These will be straight forward for the first few days but will gradually become more challenging. There will be the occasional Special Test on private land such as large car parks, kart tracks, driver training areas, etc. 
Roads used:
The roads used will predominantly be asphalt, and we will avoid rough and potholed roads as much as possible. There may be some short sections of smooth unsurfaced roads. 
Hospitality:
We will use high quality hotels and will have multiple nights in each hotel. There will be a luggage service (with weight restrictions) on the days that we move hotel. In both Bolzano and Cortina there will be one free night to allow you to explore the local restaurants, but all other dinners are provided. Lunch and other refreshments will be provided on each driving day. 
Navigation:
The entire route will be defined by a detailed tulip Road Book and overview route maps will be provided.
Event Category:
To request more information and an entry form for the Vintage Dolomites Rally, please click on the button below and fill in the required details.
You can also contact the Rally the Globe office on +44 (0) 113 360 8961, or email directly via info@rallytheglobe.com
Rally the Globe is a not-for-profit club that exists to support a broad family of motorsport enthusiasts who want to explore the world in historic and classic vehicles. All our club's rallies come with highly experienced support crew and safety cover including:
Expert teams of sweep mechanics
On-call doctor or paramedic
Recommendations of experts in crew training and car preparation, shipping and insurance
Advice, encouragement and assistance from our friendly and knowledgeable team