Video highlights of the Southern Cross Safari
Highlights from the Southern Cross Safari
For more photos, highlights and high resolution imagery please click on the link below to view Gerard Brown's website

Read the Daily Dispatch Rally Reports
Day 19: Arusha to Taita (196 kms)
No.
Participants Name
Vehicle
CC
Year
Day Total
Overall Total
Overall Pos.
Class Pos.
3
Keith & Norah Ashworth
Bentley 4½ Le Mans
4500
1927
0:00:13
0:02:46
1
1
22
Lars & Annette Rolner
Porsche 911
3200
1974
0:00:42
0:02:48
2
1
10
Clint & Dawn Smith
Jaguar E-Type
4200
1967
0:00:42
0:02:49
3
1
9
Stephen & Jenny Verrall
Porsche 911
1991
1965
0:00:43
0:03:07
4
1
8
Gavin & Diana Henderson
Porsche 911
1991
1965
0:01:39
0:03:28
5
2
2
Graham & Marina Goodwin
Bentley 4½ Le Mans
4500
1929
0:00:41
0:03:33
6
2
19
Edmund Peel & Sara MacDonald
Porsche 911
2700
1973
0:01:13
0:03:43
7
2
20
David & Susan Danglard
Porsche 911
2700
1973
0:01:41
0:04:00
8
3
11
David & Jo Roberts
Triumph TR250
2498
1968
0:01:36
0:04:01
9
3
18
Alan & Tina Beardshaw
Triumph TR6
2498
1973
0:01:00
0:04:12
10
4
12
Keith Graham& Susan Hoffmann
Mercedes-Benz 280SL
2778
1969
0:02:11
0:05:13
11
2
16
Enrico Paggi & Federica Mascetti
Fiat 124 Spider BS1
1608
1971
0:01:43
0:06:23
12
5
24
Reto Mebes & Hans-Jűrgen Benze
Mercedes-Benz 280SLC
2717
1975
0:02:46
0:07:48
13
3
4
Willy Van Loon & Christiane Torfs
Bentley Derby 3½
3669
1935
0:02:41
0:17:12
14
3
6
Rob Collinge & Thomas Hansen
Willys Jeep
2200
1954
0:00:40
0:28:27
15
1
1
Charles Stuart-Menteth & Michael Timmis
Toyota
4224
1924
0:00:23
1:26:51
16
2
7
Dieter & Hildegard Baumhäckel
Volvo PV544
2300
1961
0:04:30
1:26:56
17
6
21
Jean-Philippe & Iris Tripet
Lancia Fulvia Monte Carlo
1300
1973
0:00:48
2:05:37
18
3
14
Denis & Jill Wilson
Rover P5B
3500
1969
0:06:56
2:19:01
19
4
17
Bernd & Christiane Dannenmaier
Toyota Land Cruiser FJ40
3878
1972
0:03:00
2:22:10
20
1
15
Rogier & Marjan Quekel
Mercedes-Benz 280SE
3499
1970
0:02:10
3:03:07
21
5
25
Michael & Eunice McInerney
Ford Mustang
4700
1966
0:01:16
5:03:00
22
6
23
Andrew Laing & Ian Milne
Datsun 240Z
2393
1974
3:19:00
13:48:00
23
4
| | | | | | |
| --- | --- | --- | --- | --- | --- |
| No. | Crew | Vehicle | CC | Year | Class |
| 1 | Charles Stuart-Menteth (GB) / Michael Timmis (GB) | Vauxhall 30/98 | 4224 | 1924 | 1 |
| 2 | Graham Goodwin (GB) / Marina Goodwin (GB) | Bentley 4 1⁄2 Le Mans | 4500 | 1929 | 1 |
| 3 | Keith Ashworth (GB) / Norah Ashworth (GB) | Bentley 4 1⁄2 Le Mans | 4500 | 1927 | 1 |
| 4 | Willy Van Loon (B) / Christiane Torfs (B) | Bentley Derby 3 1⁄2 | 3669 | 1935 | 1 |
| 6 | Rob Collinge (EAK) / Thomas Hansen (DK) | Willys Jeep | 2200 | 1954 | 5 |
| 7 | Dieter Baumhäckel (DE) / Hildegard Baumhäckel (DE) | Volvo PV544 | 2300 | 1961 | 2 |
| 8 | Gavin Henderson (GB) / Diana Henderson (GB) | Porsche 911 | 1991 | 1965 | 2 |
| 9 | Stephen Verrall (GB) / Jenny Verrall (GB) | Porsche 911 | 1991 | 1965 | 2 |
| 10 | Clint Smith (GB) / Dawn Smith (GB) | Jaguar E-Type | 4200 | 1967 | 4 |
| 11 | David Roberts (GB) / Jo Roberts (GB) | Triumph TR250 | 2498 | 1968 | 2 |
| 12 | Keith Graham (GB) / Susan Hoffmann (GB) | Mercedes-Benz 280SL | 2778 | 1969 | 4 |
| 14 | Denis Wilson (GB) / Jill Wilson (GB) | Rover P5B | 3500 | 1969 | 4 |
| 15 | Rogier Quekel (NL) / Marjan Quekel (NL) | Mercedes-Benz 280SE | 3499 | 1970 | 4 |
| 16 | Enrico Paggi (IT) / Federica Mascetti (IT) | Fiat 124 Spider BS1 | 1608 | 1971 | 2 |
| 17 | Bernd Dannenmaier (DE) / Christiane Dannenmaier (DE) | Toyota Land Cruiser FJ40 | 3878 | 1972 | 5 |
| 18 | Alan Beardshaw (GB) / Tina Beardshaw (GB) | Triumph TR6 | 2498 | 1973 | 2 |
| 19 | Edmund Peel (GB) / Sara MacDonald (GB) | Porsche 911 | 2700 | 1973 | 3 |
| 20 | David Danglard (USA) / Susan Danglard (USA) | Porsche 911 | 2700 | 1973 | 3 |
| 21 | Jean-Philippe Tripet (CH) / Iris Tripet (CH) | Lancia Fulvia Monte Carlo | 1300 | 1973 | 2 |
| 22 | Lars Rolner (DK) / Annette Rolner (DK) | Porsche 911 | 3200 | 1974 | 3 |
| 23 | Andrew Laing (GB) / Ian Milne (GB) | Datsun 240Z | 2393 | 1974 | 3 |
| 24 | Reto Mebes (CH) / Hans-Jűrgen Benze (D) | Mercedes-Benz 280SLC | 2717 | 1975 | 4 |
| 25 | Michael McInerney (GB) / Eunice McInerney (GB) | Ford Mustang | 4700 | 1966 | 4 |
Classes
1 – Vintage
2 – Classics up to 2500cc
3 – Porsche 911s over 2500cc
4 – Other Classics over 2500cc
5 – 4 x 4's
10
Open air dinners of which 3 are next to the Indian Ocean
10
Game drives of different types
A rally that promises diverse wildlife, varied landscapes and cultural experiences on spectacular drives across teeming game reserves and national parks, stopping in top notch safari lodges and luxury hotels.  This is an adventure aimed at both amateur and more experienced crews alike, so if this is your first rally adventure outside Europe – Hakuna Matata*.
Rally Director, Fred Gallagher, has planned a route that avoids the crowds and visits some of the more exclusive game reserves.  This includes a stop at the private estate of Lord and Lady Delamere, who are themselves true rally enthusiasts.  Exhilarating drives will give us amazing views of snow-capped mountains, including Kilimanjaro, and take us through wildlife-rich plains and grasslands where we can expect to see elephants, giraffes, cape buffalo, lions and hippos, as well as hundreds of different birds. There are plenty of tests and regularity sections on the menu to ensure a competitive edge to this expedition, but the pace ensures there will also be plenty of time to enjoy leisurely dining in style and see the abundant game in fascinating landscapes.
*Swahili for "No Problem"
In Watamu, Administrative Checks and Scrutineering will take place at the Rally Headquarters on Saturday 15 February 2020.  The evening will see a drinks reception and a special Rally the Globe welcome dinner with the Indian Ocean as our backdrop.
What our Rally Crews Say About Us…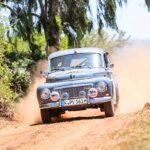 Fascinating scenery, terrific wildlife, great camaraderie, excellent hotels and lodges.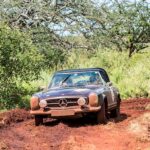 We made so many good friends, both with competitors and the support crew, who were exceptional despite the daily challenges.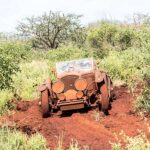 Chris and I really enjoyed the Southern Cross Safari for various reasons but the most important were that the organisation was splendid and the company of the other teams was superb!
We organise endurance category rallies which are competitive, with significant off-road sections and will challenge us through all the continents of the world. We also organise adventure category rallies which will explore the globe in a lighter competition environment, with minimal off-road sections and at a more civilised pace.
All our club's rallies will come with the highly experienced support crew and safety cover. We will always find (and we mean it) the best accommodation available and, because we are a not for profit company, we will charge no more than the rallies cost to organise.