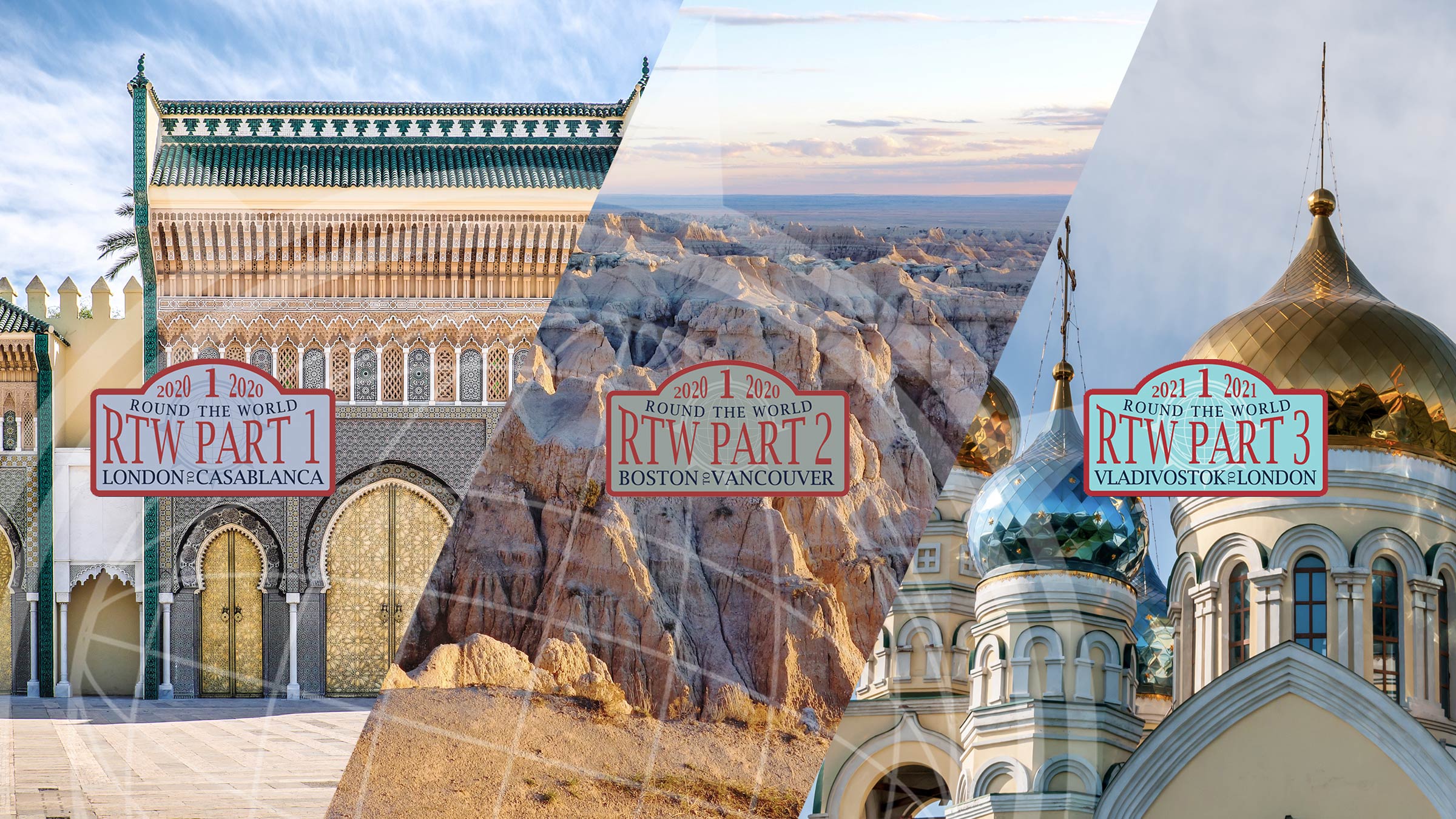 Around the world with Rally the Globe
Our epic Round the World adventure in 2020-2021 will be the most challenging and exciting event in the Rally the Globe calendar to date – the ultimate once in a lifetime opportunity for adventurous drivers and navigators to complete the circumnavigation journey they have always dreamt of.
80
Days of extraordinary adventure
100+
Competitive speed & navigation tests
Part One will start at the stunning Old Royal Naval College on the banks of the River Thames in Greenwich, London, a stone's throw from the Prime Meridian Line of the World. Crews will take in the renowned sights of London, journey through the south of the UK and then onto mountainous, traffic-free roads in Spain, before crossing into Morocco – where the Atlas Mountains and Sahara desert await them.
Part Two takes crews from the east coast of the United States to the West Coast of Canada – 21 days of adventure. An abundance of speedways and gravel tracks lie ahead, with the route taking competitors through incredible landscapes in the Badlands, Yellowstone and Grand Teton National Parks. Ski resorts in the spectacular, autumnal snow-capped Rocky Mountains play host for the final few days, before arriving in Vancouver.
Part Three will test crews to their very limits, with 42 days traversing Asia and Europe. Competitors will face frequent gravel tests and roads well off-the-beaten track through Russia, Kazakhstan and Kyrgyzstan, including those along the shore of Lake Baikal in Siberia, the oldest and deepest lake on Earth. The challenge continues with the Silk Route, the Central Steppe of Russia, Belarus, Poland, Germany, and the Netherlands. The surviving crews will cross the North Sea from the Hook of Holland to Harwich, before arriving back in Greenwich, London, – having fully traversed the globe.
The marathon intercontinental itinerary includes hand-picked hotels, magical starlight camps, rarely used mountain and desert roads plus numerous competitive tests at worldwide venues ranging from famous Grand Prix circuits to privately-owned gravel roads.
Entries will be accepted for one, two, or all three stages of this Round the World event. However, should the rally become over-subscribed, priority will be given to competitors who wish to enter the whole event. We hope to achieve a good balance of pre- and post-war cars on these events.
There will be the possibility of changing a crew member or car if you are entered in more than one stage, however, only those completing all three stages with the same car and crew will be eligible to be crowned overall Rally the Globe Round the World champion.
See more details on each stage by following the links below the presentation, or contact Rally HQ on clair.clarke@rallytheglobe.com or +44 113 360 8961 to request brochures, regulations and an entry form.
| | | | | | |
| --- | --- | --- | --- | --- | --- |
| No. | Crew | Vehicle | CC | Year | Class |
| | Keith Ashworth (GB) / Norah Ashworth (GB) | Bentley 4½ Le Mans | 4600 | 1927 | |
| | Graham Goodwin (GB) / Marina Goodwin (GB) | Bentley 4½ Le Mans | 4500 | 1929 | |
| | Jonathan Turner (GB) / Harry Turner (GB) | Bentley VDP | 4500 | 1929 | |
| | Brian Scowcroft (GB) / Catherine Scowcroft (GB) | Chevrolet Fangio Coupe | 3300 | 1936 | |
| | Jorge Perez Companc (AR) / José Maria Volta (AR) | Chevrolet Fangio Coupe | 3500 | 1939 | |
| | Manuel Dubs (CH) / Irene Dubs (CH) | Ford Coupe | 3619 | 1940 | |
| | Matthew Telling (GB) / William Keogh (GB) | Bentley MK6 | 6500 | 1951 | |
| | Adrian Hodgson (GB) / Kathiona Lie (SG) | Austin A90 Westminster | 2912 | 1955 | |
| | Jim Gately (US) / Tony Brooks (GB) | Ford Thunderbird | 4785 | 1955 | |
| | Michael Harrison (GB) / Lorna Harrison (GB) | Triumph TR3A | 2188 | 1959 | |
| | Peter Kappeler (CH) / Paul Woolmer (GB) | Volvo PV544 | 1800 | 1960 | |
| | Phillip Monks (GB) / Patricia Monks (GB) | Jaguar MK2 | 3442 | 1961 | |
| | Marco Halter (CH) / Claudia Engelhardt (DE) | Ford Falcon | 4400 | 1963 | |
| | David Roberts (GB) / Jo Roberts (GB) | Triumph TR4 | 2138 | 1963 | |
| | Phillip Blunden (AU) / Lyndy Blunden (AU) | Holden EH | 3000 | 1964 | |
| | Stanley Gold (US) / Brant Parsons (US) | Porsche 911 | TBA | 1965 | |
| | Boris Gruzman (US) / David Ferguson (US) | Jaguar XKE | 4200 | 1965 | |
| | Bernard Mattei (FR) / Denise Mattei (FR) | Ford Mustang Shelby GT350 | 289ci | 1966 | |
| | Mick de Haas (NL) / Grace de Haas (NL) | Mercedes-Benz 230SL | 2800 | 1966 | |
| | John Houck (US) / David Houck (US) | Volvo 122 Station Wagon | 2330 | 1967 | |
| | Anthony Verloop (NL) / Sonja Verloop (NL) | Mercedes-Benz 280SE | 2748 | 1968 | |
| | Steven Hitchins (GB) / Midori Hitchins (JP) | Ford Mustang Shelby GT350 | 289ci | 1968 | |
| | Barry Nash (GB) / Malcolm Lister (GB) | Rover 3.5 | 3531 | 1969 | |
| | Otakar Chládek (CZ) / Marie Urbánková | Mercedes-Benz 350SL | 3500 | 1971 | |
| | Peter Kruse (CH) / Andreas Honegger (CH) | Mercedes-Benz 280CE | 2745 | 1973 | |
| | Joe Hayes (US) / Kate Hayes (US) | Porsche 911 | 3000 | 1973 | |
| | Gerry Crown (AU) / Matthew Bryson (AU) | Leyland P76 | 4900 | 1974 | |
| | Adrian Brooks (GB) / Rick Mackley (GB) | Mercedes-Benz 450SLC | 4500 | 1976 | |
| | Andrew Laing (GB) / Ian Milne (GB) | Peugeot Coupe 504 | 2664 | 1977 | |
| | Michael Kershaw (GB) / Elizabeth Comstock-Smith (GB) | Land Rover Range Rover Classic | 4500 | 1981 | |
View our Round the World launch presentation