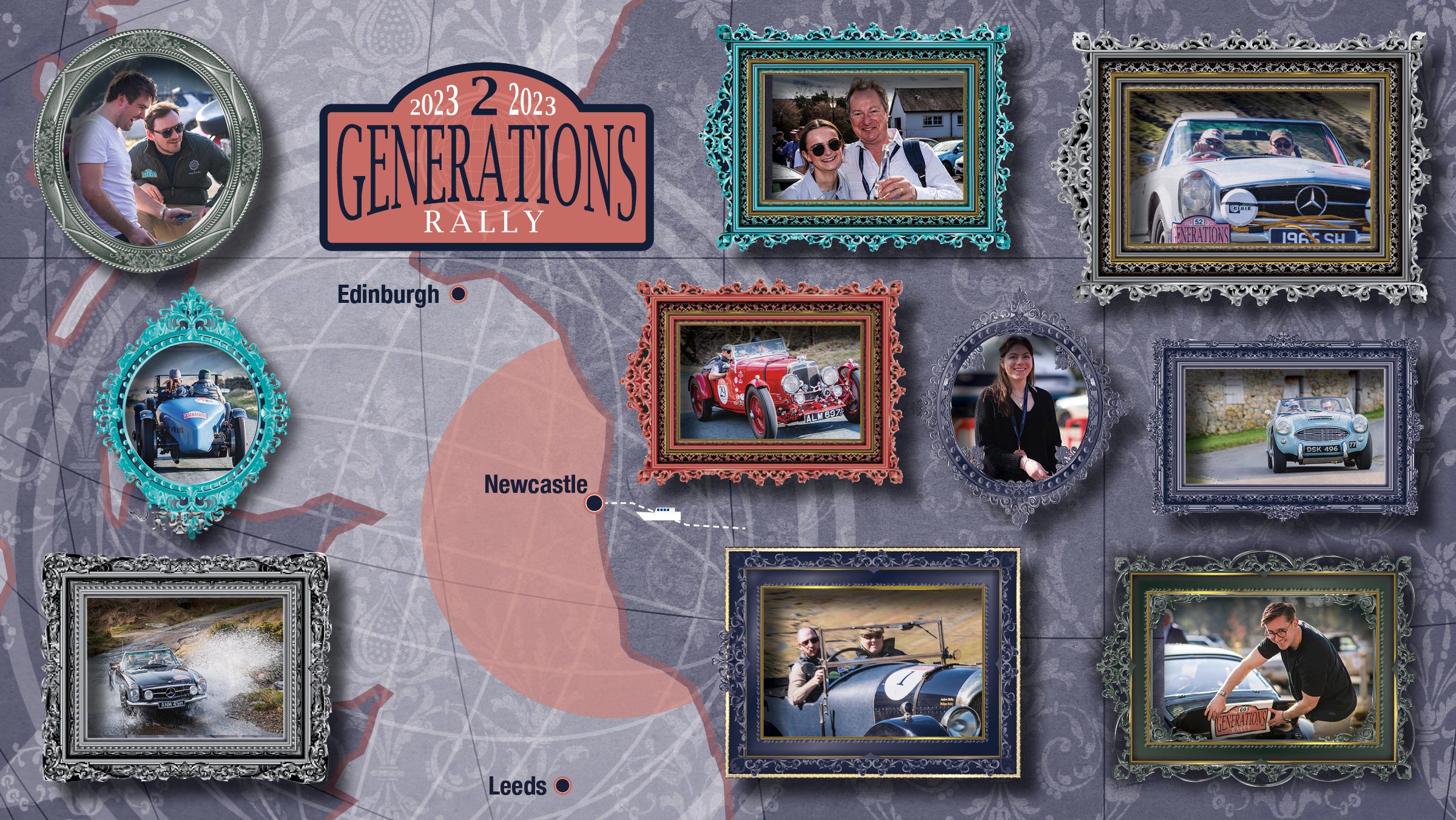 After the much-acclaimed success of the first Generations Rally we are doing it all again in 2023.
This rally is once again specifically targeted at crews from different generations, encouraging the continuation of our passion for historic motorsport.
24 to 26 March 2023

North Pennines, Northumberland and Scottish Borders
Event Highlights
Based in a single hotel perched blissfully on the edge of the North Pennines, proceedings will start on Friday morning with the normal pre-event formalities of scrutineering and signing-on. After a light lunch, the rally starts with a full afternoon's route that will introduce newcomers to the ideas of Regularity Sections and Tests. The evening will see us all dining together for a Welcome Dinner, giving the chance to socialise with like-minded people and learn from the mistakes of others!
Saturday sees us heading further north for a full day of competition through the serene Northumbrian countryside and a foray across the Border into Scotland. The Tests and Regularities will increase slightly in difficulty as the day progresses and the crews become familiar with the techniques involved. Safely back at base, drinks and dinner will again be a great time to discuss the day's successes or otherwise.
Sunday will feature a morning of competition closer to base with enough twists and turns to sort out the final positions. Lunch and an afternoon prize-giving will allow for a timely departure for home – after what we are confident will have been another fantastic introduction of our hobby to the next generation.
We hope you can join us!
Friday 24 March
AM: Scrutineering and Signing-on
PM: Rally Start
Eve: Welcome Dinner
Sunday 26 March
Lunch: Rally Finish and Prize-giving
Eligible Crew:
Each crew should consist of members of two distinct Generations – ideally from the same family. All crew members must be at least 12 years old at the time of the event. Any crew member under the age of 18 may only form a crew with their parent or legal guardian.
Eligible Cars:
Cars of a specification produced before 31 December 1985
Separate classification for cars of a specification produced before 31 December 1945
Please check with us if you are not sure your car is eligible.
Competition:
There will be Regularity Sections each day on twisty but quiet minor roads. Special Tests will also take place throughout the event on private land, which can include farm tracks and large car parks.
Roads used:
Some of the most scenic roads in the area can be bumpy so low-slung cars may need to be driven with care, but we will avoid rough, potholed and unsurfaced roads as much as possible. 
Hospitality:
Our comfortable Spa Resort will also be the venue for dinner each evening, and for a Prize-giving Gala Lunch on the final day.  
Navigation:
The rally navigation will utilise a tulip Road Book with simple Regularities and Tests to start with, getting a little more complicated as the event progresses. Some of the sections towards the end of the event will require you to use map extracts that will be provided.
Tuition will be given before the start for crews that haven't taken part in this type of rallying before, and Rally the Globe mentor teams will be on hand throughout the event to help with any queries.
Event Category:
What they said about the first Generations Rally …
"The format was superb and the 'Generations' idea was great to get families and a mix of the old and young (and somewhere in between!) all involved."
"What a joy that was! The Generations Rally was so well, and thoughtfully, organised with great attention to detail."
"Great camaraderie, lovely roads, amazing panoramas and so nice to have younger people on the event."
"The "children" really enjoyed the rally and all its challenges and are looking forward to their next one.  Socialising afterwards with their own ages made for happy chatter and new friends."
"The Generations rally was huge fun. I know my daughter thoroughly enjoyed it and is now hooked." 
"We had a ball and will definitely be back."
"Great event, great team, great weather, great roads."
"The route was challenging yet rewarding, the scenery and weather was perfect."
To request more information and an entry form for Generations Rally 2023, please click on the button below and fill in the required details.
You can also contact the Rally the Globe office on +44 (0) 113 360 8961, or email directly via info@rallytheglobe.com
Rally the Globe is a not-for-profit club that exists to support a broad family of motorsport enthusiasts who want to explore the world in historic and classic vehicles. All our club's rallies come with highly experienced support crew and safety cover including:
Expert teams of sweep mechanics
On-call doctor or paramedic
Recommendations of experts in crew training and car preparation, shipping and insurance
Advice, encouragement and assistance from our friendly and knowledgeable team