The longest and most adventurous circumnavigation in history 
Epic 80-day odyssey starts and finishes in Greenwich, London
Overall champion crowned after three legs traversing the globe 
Event officially launched at the famous Royal Geographical Society
Rally the Globe is delighted to announce its seminal 'Round the World' driving adventure – the greatest-ever circumnavigation of the planet Earth on four wheels.
Set for 2020-2021, this will be the first such driving odyssey for a generation and, totalling around 22,000 miles (35,000 kilometres), it will be the longest, most challenging and, ultimately, the most rewarding yet staged, eclipsing the distance of the previous event run in 2000 to mark the millennium.
Fittingly, Round the World was launched last evening (Wednesday) at Lowther Lodge in Kensington, London home of the Royal Geographical Society, an organisation closely associated to so many of the great global explorers including Livingstone, Stanley, Scott, Shackleton, Hunt and Hillary (photos above world map below).
Taking a leaf from the fictitious Phileas Fogg in the famous Jules Verne novel, the full circuit of the globe will take a total of exactly 80 days and will start and finish in London. Not just London, though, but the stunning Old Royal Naval College in Greenwich (photos above and below world map below) right next to the Royal Observatory and the Prime Meridian Line (Longitude Zero).
Adding to the spectacle, entries are restricted to vintage, post-historic and classic cars built before 1976 and open to crews of all abilities and experience.
Such is the incredible scale of the journey that Round the World is divided into three individual legs: the first from London to Casablanca in Morocco (23 May to 9 June 2020); the second from Boston, Massachusetts to Vancouver, Canada  (19 September to 10 October 2020) and finally the third from Vladivostok in Russia back to London (8 May to 19 June 2021).
In total, plucky participants will face more than 100 competitive speed and navigation tests along the epic route and the hard-earned victors will be crowned as 'Rally the Globe Round the World' champions back in Greenwich after 80 days of unforgettable adventure through some of the most spectacular spots on Earth including the Sahara Desert, Rocky Mountains and virtually unexplored gravel routes through Siberia.
Crews are allowed to enter individual legs but, with limited places available, priority will be given to those rallying the world. The more intrepid, bold enough to enter cars from the pre-1946 era, may also be given preferential treatment to ensure the field features a full spectrum of motoring history.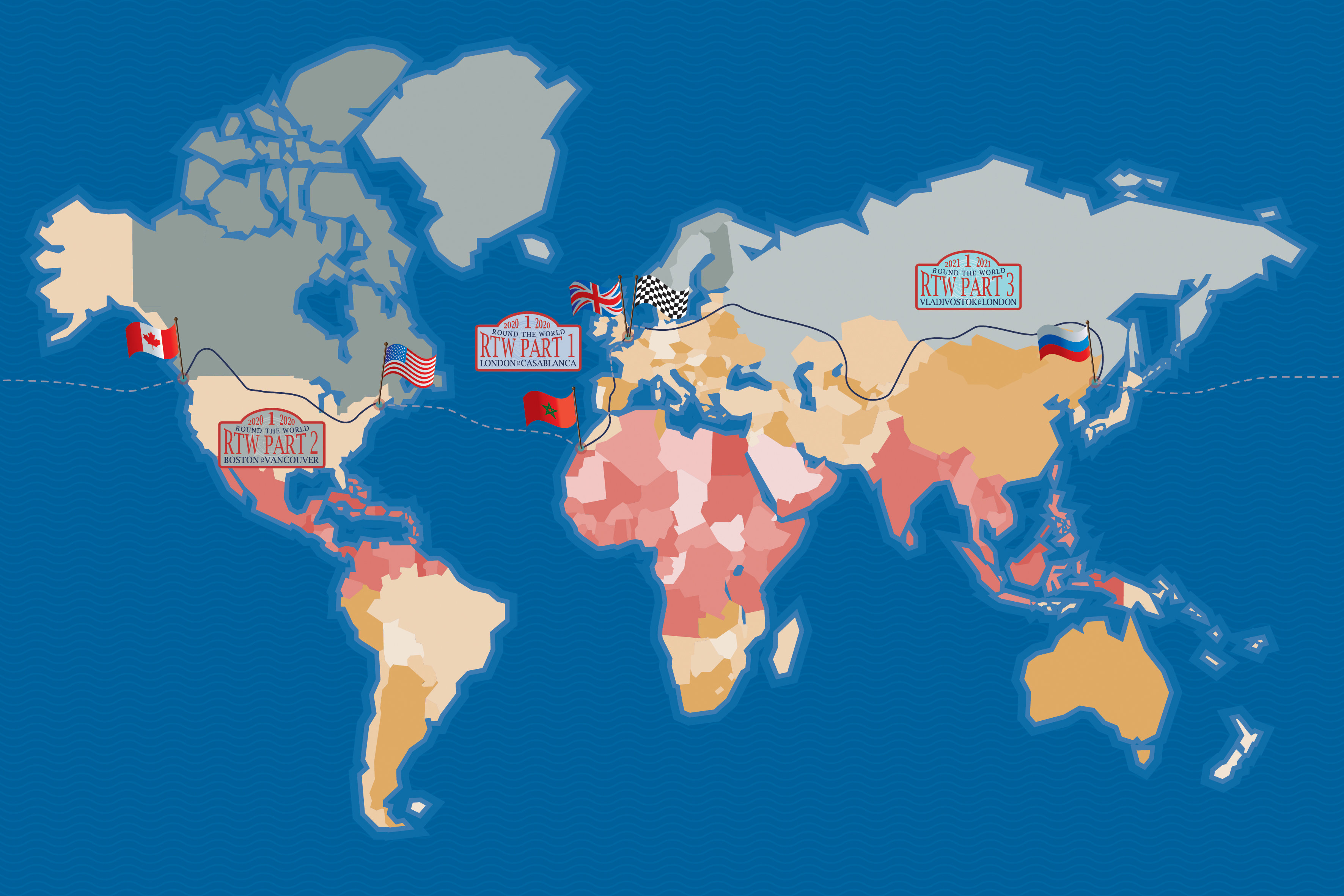 "It must be every motoring enthusiast's dream to drive right around the world and, for many, this is an incredible once-in-a-lifetime opportunity to fulfil that wonderful ambition," enthused Rally the Globe Chairman, Graham Goodwin who, as a Bentley owner, is a regular competitor in many of the less ambitious events. "Cars, competition and camaraderie all on the greatest possible scale – my name is going to be one of the first on the list!"