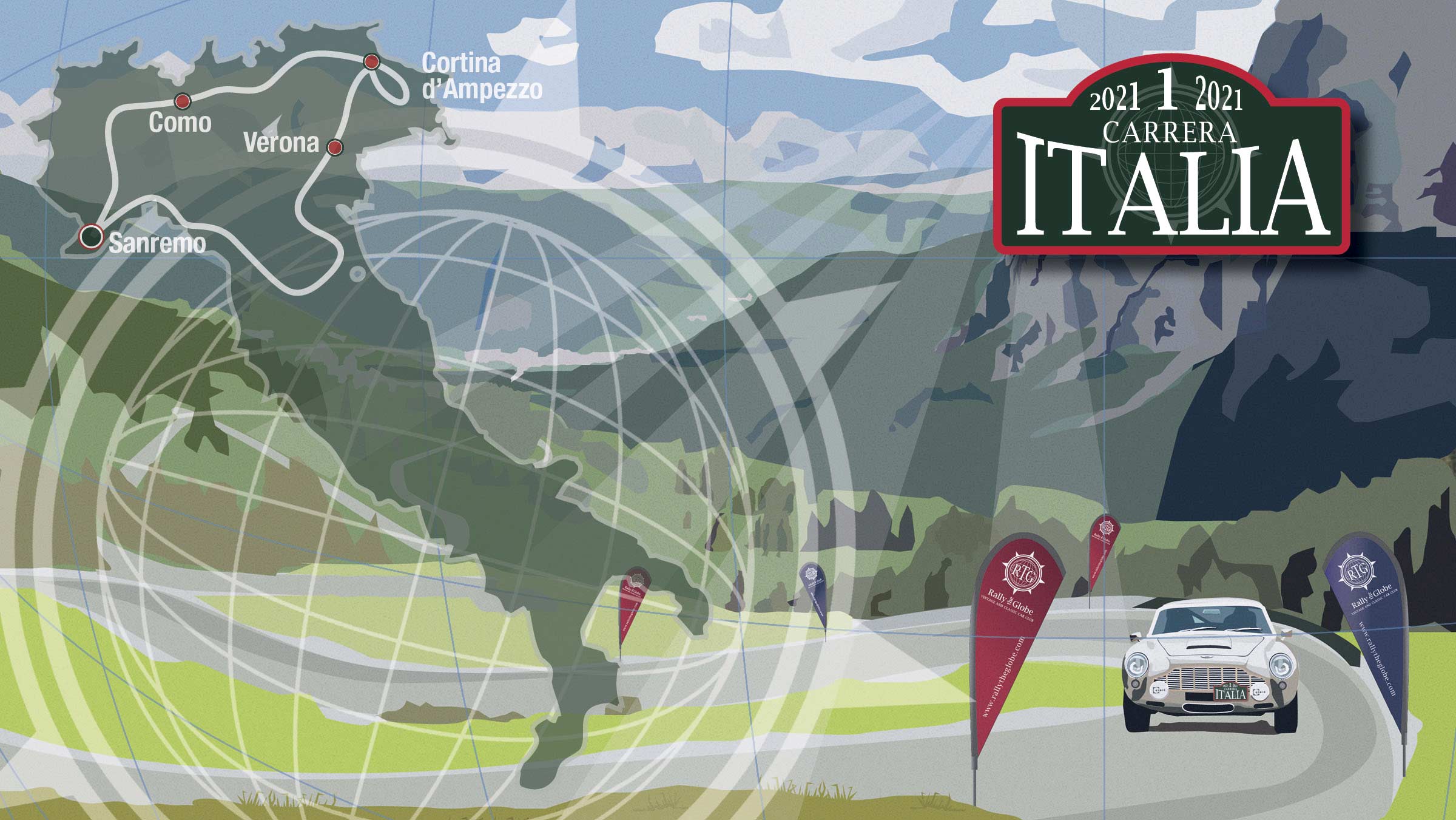 Video highlights from the Carrera Italia
Highlights from the Carrera Italia
For more photos, highlights and high resolution imagery please click on the link below to view Gerard Brown's website

Carrera Italia 2021 – Daily Dispatch – All the action
Day 10 S. Margherita Ligure - Sanremo 244.1km
No.
Participants Name
Vehicle
CC
Year
Day Total
Overall Total
Overall Pos.
Class Pos.
17
Mike & Lorna Harrison
Triumph TR3A
2188
1959
0:00:02
0:00:47
1
1
23
Steve & Jenny Verrall
Porsche 911
1991
1965
0:00:05
0:01:09
2
1
1
Bertie & Charlotte van Houtte
Frazer Nash-BMW 328
1970
1938
0:00:07
0:01:19
3
1
41
Roy & Rachel Stephenson
Porsche 911
2994
1973
0:00:02
0:01:39
4
1
9
Gavin & Diana Henderson
Frazer Nash-BMW 328
1990
1939
0:00:01
0:01:47
5
2
7
Andrew & Gina Long
Datsun 240Z
2400
1972
0:00:02
0:01:58
6
2
27
Manuel & Irene Dubs
Ford Mustang V8 Convertible
4728
1965
0:00:05
0:02:19
7
1
26
Alan & Tina Beardshaw
Aston Martin DB5
3996
1965
0:00:02
0:02:32
8
2
43
Tomasz Dzitko & Beata Siwek
MGB GT
1800
1973
0:00:03
0:02:51
9
2
38
Ean & Alison Lewin
Ford Escort Mexico
1601
1973
0:00:01
0:02:54
10
3
2
Andrew & Ann Boland
Talbot AV105
3400
1934
0:00:07
0:03:06
11
3
8
Richard & Catherine Phillipson
Austin Mini
1293
1974
0:00:10
0:03:30
12
4
4
Graham & Marina Goodwin
Bentley 3/4½ Corsica
4500
1927
0:00:03
0:03:38
13
4
6
Clint & Dawn Smith
Bentley 3/4½
4500
1925
0:00:21
0:03:47
14
5
31
David & Jo Roberts
Jaguar XK150
3442
1959
0:00:02
0:03:53
15
2
12
Mick & Grace de Haas
Mercedes-Benz 280 SL
2800
1966
0:00:03
0:04:08
16
3
15
Adrian & Christine Hodgson
Austin A90 Westminster
2912
1955
0:00:04
0:04:14
17
3
3
Keith & Norah Ashworth
Bentley 4½ Le Mans
4500
1927
0:00:10
0:04:44
18
6
22
Sholto & Karen Gilbertson-Hart
Jaguar E-type
3800
1964
0:00:03
0:04:48
19
4
24
Stanley Gold & Brant Parsons
Porsche 911
2000
1965
0:00:04
0:05:37
20
5
39
Andrew Laing & Ian Milne
Datsun 240Z
2400
1973
0:00:14
0:05:45
21
3
33
Reto Mebes & Hans-Jürgen Benze
Mercedes-Benz 280 SL
2800
1969
0:00:42
0:05:54
22
5
37
Phillip & Patricia Monks
Jaguar Mk 2
3442
1961
0:00:02
0:05:54
23
4
35
Michel Velasco & Maria Garcia
Porsche 356 Cabriolet
1582
1962
0:00:11
0:06:01
24
5
32
John & Nicole Whitelock
Mercedes-Benz 280 SL
2800
1968
0:00:01
0:06:18
25
6
16
Bruno & Corina Lang-Mathis
Porsche 356A Speedster
1583
1957
0:00:03
0:06:41
26
6
19
Mark & Sally Bramall
Volvo Amazon 123GT
1800
1968
0:00:05
0:06:59
27
6
36
Brian & Catherine Scowcroft
Ferrari Daytona
4390
1972
0:01:03
0:07:39
28
4
29
Jeremy Clayton & Edward Belcher
Ford Mustang Convertible
4200
1966
0:00:12
0:08:08
29
7
18
Dieter & Hildegard Baumhaeckel
Volvo PV544
2300
1961
0:00:33
0:08:09
30
7
10
Renate Hanselmann & Lukas Ospelt
Ford Model 91A
3600
1939
0:00:05
0:11:01
31
7
42
Otakar Chládek & Hynek Tauscher
Mercedes-Benz 350 SL
3500
1973
0:00:16
0:21:33
32
5
5
Hugh & Lesley Apthorp
Bentley 4½ Blower
4500
1931
0:00:03
0:23:15
33
8
34
Herman Wielfaert & Katrien Tremerie
Mercedes-Benz 280 SL
2788
1970
0:15:07
0:23:49
34
8
21
Chris & Ingrid Woodhouse
Jaguar E-type
3781
1962
0:00:28
0:49:24
35
9
44
Enrico Paggi & Federica Mascetti
Mercedes-Benz 190 SL
1600
1964
0:00:42
1:43:24
36
7
30
Hans Middelberg & Jürgen Grolman
Ford Mustang Convertible
4998
1967
0:30:15
1:48:47
37
10
40
John Fraser & Peter Jenkins
Porsche Carrera RS
2800
1973
0:00:19
5:28:22
38
6
| | | | | | |
| --- | --- | --- | --- | --- | --- |
| No. | Crew | Vehicle | CC | Year | Class |
| 1 | Bertie van Houtte (F) / Charlotte van Houtte (GB) | Frazer Nash-BMW 328 | 1977 | 1938 | 1 |
| 2 | Andrew Boland (IRL) / Ann Boland (IRL) | Talbot AV105 | 3400 | 1934 | 1 |
| 3 | Keith Ashworth (GB) / Norah Ashworth (GB) | Bentley Le Mans | 4600 | 1927 | 1 |
| 4 | Graham Goodwin (GB) / Marina Goodwin (GB) | Bentley 3/4½ Corsica | 4500 | 1927 | 1 |
| 5 | Hugh Apthorp (GB) / Lesley Apthorp (GB) | Bentley 4½ Blower | 4500 | 1931 | 1 |
| 6 | Clinton Smith (GB) / Dawn Smith (GB) | Bentley 3/4½ | 4500 | 1925 | 1 |
| 7 | Andrew Long (GB) / Gina Long (GB) | Datsun 240Z | 2400 | 1972 | 5 |
| 8 | Richard Phillipson (GB) / Catherine Phillipson (GB) | Austin Mini | 1293 | 1974 | 3 |
| 9 | Gavin Henderson (GB) / Diana Henderson (GB) | Frazer Nash-BMW 328 | 1990 | 1939 | 1 |
| 10 | Renate Hanselmann (FL) / Lukas Ospelt (FL) | Ford Model 91A | 3600 | 1939 | 1 |
| 12 | Mick de Haas (NL) / Grace de Haas (NL) | Mercedes-Benz 230 SL | 2800 | 1966 | 4 |
| 15 | Adrian Hodgson (GB) / Christine Hodgson (GB) | Austin A90 Westminster | 2912 | 1955 | 2 |
| 16 | Bruno Lang (CH) / Corina Lang-Mathis (CH) | Porsche 356A Speedster | 1583 | 1957 | 2 |
| 17 | Mike Harrison (GB) / Lorna Harrison (GB) | Triumph TR3A | 2188 | 1959 | 2 |
| 18 | Dieter Baumhaeckel (D) / Hildegard Baumhaeckel (D) | Volvo PV544 | 2300 | 1961 | 2 |
| 19 | Mark Bramall (GB) / Sally Bramall (GB) | Volvo Amazon 123GT | 1800 | 1968 | 3 |
| 21 | Chris Woodhouse (GB) / Ingrid Woodhouse (GB) | Jaguar E-type | 3781 | 1962 | 4 |
| 22 | Sholto Gilbertson-Hart (GB) / Karen Gilbertson-Hart (GB) | Jaguar E-Type | 3800 | 1964 | 4 |
| 23 | Steve Verrall (GB) / Jenny Verrall (GB) | Porsche 911 | 1991 | 1965 | 3 |
| 24 | Stanley Gold (USA) / Brant Parsons (USA) | Porsche 911 | 2000 | 1965 | 3 |
| 26 | Alan Beardshaw (GB) / Tina Beardshaw (GB) | Aston Martin DB5 | 3996 | 1965 | 4 |
| 27 | Manuel Dubs (CH) / Irene Dubs (CH) | Ford Mustang V8 Convertible | 4728 | 1965 | 4 |
| 29 | Jeremy Clayton (GB) / Edward Belcher (GB) | Ford Mustang Convertible | 4200 | 1966 | 4 |
| 30 | Hans Middleberg (D) / Jürgen Grolman (D) | Ford Mustang | 4998 | 1967 | 4 |
| 31 | David Roberts (GB) / Jo Roberts (GB) | Jaguar XK150 S | 3442 | 1959 | 2 |
| 32 | John Whitelock (GB) / Nicole Whitelock (GB) | Mercedes-Benz 280 SL | 2800 | 1968 | 4 |
| 33 | Reto Mebes (CH) / Hans-Jurgen Benze (D) | Mercedes-Benz 280 SL | 2800 | 1969 | 4 |
| 34 | Herman Wielfaert (B) / Katrien Tremerie (B) | Mercedes-Benz 280 SL | 2788 | 1970 | 4 |
| 35 | Michel Velasco (GB) / Maria Garcia (E) | Porsche 356 Cabriolet | 1582 | 1962 | 2 |
| 36 | Brian Scowcroft (GB)/ Catherine Scowcroft (GB) | Ferrari Daytona | 4390 | 1972 | 5 |
| 37 | Phillip Monks (GB) / Patricia Monks (GB) | Jaguar Mk 2 | 3442 | 1961 | 2 |
| 38 | Ean Lewin (GB) / Alison Lewin (GB) | Ford Escort Mexico | 1601 | 1973 | 3 |
| 39 | Andrew Laing (GB) / Ian Milne (GB) | Datsun 240Z | 2400 | 1973 | 5 |
| 40 | John Fraser (GB) / Peter Jenkins (GB) | Porsche Carrera RS | 2800 | 1973 | 5 |
| 41 | Roy Stephenson (GB) / Rachel Stephenson (GB) | Porsche 911 | 2994 | 1973 | 5 |
| 42 | Otakar Chládek (CZ) / Hynek Tauscher (CH) | Mercedes-Benz 350 SL | 3500 | 1973 | 5 |
| 43 | Tomasz Dzitko (PL) / Beata Siwek (PL) | MGB GT | 1800 | 1973 | 3 |
| 44 | Enrico Paggi (IT) / Federica Mascetti (IT) | Alfa Romeo Giulia Spider | 1600 | 1964 | 3 |
The second event in our popular Carrera series will start from Sanremo,  Italy's rally HQ and, for many years, home to the country's World Rally Championship event.
2 to 12 October 2021
Italian mountains and Lakes
Event Highlights
Italian rally master Lucio di Mori is working on a route that will take us straight into the tremendous roads of the Ligurian Alps and then onwards towards the Italian Lakes. From there, over some high passes and into the Dolomites, we will spend two nights in Cortina d'Ampezzo, an important venue in the story of historic rallying. While we may be here for two nights, there is no rest day as we shall be revelling in the roads that were used in the epic Coppa d'Oro delle Dolomiti that was held from 1947 to 1956, rivalling the Mille Miglia for notoriety.
Leaving the hills behind we make for historic Verona, the home of Romeo and Juliet. Then it's on towards the Adriatic coast and a quick stop in the Republic of San Marino to add another country to our "visited list". We then head to Tuscany, with some of the greatest rallying roads in the world, and a host of major motor racing circuits on which to hold Tests along the way.
After a night in a splendid Tuscan resort we will head north-west to the Mediterranean coast for our final night before the finish. More incredible, mountain roads will take us back to Sanremo for a mid-afternoon finish after ten stunning days of driving.
Bellissimo!
Saturday 2 October 2021
Scrutineering, Signing-On & Welcome Dinner, Sanremo
Sunday 3 October 2021
Rally Start from Sanremo
Tuesday 12 October 2021
Rally Finish, Prize-giving and Gala Dinner, Sanremo
Eligible Cars:
Cars of a specification produced before 31 December 1976
Separate classification for cars of a specification produced before 31 December 1945
Please check with us if you are not sure your car is eligible.
Competition:
There will be 2 or 3 Regularity Sections per day, on twisty but quiet minor roads. There will also be a Test most days, utilising race tracks, circuits and private land.
Roads used:
The roads will be all asphalt, and we will avoid rough, potholed and unsurfaced roads as much as possible.
Hospitality:
We will use top quality hotels where available and provide a group dinner most evenings, other than on non-driving days. Some lunches will also be provided in a variety of venues. We will provide a van to transport your luggage between hotels (weight restrictions will apply).
Navigation:
All of the route, including the Regularity Sections will be defined in a detailed tulip Road Book. 
Event Category:

Rally the Globe is a not-for-profit club that exists to support a broad family of motorsport enthusiasts who want to explore the world in historic and classic vehicles. All our club's rallies come with highly experienced support crew and safety cover including:
Expert teams of sweep mechanics
On-call doctor or paramedic
Recommendations of experts in crew training and car preparation, shipping and insurance
Advice, encouragement and assistance from our friendly and knowledgeable team