Part 1 – Anchorage AK to Boise ID
Monday 1 August saw me get up at first light and take a taxi to Heathrow for the long couple of flights to Anchorage, Alaska, to meet up with Sarah Ormerod and her brand new Toyota Tacoma truck and begin the first recce for Rally the Globe's epic Alaska to Mexico Marathon Rally. Due to the time difference, my Monday lasted 32 hours and it was around 10.00 pm local that I arrived at the hotel and fell into bed. Luckily, I had no jetlag (that was waiting for me on my return!) and slept soundly until breakfast time.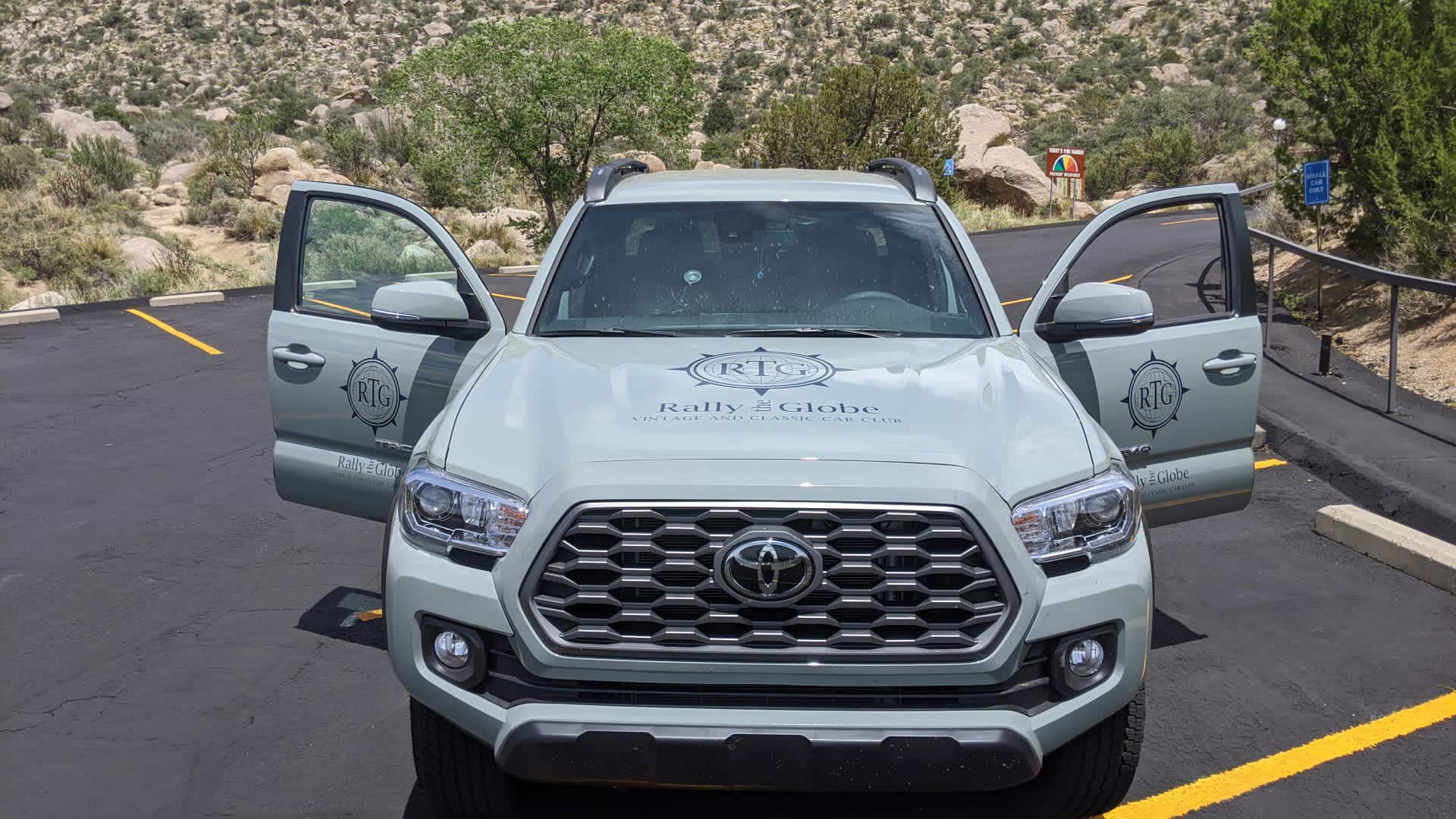 After a day sorting out the start location and prepping Sarah's Tacoma with two Monits, a Garmin 276, an iPad with Pocket Earth for mapping, TomTom for city centre navigation and a cool box filled with water and "emergency rations", we left Anchorage, the last big city we would see for almost two weeks.
Less than 40km out of town the scenery became spectacular and the quiet roads a joy on which to drive. We got a warm welcome at Alaska Raceway Park, a splendid complex which will be a great place to start day one's competitive action. The stunning scenery continued to the event's first regularity section, 15 km of smooth gravel over a gentle pass amidst snowy peaks and ice-blue lakes in the Talkeetna Mountains.
We hope to run a test at a roadside speedway later that morning, before an early lunch will be taken just up the road, followed by the long but spectacular drive north, with a planned Passage Control at one of the best viewpoints for Mount Denali (formerly McKinley). Our final stop of the day was at a magnificent brewery complex with excellent light food, a variety of drinks and lots to see, so the schedule will be such that these can be enjoyed by all. From there it was onwards to Fairbanks, at almost 65 degrees latitude, the most northerly point of the event.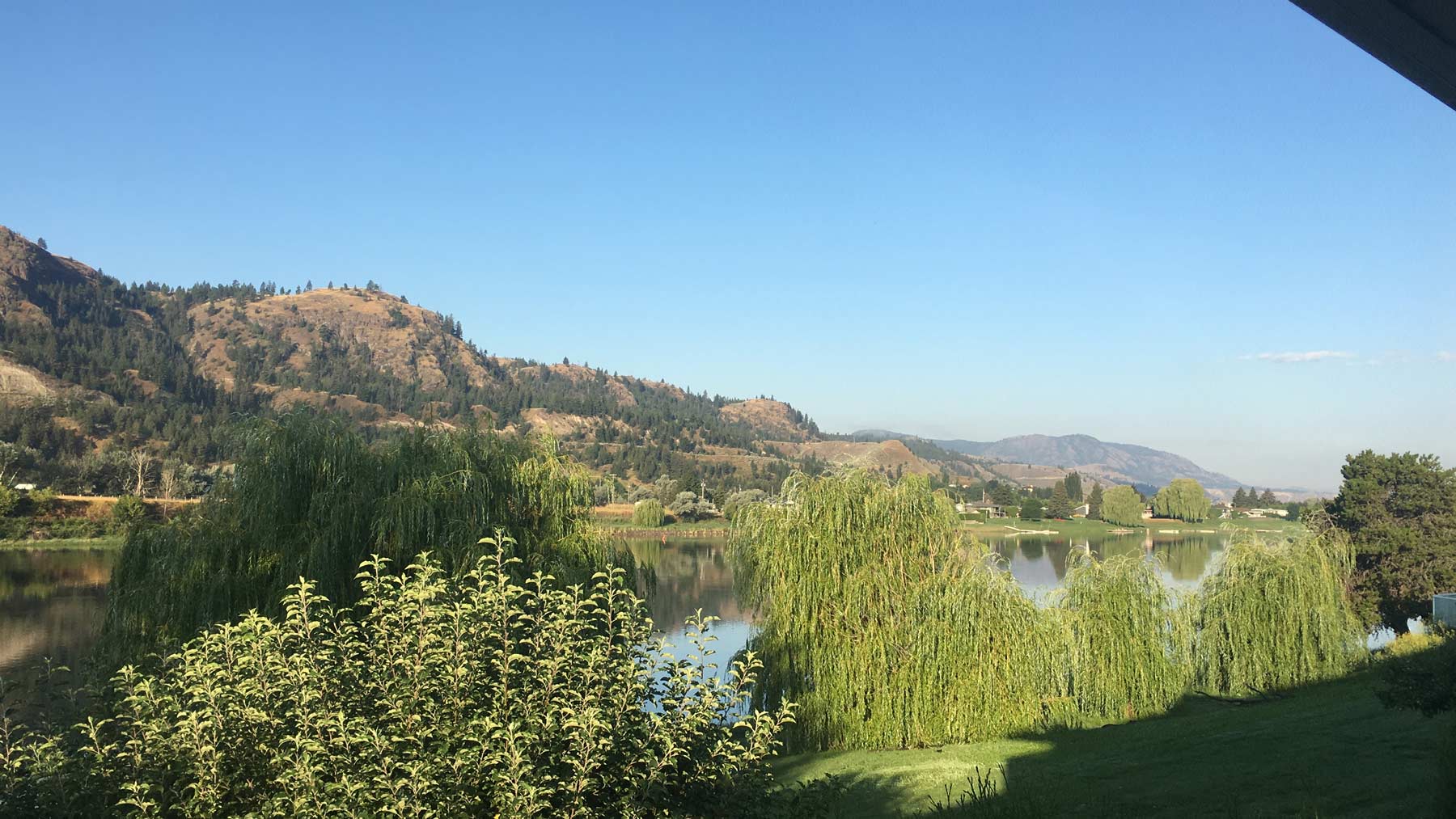 Day 2 heads south and east, direction Canada and The Yukon. The weather was still magnificent, and we followed the Tanana River for miles marvelling at the tens of thousands of logs floating in the opposite direction, towards the Yukon River. The Denali mountain range was still visible in the distance and stops for photographs were plentiful. We found a short-but-sweet gravel regularity before morning coffee in a welcoming establishment, from which it was 175 km following the Alaska Highway to Tok (pronounced toke) before turning off onto the Taylor Highway towards Chicken. Chicken features strongly on the map of Alaska but is in reality a collection of wooden cafes, souvenir shops, a single gas pump and some very welcoming people. We found a splendid location for a late lunch and the best coffee of the trip so far, before joining the gravel Roof of the World Highway with its smooth surface and wonderful vistas. Sixty-six kilometres later we were at the Canadian frontier, before an amazing 105 km of gravel took us down to the Yukon River and a small ferry into Dawson City. The town has an amazing frontier feel and we expected to see John Wayne on every corner. We decided to pass on our hotel's Sourtoe Cocktail however, a drink with a mummified human toe….
A terrific regularity starts off the following day, after which we saw our first black bears. "Bear Right" became the day's most overused navigational instruction and I sensed I was alone in the truck in finding that funny…. We emerged onto the Klondike Highway and there was a real "middle of nowhere" feel with infrequent, isolated fuel stations sometimes with an associated simple diner. We later found a peach of a regularity that followed a lake shore for a considerable distance. The surface was great despite the road disappearing from the map from time to time! The final stop of the day in Carmacks has fuel as well as the best stocked store we had seen, so this place was quickly identified as our final Passage Control before descending into Whitehorse. This town was a real surprise with a good selection of bars and restaurants, so we have set aside a free evening for people to explore.
Every foodie website had the Alpine Bakery at the top of its list, so we stopped there for breakfast coffees and croissants and a picnic takeaway for lunch. After getting back on gravel we found a challenging regularity with a fox standing guard on the start line (he couldn't guarantee he would be there next year however). Ten changes of direction in 22km will reward those who had a quiet Friday night!
In the Yukon, Carcross Desert is a little taste of Arabia more than 60 degrees north of the equator. Our selected brunch stop is at a resort on the shores of a beautiful lake, before heading back on the Alaska Highway where fuel stations were as rare as ever, the rally will be advised to fill up wherever they can. At Teslin we discovered our first long metal grid surfaced bridge and the Tacoma had a bit of a mind of its own as to which way it should go. We look forward to reports of how older, narrower tyres fare… Side roads that do not finish in a dead end are very rare in the area but we did identify some sections of old road running parallel to the highway that we have deemed to be run as tests. Short but fun, with the route into our night halt in Watson Lake following on from this.
Sunday morning dawned dry with fluffy white clouds and blue skies. Before setting off for Fort Nelson we had a look at the Signpost Forest, where thousands of signposts from all over the world have been fixed, right next to the Tourist Information Centre. We thought it would be fun to do something with the rally cars there, and a helpful lady we met showed us a function room capable of hosting a rally dinner. Plans are currently being hatched for dinner in Watson Lake, so stay tuned for more details nearer the time.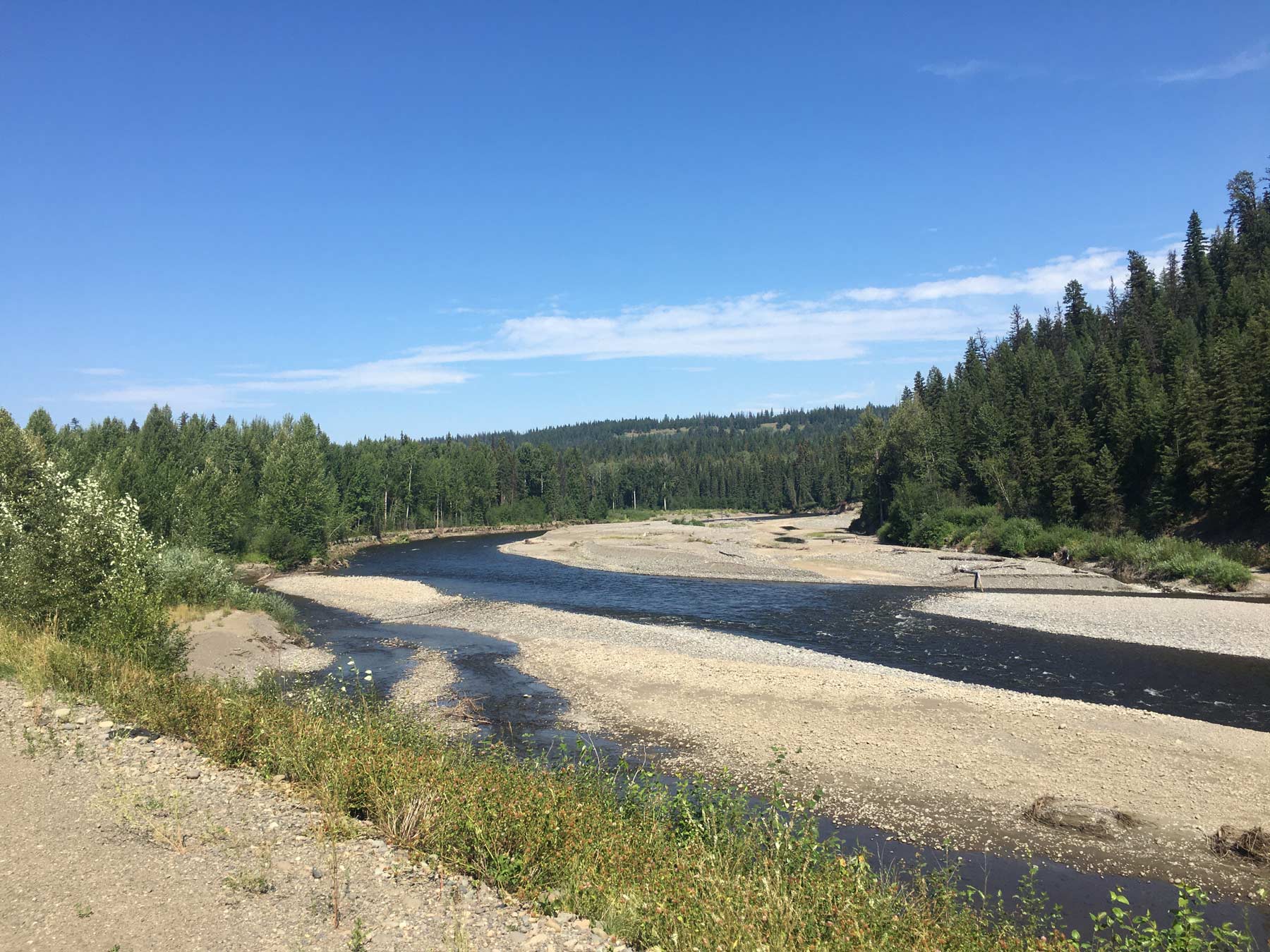 The Yukon had impressed us both with its beauty, remoteness and sheer size, and now we were entering British Columbia, although amazingly there was no sign to denote either province. As we headed south we were both scanning side roads for a potential test or regularity and 75 km later one presented itself on our left. Test 5-1 "The Compromise" is a combination of Sarah's ambitious ideas of driving down steep inclines into dry rivers, and my cautious almost straight short gravel track plans! The scenery was getting even more spectacular and we frequently stopped for photographs in a stunning valley where we saw mountain goats, buffalo and some moose. Enough bridges of various construction to satisfy the most ardent pontephile (we made the word up but think it should enter common usage) before we rolled into Fort Nelson.
First thing Monday morning we investigated a promising looking loop road marked on our long out-of-print British Columbia road atlas. The gravel road was smooth, wide and fairly fast but definitely a good wake up test to start the day. The really amazing bit came right after the end of the section, however. Without giving too much away let's just say that various means of transport converge on one spectacular, breath-taking point. Back on the Alaska Highway we were both taken by with the wide, green verges and plentiful, now deciduous trees. On another exceptional gravel section, thirteen changes of direction in 20 km will keep the navigators busy before re-joining the great highway again. The final gravel section of the day was 25 km round Inga Lake, my favourite of the day although Sarah preferred the previous one. Like so many things on the recce we agreed to differ! We plan to run a couple of tests in Fort St John with the friendly folks at the Northern Lights Raceway, before our descent into Dawson Creek. With a decent hotel, plentiful garages, bars and restaurants we decided this would be the place for a non-driving day, both on the recce and the rally.
After a day of scanning road books, writing up notes, laundry and truck washing, we headed west the following morning, remarking on the spectacular views at Pine River. We found a beautiful gravel road skirting Moberly Lake, well defined on both the paper map and Google… and then the road deteriorated. The Satnav said "Go straight" but there was a two-metre-deep ditch across the road. With lots of other roads in the area we were unconcerned – as the crow flies the asphalt main road was less than five kilometres away – but four hours later we were still looking. At one point we crossed a stream on a rudimentary, two-plank "bridge". I congratulated Sarah on her skill and bravery and got a tense reply of "I wouldn't want to do that again". Five hundred metres later the road disappeared completely, and she had to repeat the manoeuvre! At least this time I got to video it correctly. We eventually retraced our steps over 100km back to Chetwynd where we arrived at around six in the afternoon to discover not a single hotel had any availability, so reluctantly we carried on to our planned stop in Prince George, almost 400km ahead. We phoned the excellent Coast Hotel to tell them we would be arriving very late and the wonderful staff arranged for hot soup and a bottle of wine to be waiting for us in the ready to close bar.
Heading south out of Prince George we quickly turned off the main road and after 40km found some fast, smooth gravel. After half an hour or so things started to get twistier and we pulled into a lay-by on the shores of Cleswuncut Lake to plot a regularity start and stretch our legs. That's when I noticed the rear right tyre was deflated. Sarah's foresight in buying an extra spare steel rim and tyre before leaving home in New Mexico suddenly seemed like a very good idea. In no time at all she had the bottle jack under the rear spring, wheel nuts were loosened, and the spare wheel mounted. At no time did my chinos get dusty…..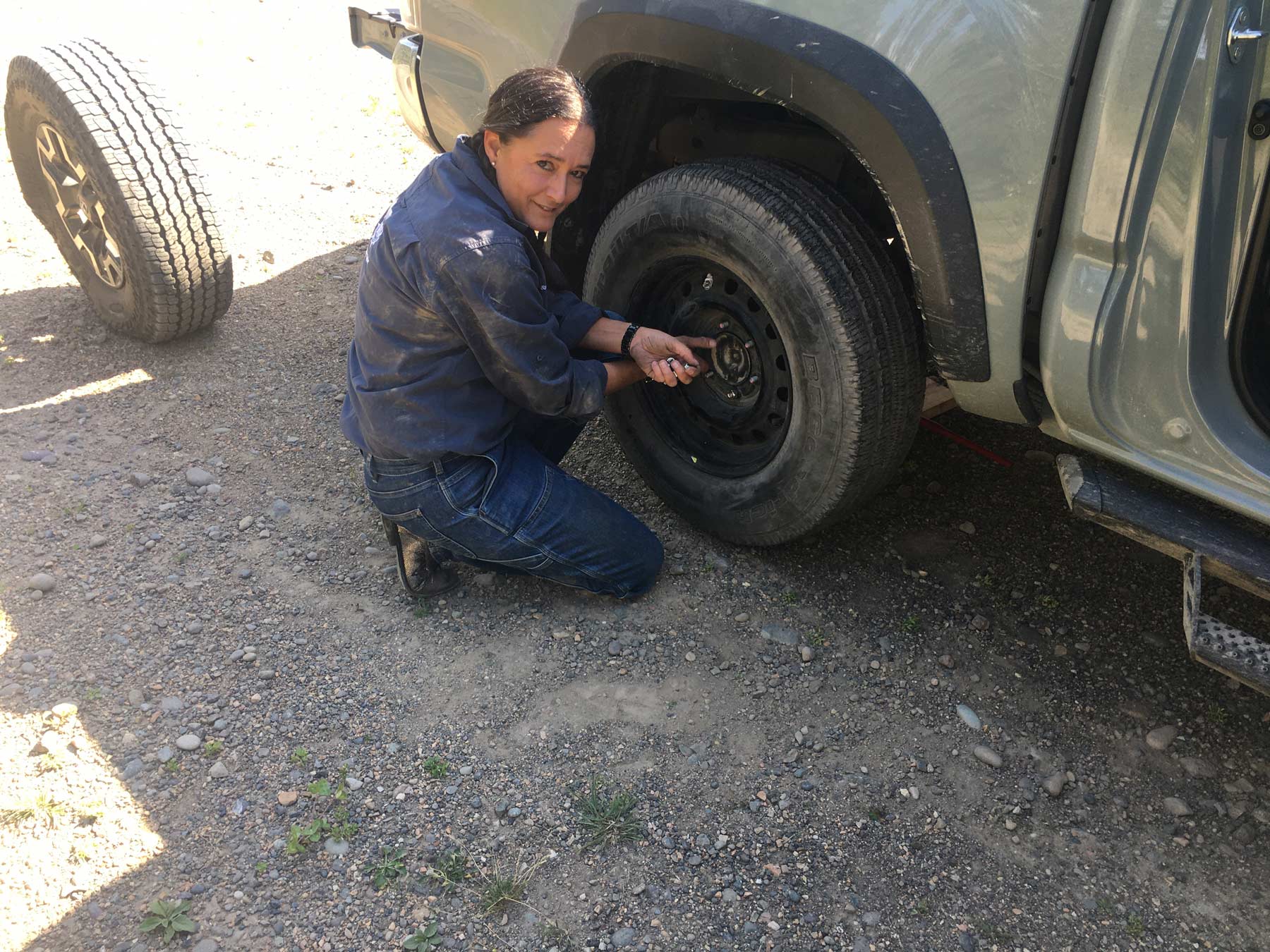 Back on the road the regularity was scenic and we continued to follow the gravel for a further 65km before arriving in the town of Quesnel, where a pair of potential tests were plotted at the end of the aptly named Racing Road. We lost further time with a closed road that caused a 50km detour, but found a great rally lunch halt in a roadside micro-brewery which serves light plates of food. As we continued south, the scenery was getting ever more spectacular and a final gravel section of the day was identified at Edmund Lake. An afternoon coffee stop was found opposite a wonderful antique store which had a couple of old cars out front, including an Austin Metropolitan, a car my father taught me to scorn from an early age! Due to our lateness that evening, we ended up with a Chinese delivered to the hotel – one of the most welcome home-delivery meals of my life!
It very much felt we had now left the wide-open spaces and "new-frontier" feel behind, with towns and villages much more frequent and quite a wide choice of roads to take. Mid-morning Sarah spotted what looked like an old race circuit on our right. We found a wonderful, time-warp, oval raceway, and the proprietor of the wood frame business in the former paddock could not have been more welcoming – so we plan a test in the style of 1960's NASCAR racing. In the middle of Canada's extensive but somewhat unknown wine area, we discovered a splendid winery where we hope to have a lunch stop. As our route continued, we stumbled across an extensive motor sports facility where negotiations to use the track are ongoing. From there it was a short drive to the stunning lakeside town of Osoyoos, our last night in Canada.
It was only four kilometres from our hotel to the U.S. border and a swift customs check. Our first 25km gravel section in the Okanogan Forest in Washington State was very similar to that which we had experienced in British Columbia, but things then quickly changed. The Western-style store in Riverside on the back road along the Okanogan River got our attention and that was quickly followed by what we both agreed was the finest regularity section of the event so far. We capped it at 30km but could happily have carried on for the same distance again. The vistas had become large again and there were wonderful rock formations to be seen on all sides, before a twisty, climbing road over the well-named Punish Mountain. We will wait and see what a further winter, and hopefully Springtime regrade, does to this road before letting the 48 Hour Car crew decide if we use it. The views are extraordinary, and this is a Marathon event so the chances are high. From there it was an easy drive into Leavenworth, a German-themed village with Bierkellers, Lederhosen and Alpine Horns as far as the eye could see.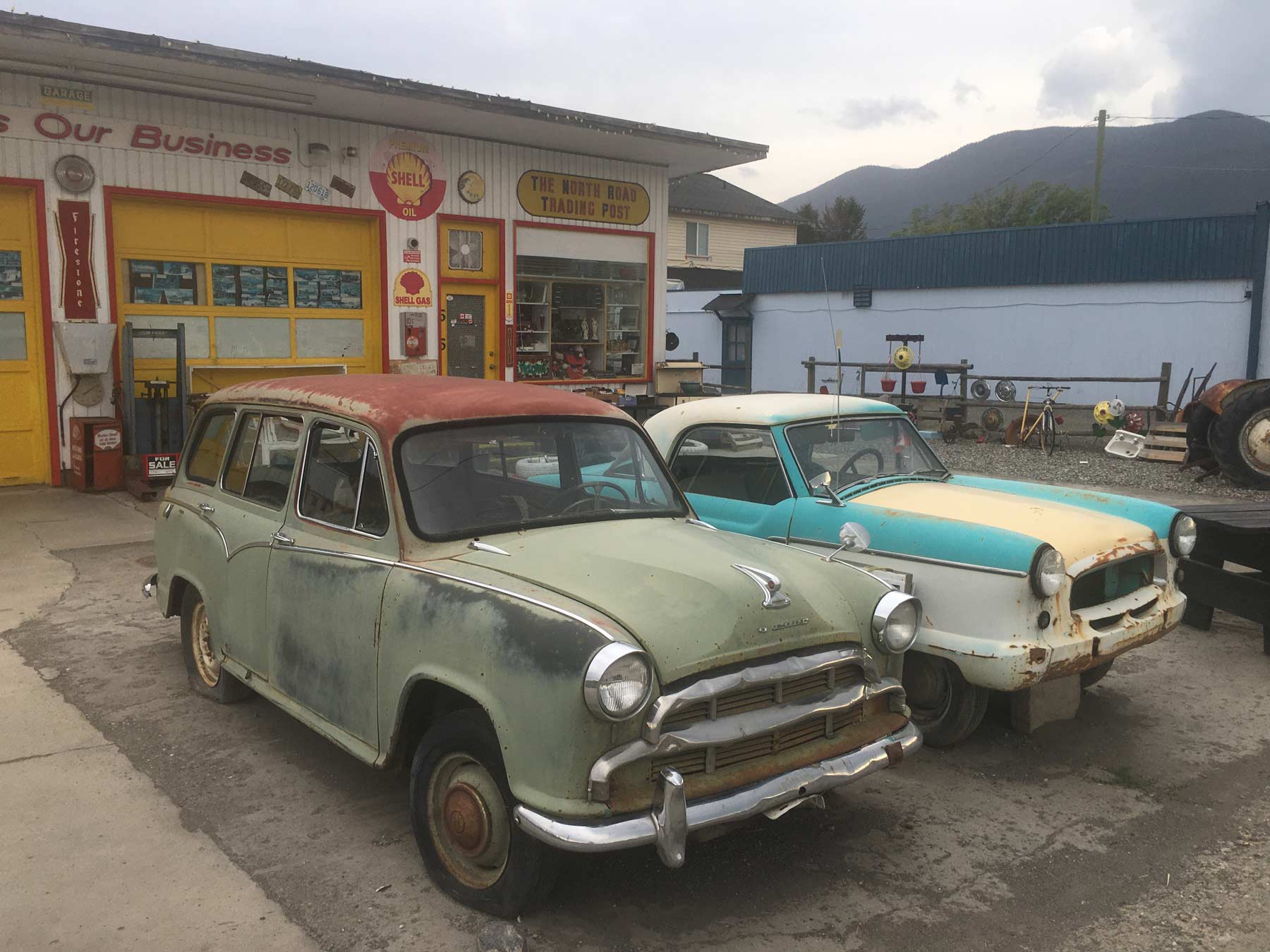 With a swift "Auf Wiedersehen" we left early next morning, direction Walla Walla. We tried a back road over a mountain but after a promising start it deteriorated into a poor cart track and we abandoned it. We did find a splendid race circuit that was unattended, however, the local gun club were present in force and Sarah, as a former resident of Detroit, kept diving for cover. Back in safety we found Jim Smith Road and felt compelled to run a regularity over it and an adjoining gravel road. A longish flat run found us surprisingly on the edge of a canyon surrounded by vines. A bit too early for a tasting we settled for a coffee….honest. We were now heading due east following Crab Creek, a splendid dirt road. A short test was found just off to our right before the "No Horse Settlement" of Corfu which was totally deserted. Our plans for a Passage Control with sun-loungers and beach balls didn't seem to amuse our colleagues nearly as much as they did us! We stuck to the back roads and found a wonderfully twisty road through a canyon before emerging onto Highway 12 for a few kilometres. This leg of the rally will be the starting point for the second recce, so we decided to go directly to Walla Walla, the centre of the Washington State wine industry with 30 or more tasting rooms within a short walk of our excellent hotel. Competitors on the rally will have a free day to sample the wonderful local wines and explore the many restaurants.
And so to the final day of this particular recce and the road to Boise, Idaho. Our plan was to investigate a few potential regularities in Oregon and this we successfully did before stopping at the quirky Blue Banana coffee shack that has a Volkswagen Beetle embedded in the back wall! A definite stop for the event. We had plans to reward ourselves with a fine dinner in town but the hotel bar, situated on the banks of a river, had three gentlemen of a certain age playing Van Morrison style blues so we sat in the open air with fish and chips and a bottle of Idaho's finest red wine as the sun went down on a very successful recce.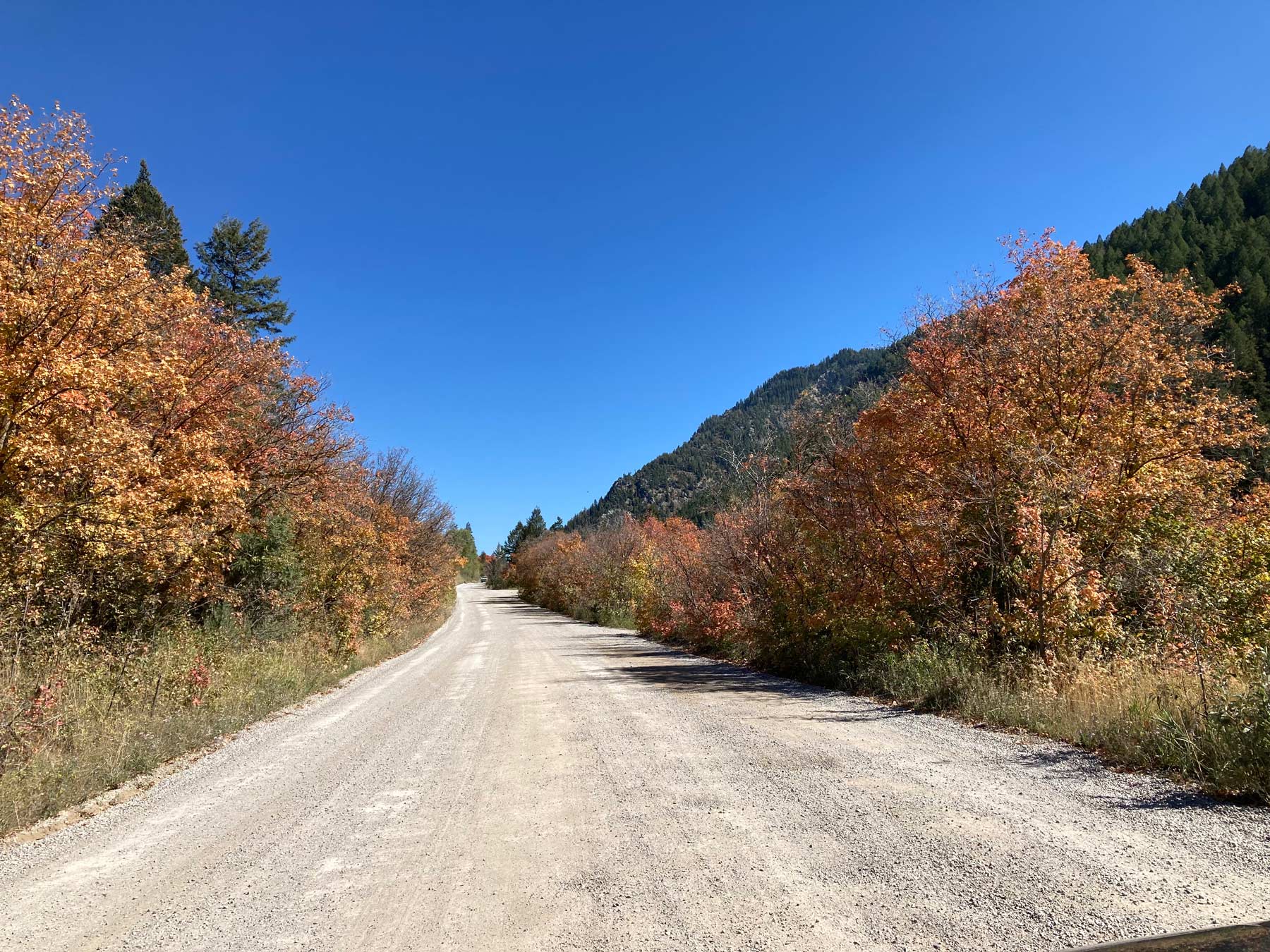 Part 2 – Leavenworth WA to Tucson AZ
Having completed the recce from Anchorage, Alaska to the Canadian border, and a little beyond, back in August, it was time to continue through the 48 States and take things as far as the Mexican border.
My wife Hayley and I boarded a British Airways 787 at Heathrow on the morning of September 19th bound for Seattle on the Pacific coast in Washington state. With an eight-hour time difference it felt odd to arrive just before midday and the afternoon was spent exploring the city and desperately trying to stay awake.
After a good night's sleep, we woke early and picked up our rental SUV, a Chevrolet Traverse with four-wheel-drive to cope with the gravel roads we hoped to find. We proceeded directly to Leavenworth where we had unfinished business after the first recce. One of our local competitors had kindly researched a road that we had seen on the map, but didn't have time to explore, and it was a winner. Car and driver coped well with the sinuous gravel tracks and we arrived at our hotel looking forward to the days and weeks ahead.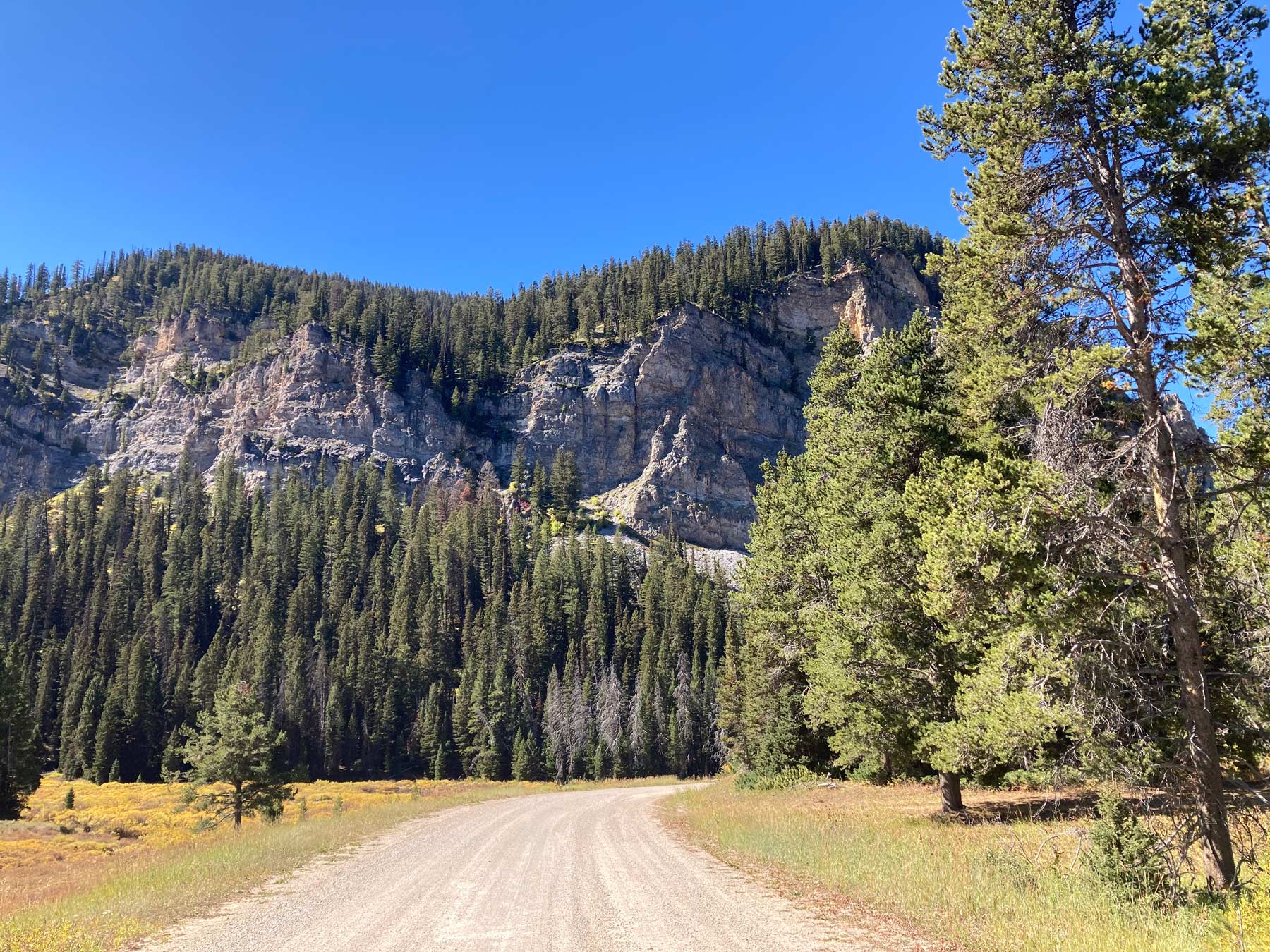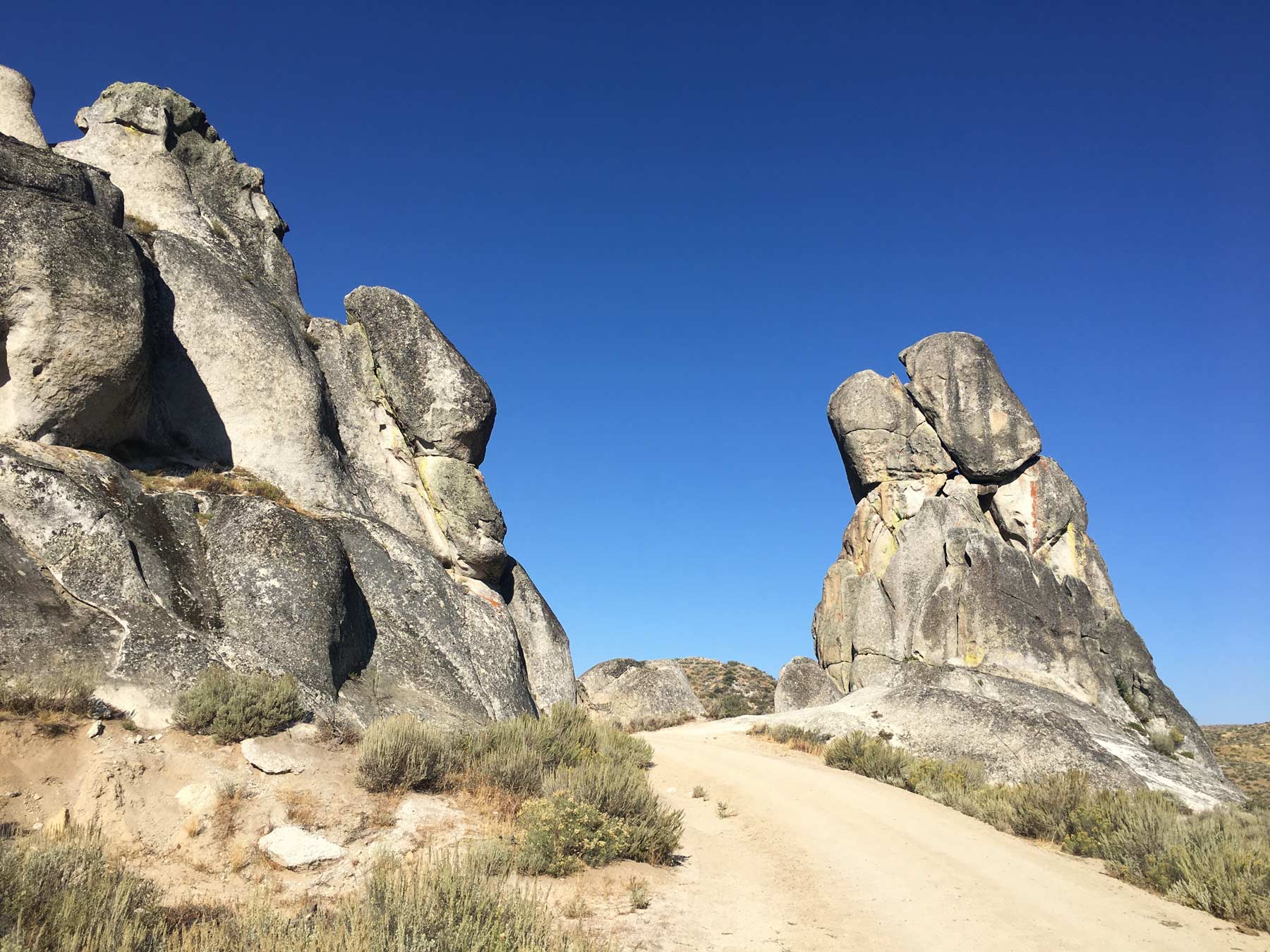 Wednesday morning began almost immediately with a new section over the mountains directly east of Leavenworth and we saw what was to be the first of many "Big Views". Once we descended into the valley, fruit trees were everywhere and continued to be so for the next couple of days. On reflection, the test next to the very active gun club didn't seem such a good idea so we headed on to the "Jim Smith Road" regularity where once again I missed the tricky left turn onto gravel. Be forewarned! A fairly fast section then took us to our proposed brunch halt in a very large winery before we headed south to a long gravel section through Crab Creek. Along the way an abandoned side road will be used for a short test. Alternating gravel and asphalt took us through lovely, rolling countryside where we took a quick stop amongst the peach trees. A very twisty road on the map turned out to be a track in a canyon following a stream for 12 or so kilometres. A wonderfully stocked, massive general store a short distance away will be the perfect venue for afternoon refreshments before a pleasant run through farmlands on the back roads to Walla Walla where the rally will have a free day to sample the splendid local wines.
Almost immediately after leaving our hotel we passed into the state of Oregon. The Lincoln Mountain Highway regularity covered 22 kilometres of relatively smooth gravel with big views off to our right. Morning coffee will be taken in a tiny café with a Volkswagen embedded in the rear wall, and a small aeroplane in the roof, while serving the best coffee we experienced all trip. Luckily, we took fuel in the small town of Joseph as it would be 150 kilometres before we saw another station. Our route through the Wallowa-Whitman National Forest was all twisty asphalt and we plan a self-catered lunch at the spectacular Hell's Canyon Overlook where the local magnetic fields caused our Monit to keep counting even when we were stopped! We descended to the impressive Snake River that forms the boundary between Oregon and Idaho. In the latter state we found some smooth gravel roads through big farms as we headed due south to our hotel in the state capital, Boise.
Next morning the superb Immigrant Road took us over the Danskin Mountains and into Sun Valley. We took a short detour to visit Castle Rocks before descending into the Snake River Plain, our first really flat landscape since leaving Canada. The lure of the mountains to our left was too much, however, and we headed briefly northeast to introduce Hayley to the upmarket town of Hailey. Back on the plain we positioned a Passage Control amongst the lava fields of the Craters of the Moon Wilderness. Nearby Arco was apparently the first city on earth to be powered by nuclear energy. There are a number of disused reactors nearby and a raceway in the very strange settlement of Atomic City, population 29…. From there a short drive due east took us to Idaho Falls.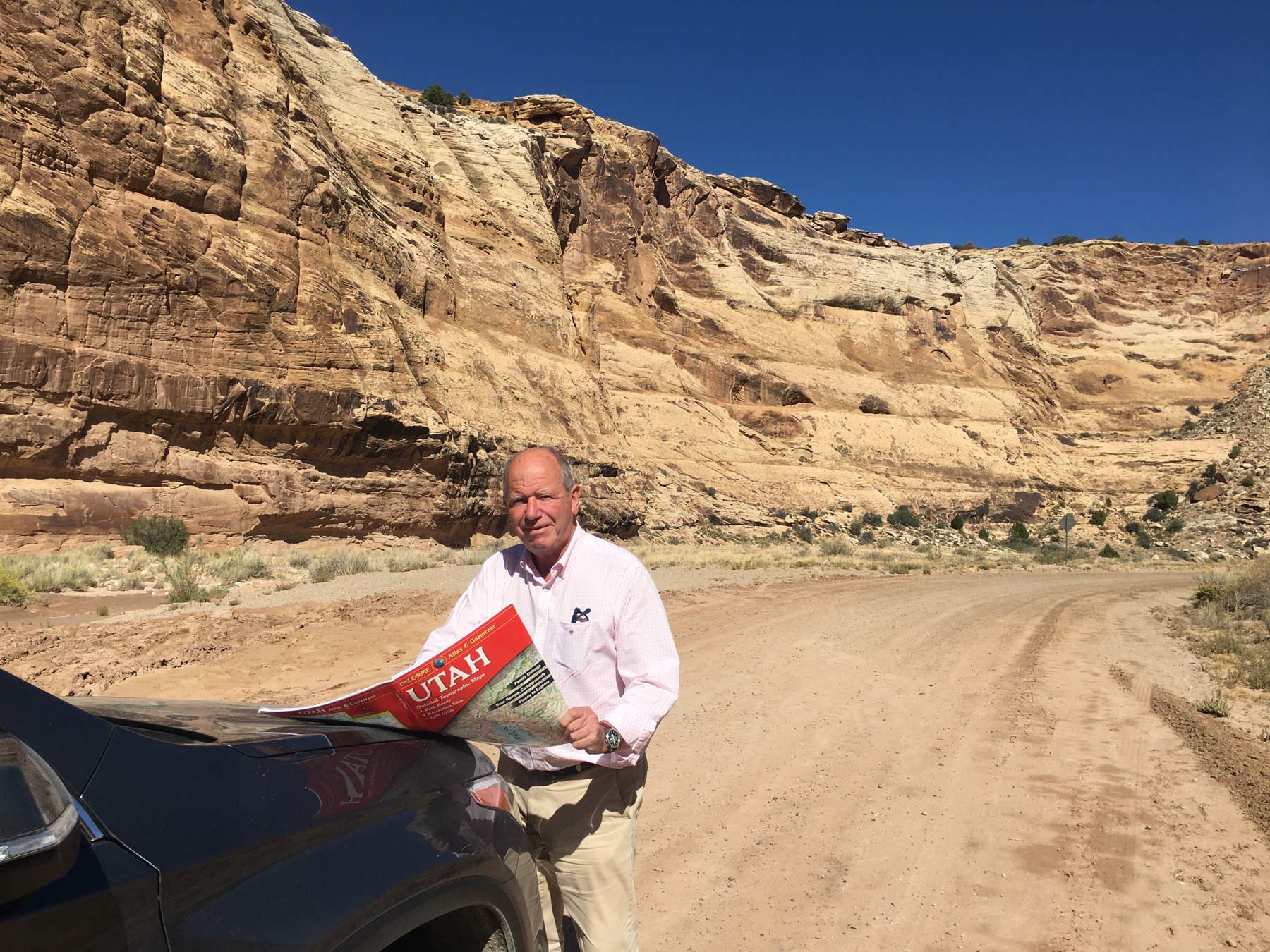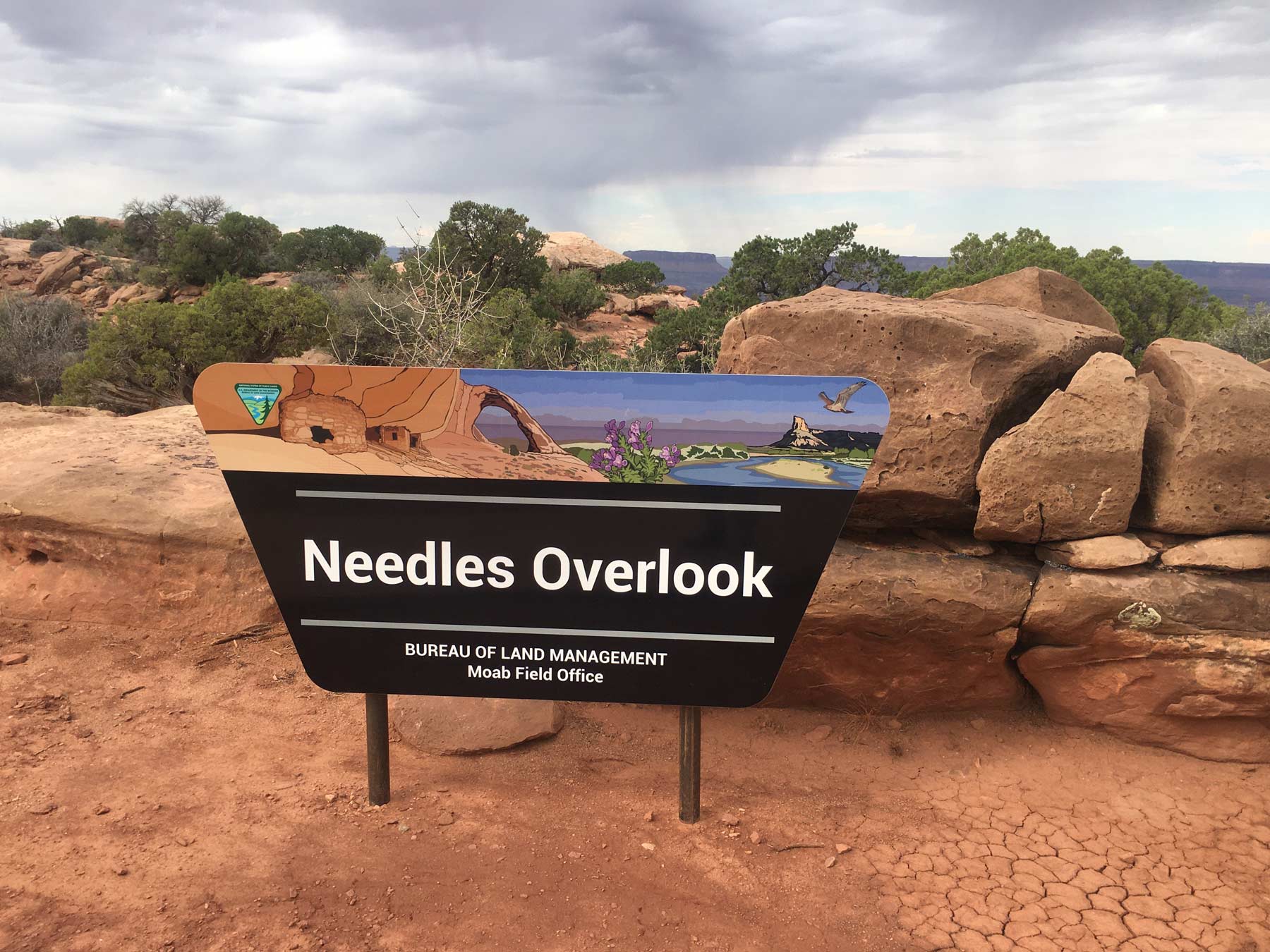 Tuesday is a short day for the rally competitors as we are heading to lively Jackson Hole. We identified a couple of test venues first thing before a fairly long forest regularity on gravel. Then, after passing into Wyoming, we stopped to admire the view from the Teton Pass at 2,570 metres above sea level. The rally may have a free afternoon, but we headed on south for what was to be a frustrating 24 hours of recce. The scenery was terrific as we followed the asphalt all the way to Alpine where we turned onto gravel. The road was wonderful for about 30 kilometres until we arrived at a junction where there was a lonely fisherman. I tried to catch his attention to enquire about the road conditions, but he couldn't hear me. Our usually reliable map suggested the road ahead would become asphalt. In fact, it deteriorated massively, and we were forced to retrace our tracks back to Alpine and follow a rather tedious road to our booked accommodation in Afton, near where we expected to emerge from the back roads. The best option we could find for dinner was a Burger King that Hayley and I ate on the patio of the Holiday Inn Express. It's not all glamour on recce.
Early next morning we came up with a totally new plan. Back to Alpine for the third time, we noted a possible alternative asphalt route before approaching what we now referred to as Fisherman's Junction from the other direction. That road, that looked totally unpromising on the map, turned out to be fabulous and by midday we had a terrific route plotted. We were by now well behind schedule and heading due south on a cloudless evening proved very challenging for the driver with the setting sun in her eyes. We crossed into Utah in the dark and wearily found our intended hotel in Park City.
The hotel proved to be fine for the recce but not suitable for the rally itself, so we spent a few hours the next morning looking for an alternative, something we found in nearby Heber City. The only way to avoid the traffic of Salt Lake City seemed to be a doubtful looking gravel road over the wonderfully named Baldy Mountain but when we got there it was freshly coated in the smoothest asphalt. This was shortly followed by Skyline Drive where we stopped a planned regularity early so that competitors can enjoy the wonderful views. South of Huntington we found ourselves on wide, smooth gravel roads that sped us over a dusty plain that seemed to stretch to the horizon. An intriguing twisty road featured on the map and suddenly there was a bend sign and the road descended into a magnificent hidden canyon. I won't say much more, but this was one of the absolute highlights of the entire route. A fast road took us to Moab and the scenery just kept getting better and better.
Like the rally we took a day off from driving in Moab. The town is full of 4×4 rental companies and big-tyred Jeeps are everywhere. It became apparent that these all follow pretty much the same, well-trodden trails so we spent some time rescheduling our route ahead to combine maximum spectacle with minimum traffic.
First thing Saturday morning we headed for Geyser Pass in the La Sal Mountains. At over 3,200 metres (10,500 feet) this is the highest point on the entire route. From there it was but a short drive, with a test scheduled along the way, to the Needles Overlook where the views of the Canyonlands National Park and the Colorado River took our breath away. A charming lunch spot was noted in Monticello. The day ended with us following the spectacular Comb Ridge along a challenging gravel road as far as Bluff where we will stay surrounded on all sides by impressive rock formations.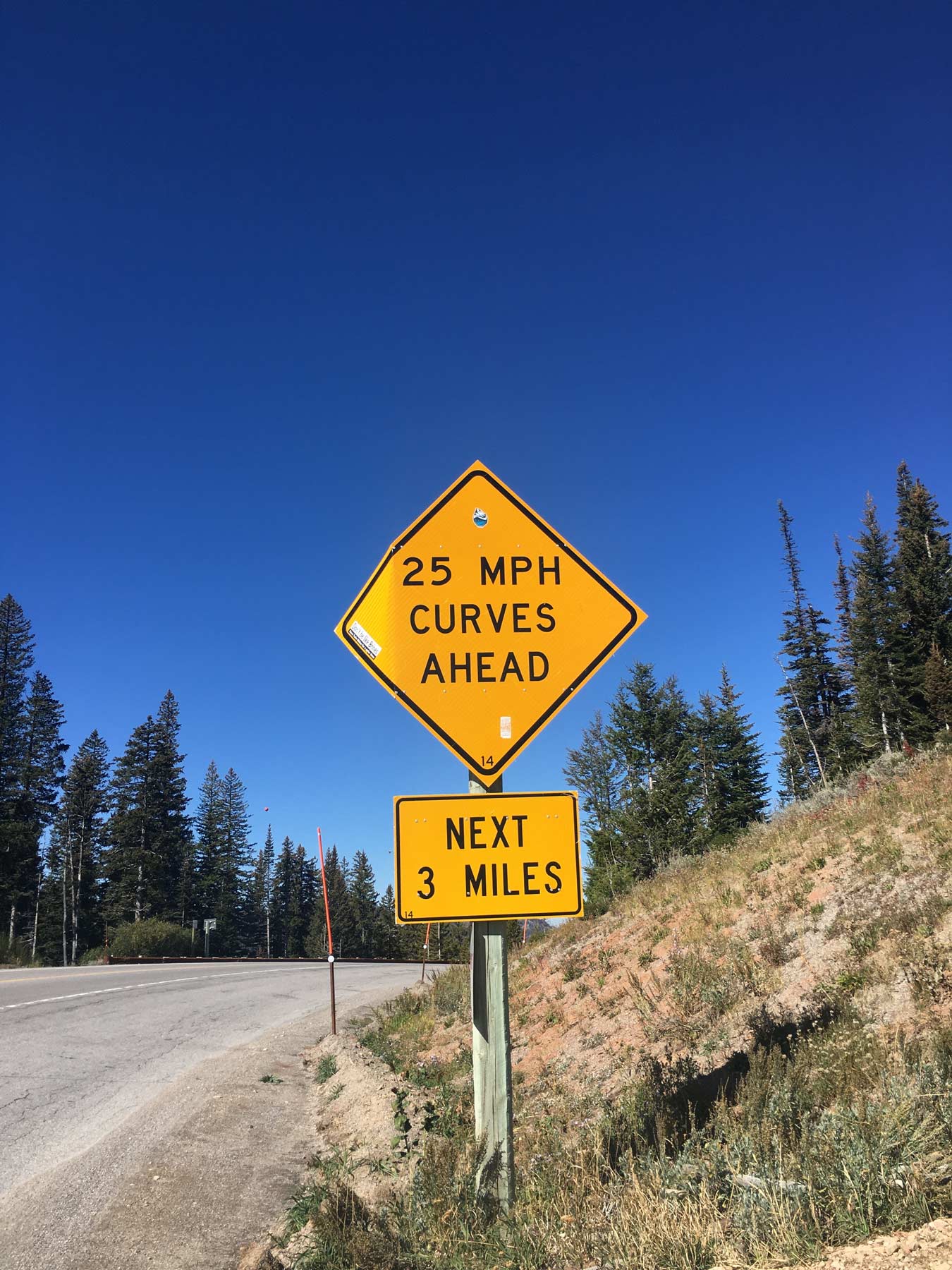 Our chosen route the following day turned out to be unacceptably rough, so we turned and approached the Valley of the Gods from the southeast rather than the northwest. This had the advantage of the early morning sun lighting the amazing landscape in a perfect manner. We took morning coffee in the wonderfully named settlement of Mexican Hat on the San Juan River. We then found gravel roads in the Navajo Indian lands that will form the basis of an interesting Time Control section before descending to Page and the impressive Glen Canyon Dam. The day's final timing point will be at a historic motel in Kanab, allowing competitors to take their time as we travel west through the Zion National Park to Springdale and our final night in Utah.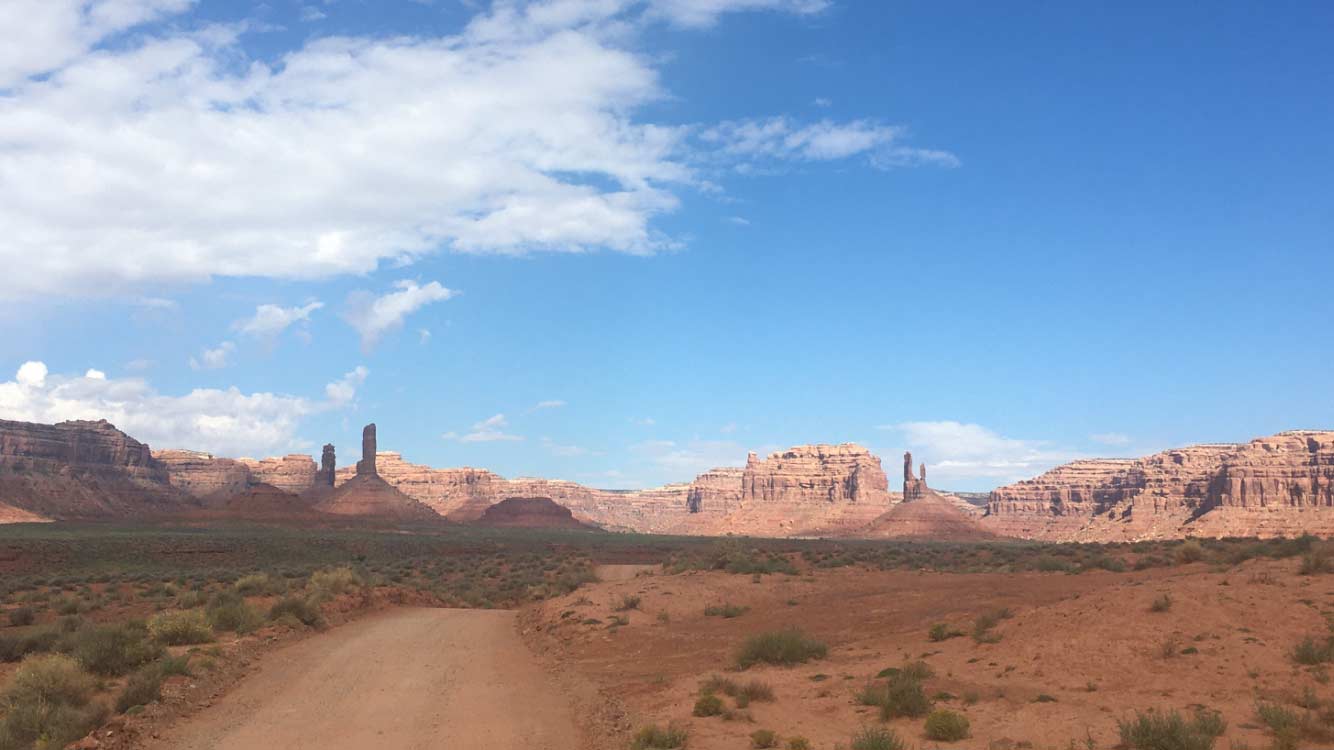 We headed into Arizona, our final US State of the trip, and quickly became confused. Passing through the many Indian Reservations along the way, the automatic clocks in our rent truck and GPS kept changing. It turns out that those Native American Reservations all run on different time to the rest of Arizona.
We will pick a time for the rally and stick to it. We found a lovely regularity through Warm Springs Canyon before coffee at Jacob Lake. We headed east to Marble Canyon and crossed our old friend the Colorado River before heading due south towards Flagstaff. Along the way we plotted anther Time Control section west of a settlement called The Gap. "Mind the Gap" as they say on the London Underground! Flagstaff was the biggest city we had seen since Anchorage, and we started to get the feeling that this sector of the recce was almost over.
Heading south next morning on the final leg of this trip we were on the lookout for interesting gravel roads. After a few disappointments, Fire Control Road, after coffee in Pine, was a good choice. Soon after we saw our first proper cactus, and then a gravel section over Cactus Butte where there were literally tens of thousands of the things. This was a challenging road in parts, but Hayley considered it unmissable, and we did see a brand new Chevrolet Camaro at a trail head in the middle of the section.
Those competitors looking for an easier afternoon can take the asphalt on the west side of Theodore Roosevelt Lake and soon re-join the official route. From there it was a simple drive down to Tucson and the luxury of the Hacienda del Sol Resort, where we reflected on a tough but rewarding couple of weeks.
Part 3 – Tucson AZ to Cabo San Lucas, Mexico
As RtG's West Country Cloverleaf event was ending in Taunton, Somerset I was aboard an American Airlines Airbus en-route to Tucson, Arizona, via Dallas. Arriving mid-afternoon, Sarah Ormerod and her trusty Toyota Tacoma picked me up and we headed for the Hilton in the east of the city. Despite the hour, our rooms were not ready, so the ever-resourceful Sarah guided us to a nearby Mexican restaurant where a couple of margaritas and a large plate of fajitas put us in the mood for the food and drink to come. Realising at 9.00pm that it was 24 hours since my alarm had gone off back home in Farnham, I called it a night.
After a solid night's sleep, we met for breakfast. To my surprise there was a toaster that actually worked, a rarity in American hotels of all grades. Sarah and her geologist father Steve had already made the roadbook to the day's first test, a great kart circuit on the city's southern flanks. On the way in I noticed a NASCAR oval circuit almost directly opposite. I suggested we turn in, a move firmly resisted by my driver who claimed to have spent many hours of her life emailing and calling without ever receiving a reply. Since the gate was open and there were signs of life, I insisted we give it a go which did not go down well with my colleague. Ten minutes later Sarah was demanding I took shots of her with her new best friends as they exchanged phone numbers amid promises of life-lasting friendship, wonderful on-track action, and a guest appearance by the legendary Hershel McGriff, the oldest man to start a NASCAR race at the age of 90! The kart circuit will be fun too…..
All too soon we headed south. We cut a corner on a 40-kilometre gravel section through Native American country that led us to the small settlement of Why, where we were disappointed that the locals had not foreseen our plans for wonderful business names in the community, that had kept us laughing for miles. An open stretch of land to the south of the town will be the venue for a test where we expect Mark Appleton to come up with a layout worthy of the name 'Why Knot?'.
From there it was a simple run to the border despite entering the Organ Pipe Cactus National Monument where the giant prickly things looked exactly the same as they had all day. The border itself was a shock since we didn't stop! No one wanted to see papers, passports, or anything else, probably due to us being in a US registered truck. We spent the next 20 minutes waiting to be stopped and sent back, before relaxing, and then bemoaning the lack of Mexican stamps in our passports. It was then a simple run to Puerto Peñasco, where our hotel was surprisingly good, and the welcome from top management even better. A staff "Day of the Dead" costume competition, and a couple of tequilas later, we knew we were now in Mexico with Cabo in sight.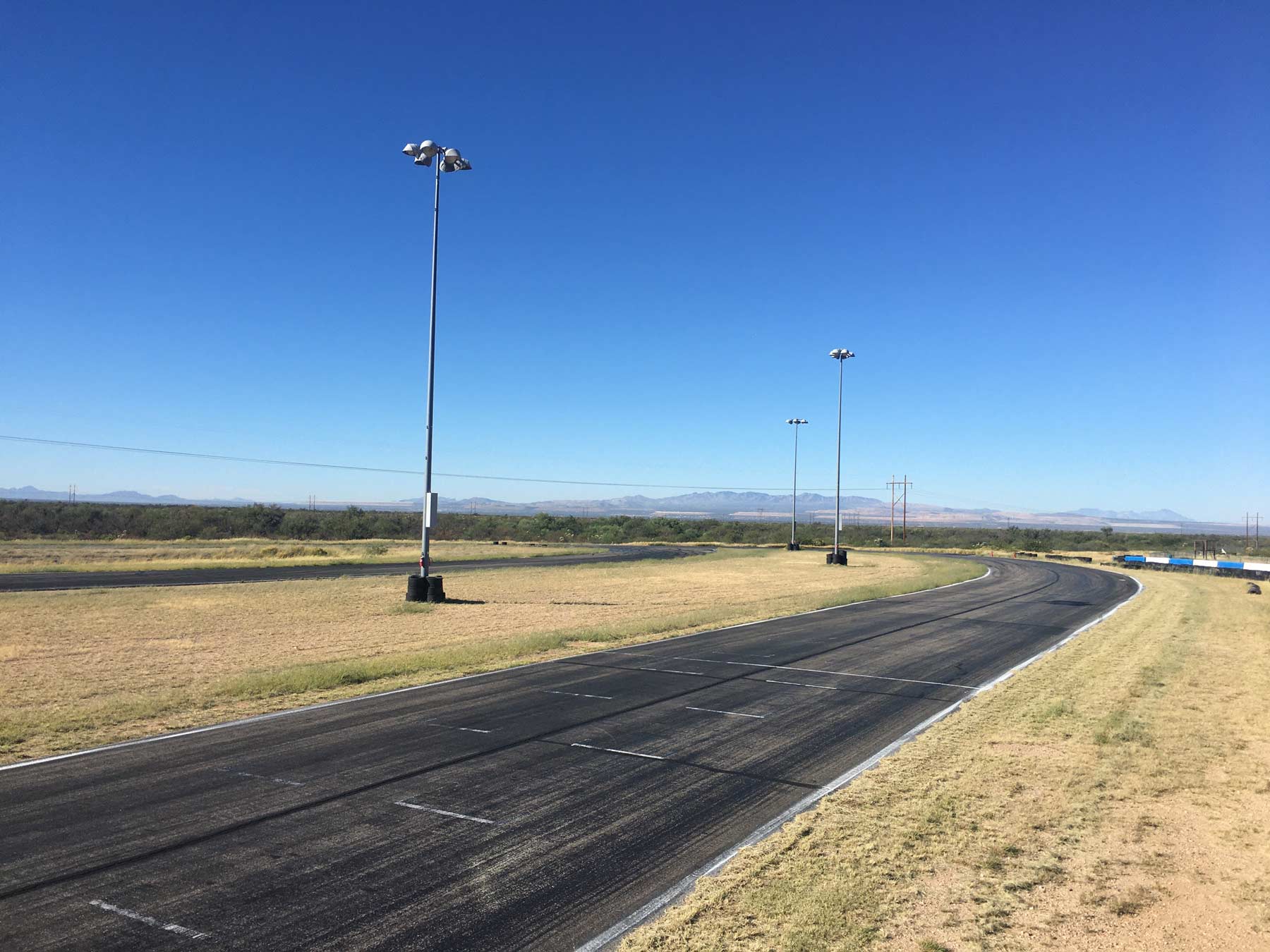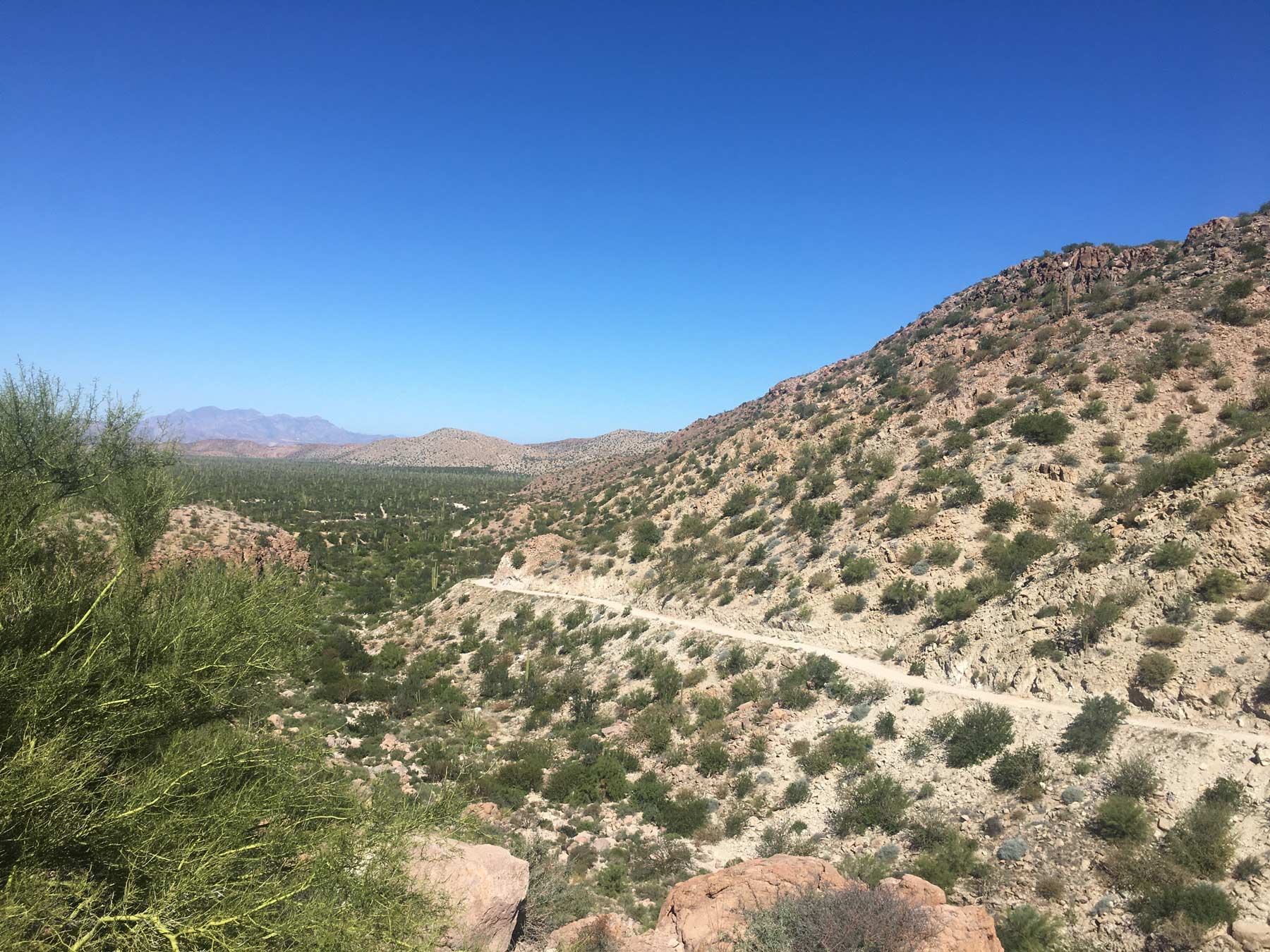 Bright (well maybe not, after an evening sampling the bars of "Little Beirut" by the hotel), and early we set off following the Sea of Cortez on our left. The scenery was like nothing so far encountered with sand spits over the road from time to time and vast salt flats that I know from my Dakar days as Chotts, but Sarah tells me are known as Sabkahs in the Gulf. The pre-asphalt, old road was visible from time to time, so we enlisted it as an unusual regularity section.  After some spectacular rock formations, we skirted the southern flanks of the city of Mexicali, home to over 200 Chinese restaurants! There we discovered that every urban junction in Baja has a stop sign that the locals mostly ignore – we christened them "Stoptional" and came up with a new mnemonic for the road book, S.O.T.M.S.S. – "straight on through many stop signs", a cousin to S.O.T.M.T.L. – "straight on through many traffic lights"….. Soon we were free of population and traffic as we headed south. Interesting roads beckoned but mostly proved to be full of false promises, petering out into fields of rubble. Gradually we became aware of what looked like rally service trucks and found ourselves amongst competitors 'pre-running" the route of the Baja 1000. We admired the 1000 bhp trucks with several feet of suspension travel before soliciting the advice of the navigators as to which roads might just be passable for us. It turns out that a big hurricane in 2021 washed out many roads and the authorities are still working to repair the damage. More on this later when we meet Pedro Lopez. San Felipe's pompously named Grand Marina Hotel turned out to be anything but, and we vowed to find a better option for the rally on our way back north, a few days hence.
Heading south along the coast we soon found our new rally friends from the day before and followed their tracks for a few kilometres to create a navigationally interesting regularity. Morning refreshments will be taken at CowPatty, a beach shack that is too eccentric to describe, as were both the barman and owner, an old Californian hippie who never went back. A couple more tests on the old road running parallel to the asphalt kept us amused before approaching Coco's Corner, a legendary place for Baja 1000 competitors. Coco is sadly no longer with us, his shack has fallen into even greater disrepair, and the old gravel Highway 56 is now impassable so we followed the excellent new asphalt through the mountains to our midday halt. A surprisingly good sandwich appeared from an unpromising looking kitchen before we were quickly on our way. With an epic gravel section to go we decided to be sensible so changed plans and found rooms in Bahia de Los Angeles. The small hotel was excellent and the views amazing, the whole place reminding me of the Kenyan coast 40 years ago.
The following morning, we were straight into a 180-kilometre long gravel section, the very essence of a marathon event. The roads will need some attention before we arrive but there were signs of works beginning. Wonderful views, hidden ranches and spectacular cacti will make this a section never to be forgotten. From there it was a very short drive to Guerrero Negro where the hotel was surprisingly good, the tyre shop very helpful, the fuel station dog very happy to have some leftover food, and the margaritas the best yet!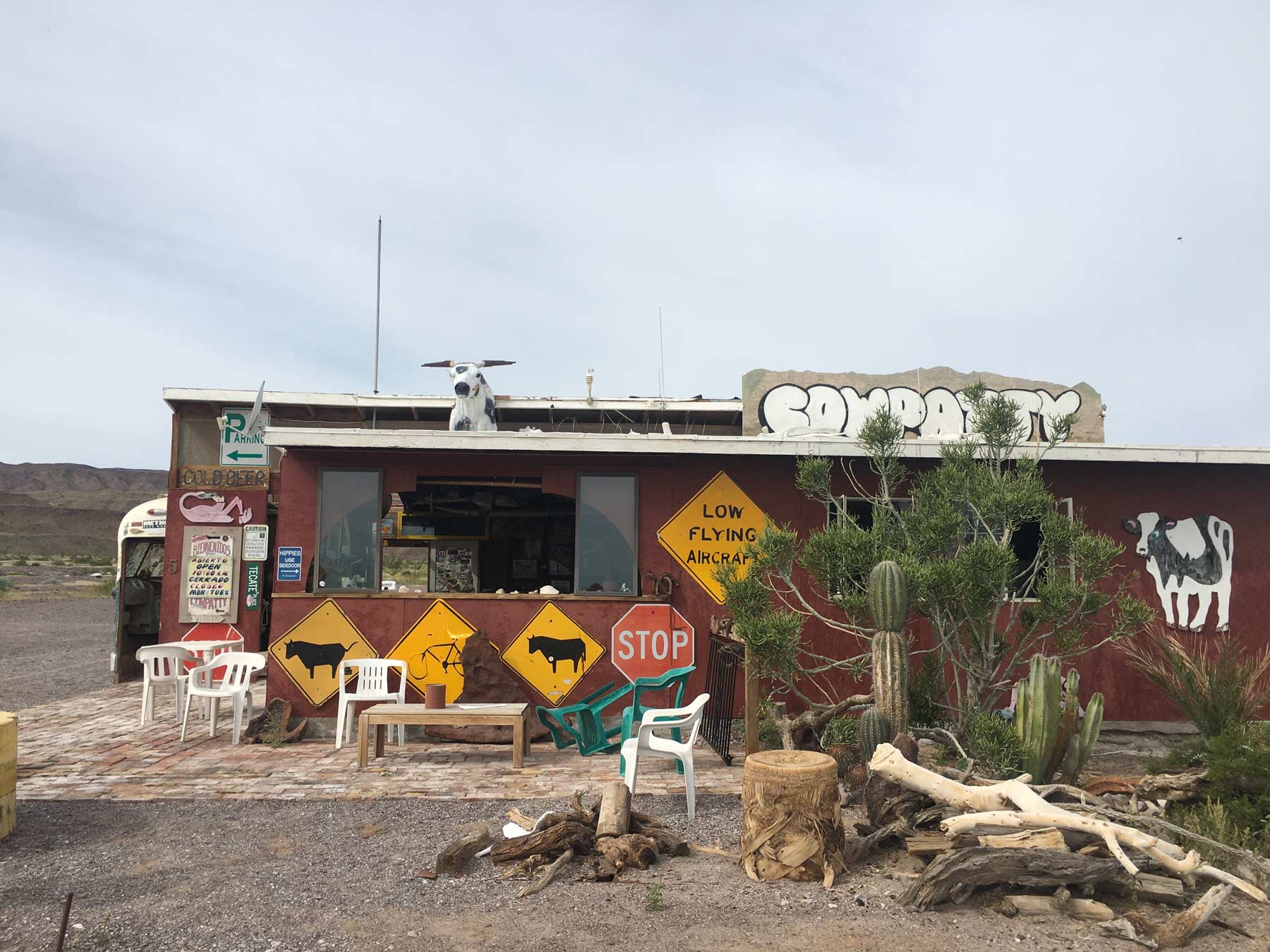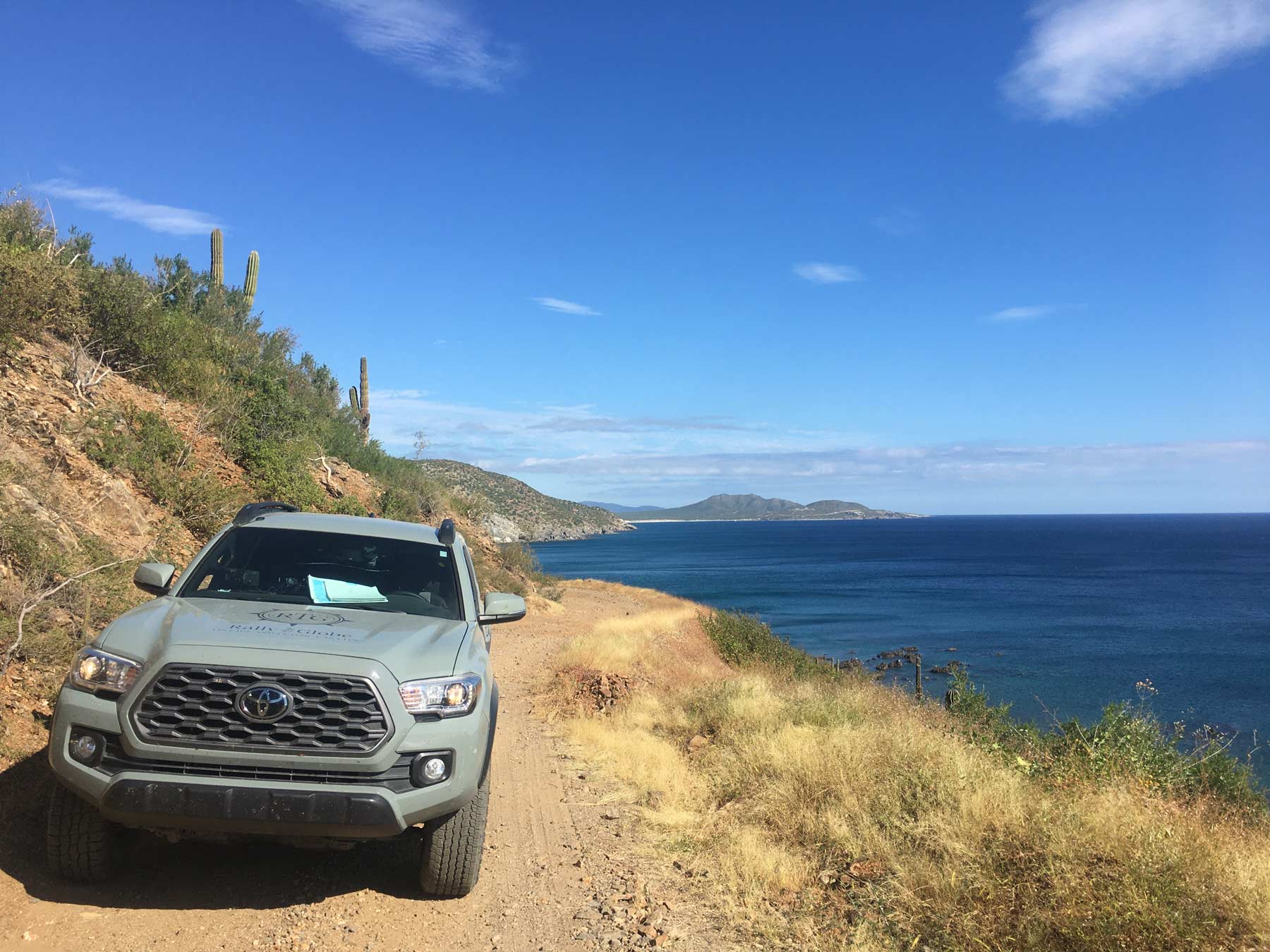 Day 28 of the rally will be a transit section but with plenty of interesting things to see as we cross from the Pacific coast back to the Sea of Cortez. There were some big views as we descended into Santa Rosalia, an old French Colonial mining town. Opposite the fuel station there are the remains of some extraordinary pieces of industrial equipment, many storeys high. We look forward to some of the more engineering literate amongst you to explain to us what we were admiring. A little further down the coast we discovered the splendid Mulegé Brew Company which will host the day's only Passage Control and where there will be time to sample the excellent food on offer. We entered Loreto just as darkness was falling and the Day of the Dead celebrations were beginning. The excellent La Mision hotel greeted us with Italian-chef made pizzas in the open air as we realised there were only two days remaining to Cabo.
Out of Loreto on our penultimate morning the road to Mision San Javier looked attractive on the map and the gravel thereafter was rated to be of the highest quality so we set off with a spring in our step. The asphalt climb was everything we hoped, twisty and spectacular with numerous smooth water crossings to keep the photographers happy. San Javier itself is a beautiful little place, quiet with clear mountain air. We then set off on the gravel. After two kilometres we had made seven rough river crossings. We stopped two locals in a rusty pick up coming the other way and tried my very basic Spanish. "El camino es bueno?" I asked hopefully. "Non. El camino es mal" they replied with a laugh looking at the two crestfallen gringos. We reluctantly turned and went back to San Javier for a regroup.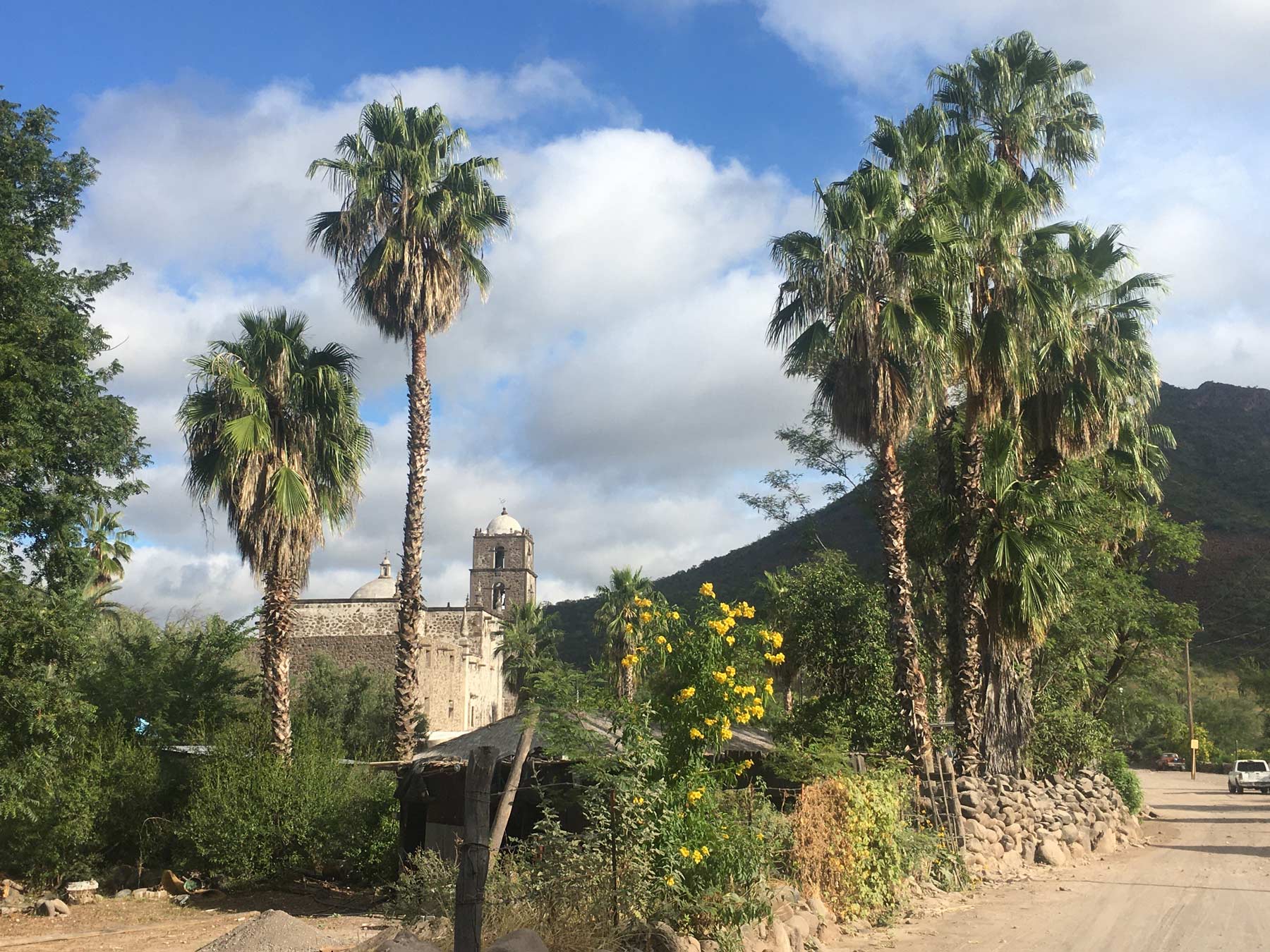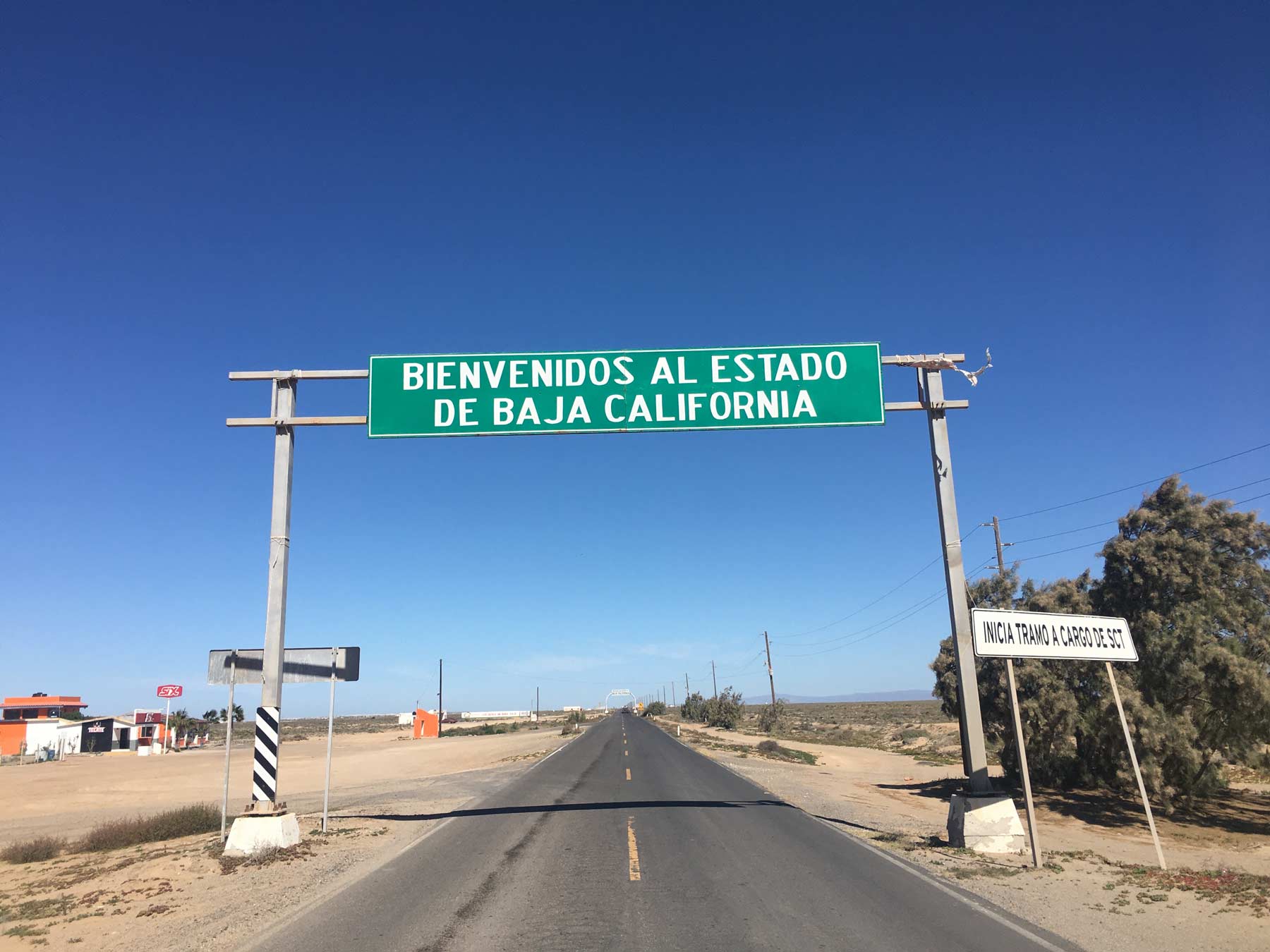 As I studied the maps, Sarah saw an ambulance so, of course, began a conversation with the local paramedic. Our new friend couldn't have been more helpful and soon we had made arrangements to use the asphalt road before parking the cars in the picturesque square and taking refreshments at his mother's café. We will then run another section down the hill back to the coast. Later, on our way south we spotted a gravel oval circuit, and a maze of nearby roads, so plotted a test before identifying a very suitable location for a lunch break. Our overnight stop was in La Paz, the capital of Baja California South, and the end of our 29th day of rallying.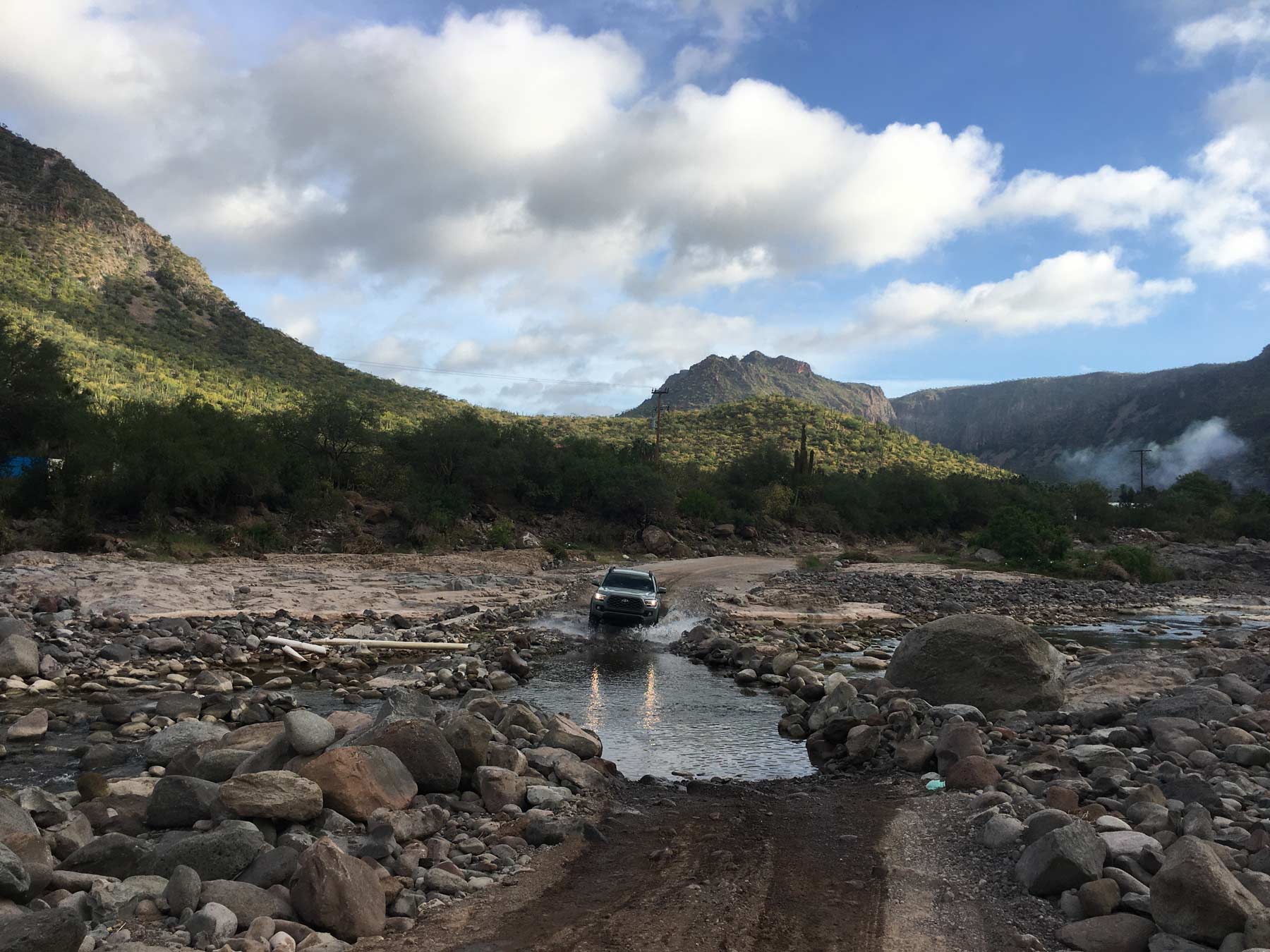 Our, by now shredded, Baja Atlas that had promised so much over the previous days indicated a good quality gravel road that went over a mountain before following the ocean for a while. It started impressively but had the occasional stony section where we looked at one another, unsure whether to continue or turn. We decided to keep on to the end and make a decision there, but not before Sarah voiced how happy a grader would make her feel. And then, a few kilometres later Pedro Lopez came into our lives, driving as big a grader as could ever fit on that particular road. He assured us he was heading in the direction from which we had come and would continue all the way through the section. We thanked him profusely and arranged to meet him in 2023! Safely back on asphalt, we found a great little restaurant for a pre-podium regroup, and then made our way to Cabo and the finish hotel. It had been an intense 10 days, and different in every respect from that which we had seen in the US and Canada but promises to be a scenic delight and a wonderful Latin American experience.
See you in Anchorage!